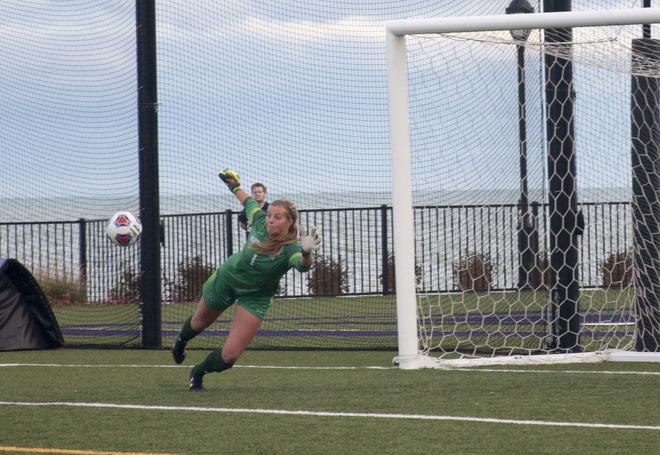 Women's Soccer (15-1-3, 7-1-3 B1G)
Northwestern earned its first-ever Big Ten title on Wednesday, beating Illinois 1-0 in OT and clinching its part of a three-way title share with Minnesota and Penn State. Sophomore Kayla Sharpes scored the game-winning goal in the 98th minute.
The Wildcats continued their historic season with a win in the Big Ten Tournament, taking down Nebraska in penalties on Sunday. The contest was dead even for regulation and overtime, and neither team was able to score. But it wasn't because the game was sloppy, it was simply because both defenses were top-notch. Both teams were aiming for their fifth consecutive shutout, and technically, they both got it.
Sophomore Marisa Viggiano hit the game-winning penalty, putting NU's four penalties over Nebraska's three. Big Ten goalkeeper of the year Lauren Clem stopped one of Nebraska's shots in penalties, and the other went off the post. Clem was air-tight all game, recording five saves.
Highlights of @NUWSoccer's exciting finish against Nebraska in the #B1GWSOC Tournament! https://t.co/9Vb2eRXh5K

— Northwestern On BTN (@NUOnBTN) October 30, 2016
NU will match up against Rutgers in the semifinals, the only Big Ten team it has lost to all season. The 'Cats lost 2-0 in New Jersey back on Sep. 23, and they will be looking for revenge. NU's dominant defense will surely keep it in the game, but it will need its offense to step up if it has any hopes of beating Rutgers.
"It's going to be very tightly contested," head coach Michael Moynihan said. "I guess we'll see how far we've come, they're always very organized - they made it to the final four last year and had a great run. We know it's going to be a very tough game."
Men's Soccer (5-10-1, 3-4-1 B1G)
After NU's midweek match with Loyola was cancelled due to weather conditions, the Wildcats beat Penn State 1-0 on Senior Day in their season finale. Senior midfielder Jeffrey Hopson scored the lone goal in the 25th minute, ending the 'Cats' rocky season on a high note.
In the Big Ten Tournament, there are only eight spots for nine conference teams, and the 'Cats secured a seventh place finish. They will take on No. 2 Indiana on Nov. 6, with whom they played to a scoreless draw on Sep. 18.
With three wins in their last four games, there is reason to believe the Wildcats have patched up some of their early season struggles. The 'Cats grinded out a win at lowly Rutgers, magically upset Notre Dame and took down a Penn State team that is third in the Big Ten. With postseason play upcoming, NU looks to be peaking at the right time.