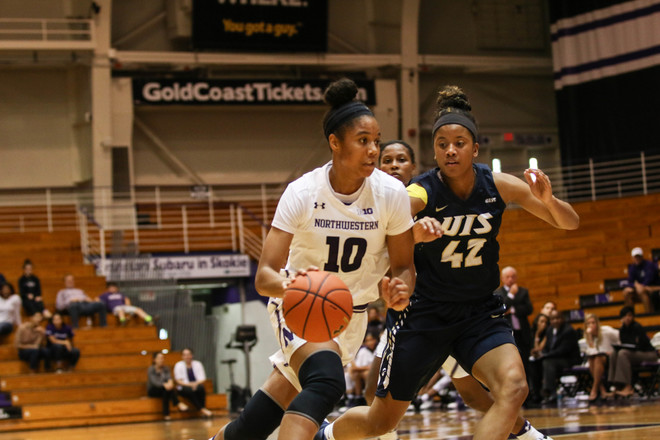 Northwestern geared up for its season with an exhibition contest, beating Illinois-Springfield 84-56 on Sunday. Here's what we noticed in the Wildcats' first action:
NU's starting lineup was senior Ashley Deary, senior Christen Inman, junior Lydia Rohde, senior Nia Coffey and redshirt junior Oceana Hamilton. The only real question was at center, where Hamilton, a transfer from Alabama, started and logged 10 minutes in her first time as a Wildcat. Freshman Abbie Wolf played 12 minutes, freshman Abi Scheid was in for nine minutes, and surprisingly, sophomore Pallas Kunaiyi-Akpanah played just six minutes. Kunaiyi-Akpanah had success at big last year, especially rebounding the ball, but head coach Joe McKeown might have other plans.
"We have a lot of options now that we didn't have last year (at center) that I think will really help us," McKeown said. " … It's going to be by committee, sometimes."
Coffey filled up the statsheet early and often, recording 11 points and nine rebounds in the first half and finishing with 21 points and 15 rebounds. The preseason All-Big Ten honoree is a double-double machine and NU's best player, and she will be counted on to deliver these types of performances all year. Inman was her usual self, quietly and efficiently notching 19 points. She was 8-of-14 from the field.
Deary had nine points and four assists, running the floor well and controlling the tempo of the game. She also added five steals, wreaking havoc on defense as per usual. Deary was only 2-of-8 from the field, though, and will need to shoot the ball better.
Deary, Inman and Coffey scored 49 of NU's 84 points and were the three high scorers, signaling that not much has changed from last year. NU's big three will carry it once again, but to be successful, the 'Cats will need other players to step up. Rohde logged 26 minutes and had seven points, redshirt senior Lauren Douglas came back from a season-ending injury and had six points in 15 minutes and Hankins put up five points in 14 minutes.
"I hope other people can step up too because we're going to need scoring from different places," McKeown said. "The bar is set so high for [Deary, Inman and Coffey], but I think they set it high for themselves - they want to be great."
Freshman point guard Byrdy Galernik racked up 18 minutes, hinting that she might have an immediate impact this season. Galernik is an athletic guard who can do a bit of everything - she totaled two points, three rebounds, four assists and a steal.
"I think Byrdy is learning a lot from Ashley, but also starting to compete with her a lot in practice, and that's a good thing," McKeown said.
With their speed, size and athleticism, it's clear the Wildcats are going to get in transition a lot this year. When they can push the ball under control, they are very successful. But sometimes, and it showed on Sunday, the 'Cats can get out of control, taking bad shots and turning the ball over.
"We are a transition team, we're pretty explosive when we can make shots and spread you out," McKeown said. "Coffey can get to the rim, you saw Inman getting in the lane and scoring. We're hard to guard in those situations." McKeown also added: "We just have to make sure that if we don't have anything in transition, we execute in halfcourt."
NU also went 0-of-9 from three-point range, but McKeown and the players said they weren't worried, they just thought it was an off game. While definitely not encouraging, the 'Cats do have some good shooters in Lydia Rohde and sophomore Jordan Hankins, who went 0-of-3 and 0-of-2, respectively. Three-point shooting won't be a strength of this team, but expect them to perform better than they did Sunday.
NU hosts Hampton in its first game of the season on Friday, Nov. 11 at 3:30 p.m at Welsh-Ryan Arena.