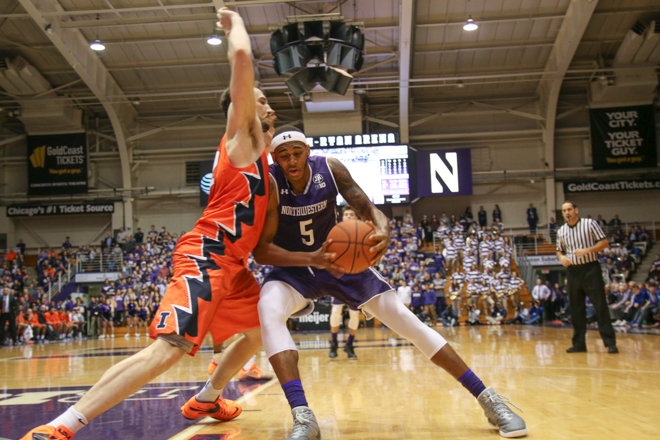 Northwestern (18-6, 7-4 B1G) dropped a much-needed game against Illinois (14-11, 4-8 B1G) on Tuesday, falling 68-61 in heartbreaking fashion.
The 'Cats took a 59-56 lead on a Vic Law corner three with 3:31 remaining, but it would be their last made field goal of the game. Besides two Bryant McIntosh free-throws, the Wildcats had five turnovers in the final three minutes and went 0-of-4 from the field. Illinois sealed its victory with a 12-2 run and just looked more poised in the final minutes. It was the late self-destruction that NU teams of old are used to seeing, but one this team thought it had shook.
"We just weren't able to finish the deal," head coach Chris Collins said. "... Our turnovers in the last three minutes were really costly, we needed to get shots at the basket."
The Wildcats weren't much better the rest of the game, shooting 33.9 percent from the field and 30 percent from three-point range. It was one of NU's worst offensive performances of the season, and after a similar stinker in its last game at Purdue, the 'Cats are desperately hoping that Scottie Lindsey (illness) can return sooner rather than later.
Lindsey, NU's leading scorer, reportedly has mono, and the timetable for his return is uncertain. McIntosh (21 points) and Law (16 points) stepped up in his absence, but it appears that the 'Cats will need more on offense to win Big Ten games, even against lowly teams like Illinois. NU's bench struggled, scoring just 13 points compared to 30 points from the Illinois bench.
Isiah Brown, starting in place of Lindsey, didn't offer much offensive punch, scoring just five points while recording four fouls and three turnovers in 18 minutes. Sanjay Lumpkin didn't score in 30 minutes, and both Nate Taphorn and Gavin Skelly went 1-of-5 from the field. Dererk Pardon had just six points and six rebounds in 35 minutes, and Illinois had 24 points in the paint compared to NU's 12.
"When you're down a guy like Scottie, your margin of error on offense is smaller, so we have to play smarter," Collins said. "I don't think we played smart basketball in the last four minutes."
With a trip to No. 7 Wisconsin looming on Sunday, NU's road to the NCAA Tournament is looking increasingly murky. Just a week ago, NU was ranked as a top-25 team, and its historic season seemed like a foregone conclusion. But with Lindsey out and a tough Big Ten slate remaining, tournament talk should be quelled for the time being. The Wildcats still have to prove themselves over the next few weeks, and if there are more self-destructive performances like today's, NU could very well be on the outside looking in come March.