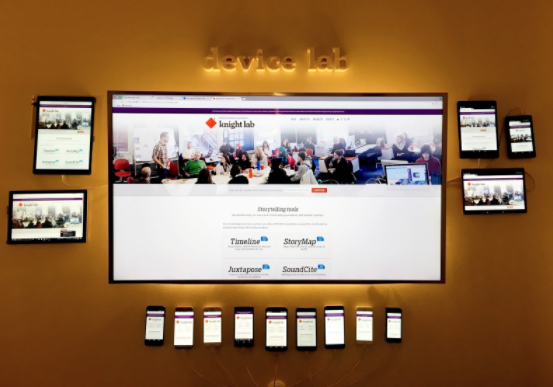 The newest addition to the Knight Lab in Fisk Hall, the Device Lab carries everything from the newest iPhones to the latest virtual reality technology – every single type of VR technology, actually. Whether it be to check out Google Cardboard's newest app, or to fly a drone or even just play PS4 and watch Netflix, the Device Lab has all you could ever possibly want or need.
Upon entering, an overwhelming amount of screens can be seen – 15, to be exact. The Device Lab wall displays every type of tablet and smartphone, as well as a large screen TV. The TV is hooked up to Apple TV and Comcast, to stream all things entertainment based. More technically, however, the screens all run a program called Ghost Lab, which allows developers and web designers to see how their sites will run on all types of displays. Another cool trick: scrolling on one devices scrolls on all (as shown in the video below).
TV Scroll Video from North by Northwestern on Vimeo.
The Device Lab also has every type of smartphone currently available. Listed from right to left in the photo below: iPhone 5, iPhone 6s, iPhone 6s Plus, iPhone 7, Microsoft Lumia 950, Nexus 6, Samsung Galaxy S6, Sony Ericson Experia.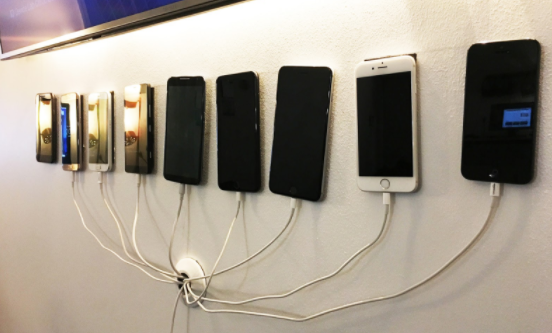 And, just in case you are missing nights at home spent playing Black Ops and Grand Theft Auto, the center is set up with both PS4 and Xbox consoles.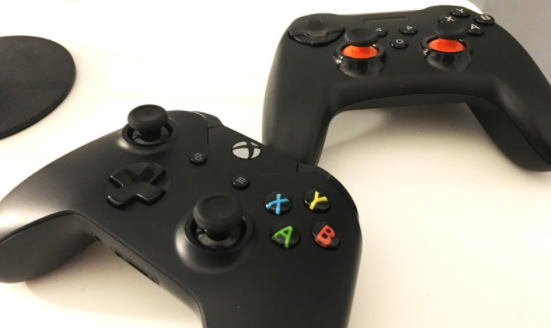 The Lab also 3D prints, with devices like this Cube. The Cube can print directly from Adobe Digital Design, depositing thin layers of plastic to make this object. It can print in up to 23 colors, and can create anything that fits within its build space (6" x 6" x 6").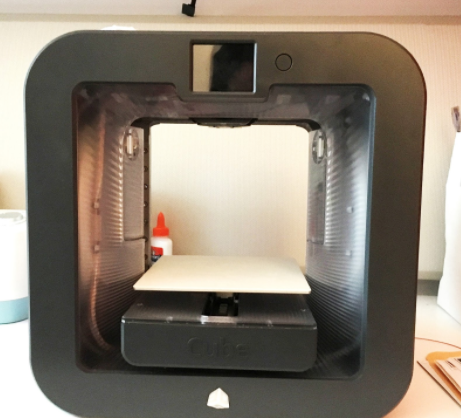 This is one of the Lab's two drones. This Dobby Zerotech drone can be used by any students who come into the lab, however the Lab's Phantom 3 drone is not currently in use, as to fly it, you need a pilot's license and drone registration. But the Dobby is small enough to be flown in the Device Lab space (so give it a try!).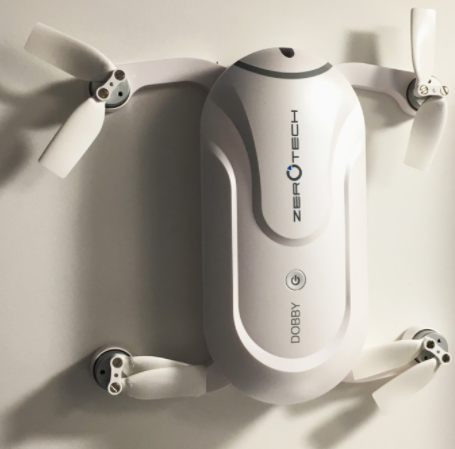 In the video below, Knight Lab assistant Jeffrey Biori is seen flying the Dobby Drone.
Drone Video from North by Northwestern on Vimeo.
But some of the coolest parts about the Device Lab are the Augmented Reality and Virtual Reality devices. Augmented Reality layers computer-generated images onto existing reality, while Virtual Reality immerses participants in a completely computer-manufactured worlds; both however, allow participants to transform their reality.
The Oculus Rift allows users to play games, as well as watch movies, all while immersed in the world of VR. Say you're playing a game in the Device Lab - you'll be immersed into those surroundings, with all your motions detected.
In the picture below, Knight Lab assistant David Latimore is seen wearing the Oculus Rift virtual reality headset.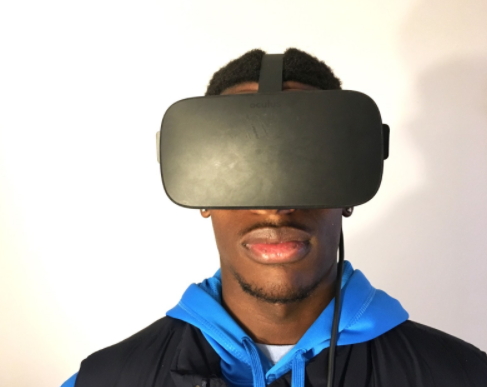 The Samsung Gear VR has low light leakage and requires no outside computer. It pairs with Galaxy smartphones through USB connection, so you can game, watch video, or even text, all from the Gear headset. Below, Biori is pictured wearing the Gear Virtual Reality headset.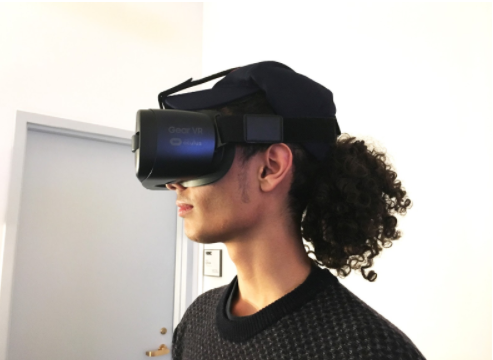 The Google Daydream, the lightest of the VR devices, pairs with the Google Pixel and the Moto Z (sorry to all the iPhone folks out there). The terry-gray front of the Daydream unzips to allow users to insert their phone, so all VR can be experienced straight off your phone.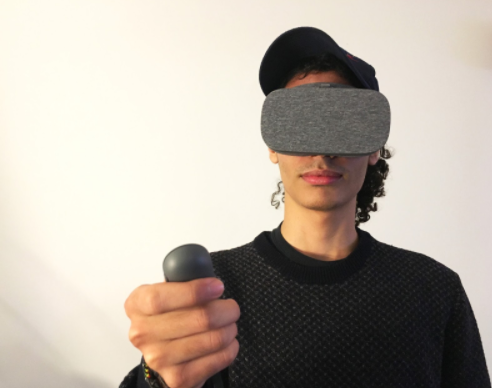 The HTC Vive requires more equipment that the other VR devices, but it includes a variety of VR options, including exploring the anatomy of an eye, playing a game of ping-pong, or watching a documentary series. The coolest thing application the Vive runs, that can be tried in the Device Lab, is Google Tilt Brush, which allows users to draw and create in 3D spaces. It also has wall sensors, so running into walls or others around you is not a concern, as the technology will warn you before it happens. In the photo below, Latimore is featured with the HTC Vive.
>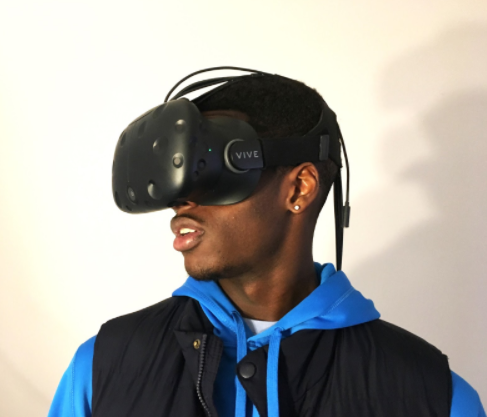 The Device Lab also has a full podcast studio, a GoPro Omni, a variety of Apple Watches, and an Amazon Echo, more commonly known as Alexa, who will respond to requests and questions from across the room, even requests as simple as "tell me a joke."
For any self-proclaimed techie, the Device Lab may be your new favorite place on campus. With all the coolest and newest technology, the Device Lab is certainly a way that Northwestern is enhancing the undergraduate experience with access to a bunch of the latest gadgets in the tech world.