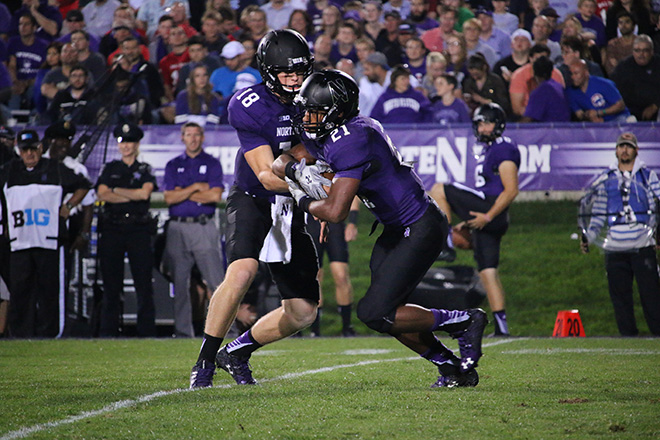 Dan Vitale always knew. He saw them grow up, and he witnessed their transformation from spry schoolyard boys to athletic, powerful Division I athletes.
Them, of course, is Clayton Thorson and Justin Jackson.
"I remember watching Justin when he played basketball with the Carol Stream Panthers," Vitale said. "He used to play against my younger brother who is here now, too. We always knew [Justin] was going to be something special. And then just watching Clayton throughout the years, he's always been an athlete. I remember he was a receiver when I played against him in high school."
Now, this special trio leads the Northwestern offense. While disappointing as of late, Vitale, Thorson and Jackson played huge roles in NU's 5-0 start and must get back on track if the 'Cats have any hopes of success.
Vitale, a Weinberg senior, is a do-it-all superback who can block, run and catch passes – while the enormous leadership and heart he brings cannot be overlooked. Jackson, a Weinberg sophomore, demonstrates the ability to be one of the most electrifying running backs in the Big Ten. Only a redshirt freshman, Thorson won the first five games of his career at quarterback, learning, improving and showing some serious potential along the way.
But Thorson, Jackson and Vitale all knew each other long before they stepped onto Ryan Field. Wheaton and Carol Stream are neighboring towns that lie less than an hour west of Chicago. Both Vitale and Thorson grew up in Wheaton, with Vitale attending Wheaton-Warrenville South High School and Thorson going to rival Wheaton North HS. Just five miles up the road, Jackson grew up in Carol Stream and went to Glenbard North HS.
Before high school, Jackson and Vitale first crossed paths on the basketball court. Because he was two years older, Vitale played basketball with Jackson's older brother in grade school. In turn, Jackson played against Vitale's younger brother, Tommy, who is now a freshman linebacker on the NU football team.
Thorson and Jackson also met on the hardwood, playing in the same basketball organization all throughout middle school. The pair even teamed up in AAU basketball in their freshman years of high school.
"It was always a good relationship," Thorson said. "It was fun playing against him, fun playing with him and it's even better now playing with him in football."
Naturally, the place where Vitale, Thorson and Jackson really all got to know each other was the football field.
As a senior running back, Vitale led Wheaton-Warrenville South to a 27-13 win over rival Wheaton North back in 2011 with a 36 carry, 143 yard, two touchdown performance. Thorson, then just a sophomore, spent some time at wide receiver and played behind Wheaton North's John Peltz at quarterback.
Since Thorson and Jackson are the same age, they forged a much closer relationship through football. In 2013, when Jackson's Glenbard North thrashed Thorson's Wheaton North 33-13, Jackson ran for 354 yards, four touchdowns and even intercepted a Thorson pass at defensive back. There were no hard feelings, however, and Thorson started inviting Jackson to throw, run routes and work out together.
"Coming into Northwestern, our senior year [in high school], we threw all the time," Jackson said. "We just wanted to get that continuity and that trust for each other, which I think has helped a lot."
In fact, when Thorson committed to NU in the spring of his junior year, he immediately started his campaign to get Jackson to follow suit, texting him often to try and sway him. Jackson would fulfill his friend's wishes, becoming a Wildcat just a month later. And who was the first person, other than his family, that Jackson told of his decision? You guessed it: Thorson.
Vitale, too, had his eyes on his hometown buddies, making sure they would join him and play their college football close to home.
"As much as we could talk to those guys I did, that's just part of being from Wheaton and Carol Stream, that's just how we are," Vitale said. "It's a real tight knit community. Even though there's that crosstown rivalry between Wheaton North and Wheaton South, Clayton is such a good kid and I always wanted to get him here."
Now, a year and a half later, Vitale, Thorson and Jackson lead a Northwestern team that finds itself in a potentially disastrous position. After starting the season 5-0 and climbing to be the No. 13 ranked team in the country, the 'Cats were sitting pretty. But NU was then blanked by Michigan 38-0, crushed by Iowa 40-10 and fallen out of the top 25 in the process. Sitting at 5-2 with a 1-2 record in the Big Ten, the Wildcats need to shake their recent woes and rediscover what made them so successful in the first place.
Fortunately, the chemistry and familiarity that this trio shares can only help.
"I think that's something that we have this year that we didn't have the last couple of years – that chemistry," Vitale said. "It's not only between us three but throughout the whole offense and the whole team in general. Just having that chemistry makes it a lot easier to bounce back, have trust in one another, and overcome adversity."
Will the Wildcats be able to shake this funk? With the help of some old hometown friends in Vitale, Thorson and Jackson, Northwestern might just be able to get back on track.