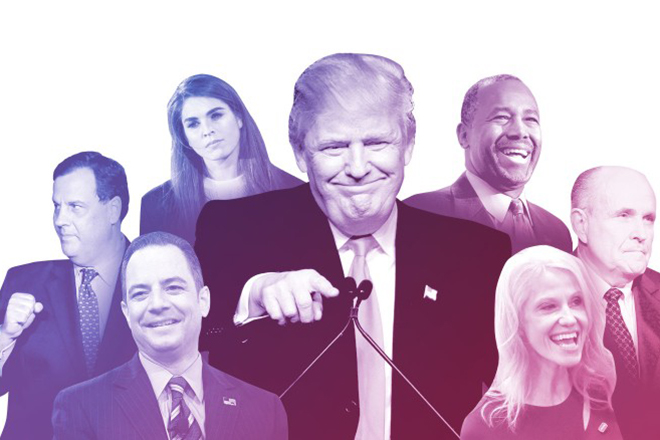 President-elect Donald Trump recently announced that Steve Bannon would be his senior counselor and chief strategist. Bannon ran Breitbart News, a racist website that encourages online harassment and played a large role in the formation of a white nationalist movement known as the alt-right. If Donald Trump allows himself to be advised by such a horrible person, who will Trump appoint for other crucial positions in his administration?
Positions to be filled
Deciding who will serve in the president's cabinet is one of the most important decisions that Donald Trump must make as president-elect. Cabinet members head federal executive departments and advise the president. The cabinet must be confirmed by a simple majority in the Senate. Trump must also appoint chief advisors and a chief of staff; these officials do not require a Senate confirmation. These appointments make up the executive branch of the U.S. government. Trump already announced his choices for chief of staff and chief strategist. However, the fight for cabinet appointments has been described as a contentious "knife fight." Members of the Republican establishment are fighting the grassroots conservative activists that Trump included in his transition team for influence on who fills the cabinet.
Chief Strategist and Senior Counselor
Trump appointed Steve Bannon, who is the executive chairman of Breitbart News, to be his chief strategist and senior counselor. Bannon's role in the Trump administration has created controversy. Breitbart News is a major website for the alt-right, a white nationalist movement that gained popularity during the 2016 campaign. Breitbart in particular promotes anti-Muslim views, sexism and white nationalism. Breitbart contributors also participated in online harassment. Breitbart writer Milo Yiannopoulos led a racist harassment campaign against Ghostbusters actress Leslie Jones that ended in him being permanently banned from Twitter. Evidence of bigotry can be found Bannon's personal life as well. In a deposition, Bannon's ex-wife alleged that he hated Jews and did not want his children to attend school with Jewish children. Breitbart also attacked top GOP officials throughout the presidential campaign and his anti-establishment views could put him in conflict with Priebus. In a speech on the Senate floor, Senate minority leader Harry Reid called for Trump to cut ties with Bannon.
As senior counselor, Bannon will serve as a high-ranking advisor to the president. Bannon was also on Trump's shortlist for chief of staff, but Trump gave that position to Reince Priebus. Despite the division of responsibility, Trump called Bannon and Priebus "equal partners."
Chief of Staff
The chief of staff
runs
the executive office, meaning all the White House staff answers to them. The chief of staff also executes the president's vision by setting the strategy and directing the executive branch to accomplish the president's goals.
Trump announced that Reince Priebus, the chairman of the Republican National Committee, will be his choice for chief of staff. Priebus has a reputation for loyally serving the Republican Party, and Priebus' appointment is most likely meant as an act of conciliation between Trump and the Republican establishment, which Trump attacked throughout his campaign.
Secretary of State
The former cabinet position held by Hillary Clinton, the secretary of state, serves as the chief foreign policy advisor to the president. The secretary of state also conducts negotiations between nations.
Former New York City mayor Rudy Giuliani is believed to be the leading candidate for secretary of state. Giuliani gained national attention for his response to the 9/11 terrorist attacks and received praise for effectively handling the aftermath. However, he received criticism for his zero-tolerance policy on crime. This policy included stop-and-frisk, where police officers can stop pedestrians and search them for weapons and drugs. Civil rights groups have called the practice of stop-and-frisk racist because police officers disproportionately stopped people of color.
Secretary of the Treasury
The secretary of the treasury advises the president on economic and financial matters. The secretary also oversees several important economic functions, such as production of coin and currency.
Trump's favorite for secretary of the treasury is reportedly Steven Mnuchin. This selection could be a betrayal of Trump's anti-elite stance; Mnuchin was formerly a banker at Goldman Sachs, a bank that played a large role in the 2008 financial crisis. Another blow against Mnuchin's populist credentials comes from his work with George Soros. Soros, the founder of one of the world's biggest hedge funds, is one of the 30 richest people in the world and a prominent Democratic donor.