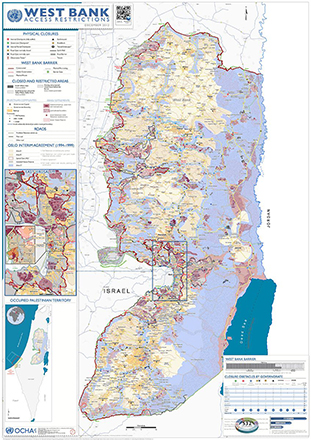 On January 5, an overwhelming majority of U.S. congresspeople voted to condemn a resolution passed by the United Nations that forbade Israel from creating settlements in occupied Palestinian territory. The White House decided to break with years of precedent and abstain from vetoing the resolution and some supporters of Israel are characterizing this as a betrayal of the U.S.' biggest ally in the Middle East. The resolution is informed by years of conflict in the West Bank and U.S. foreign policy.
The resolution
The U.N. Security Council voted unanimously that Israel must cease settlement activity in Palestinian territory that Israel has occupied since the 1967 Six-Day War fought by Israel and several neighboring states. These settlements have caused conflict with the Palestinians. The West Bank has been tarred with cyclical violence between Israelis and Palestinians. The settlements play a key role in the debate of possession of the West Bank. The Israeli settlers believe that it is their mission to reclaim the territory and are supported by the Israeli government.The Palestinians claim that the settlements are a sign that Israel will not respect their sovereignty. They claim that the settlements cause the displacement of people from their homes and resources. These settlements have also strained U.S. relations with Israel. The Obama administration believes these settlements impede peace talks and prevent the creation of a Two-State Solution. The Obama administration decided to abstain from voting on the resolution. This is the first U.N. resolution on the subject in eight years.
Impact
The Israeli government promised to keep building settlements in spite of the resolution, potentially isolating Israel from the U.N. President-elect Donald Trump has signaled that he will be more supportive of the Israeli government's settlement efforts and promised to move the U.S. embassy in Israel to Jerusalem in a sign of support for the Israeli government. Trump publicly advocated for the U.S. to veto the resolution and this could be suggestive of the Trump administration's new relationship with the U.N.