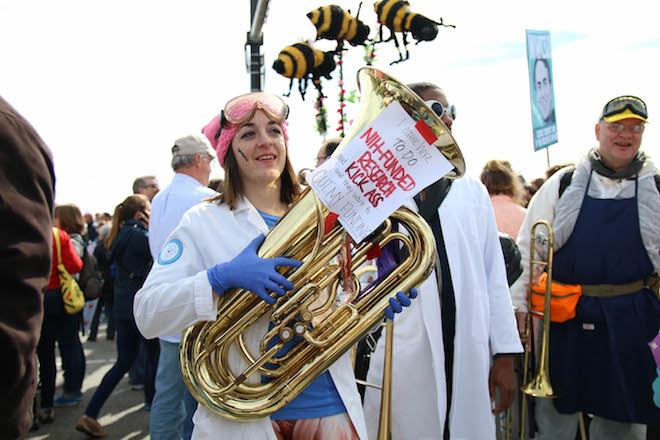 Three months and one day after the Women's March swept the nation, another protest took to the streets of Chicago and cities across the world. More than 40,000 people raised their voices in support for scientific research in Chicago's March for Science, which was one of hundreds around the world.
The Earth Day gathering drew scientists outfitted in lab coats and knitted brain hats out of their research in what felt more like a celebration and show of solidarity than a protest. Among the marchers was a strong and spirited contingent of the Northwestern community.
Alex Birdwell, an engineering professor, attended the march with his wife and young daughter.
"It is a really great bonding experience," Birdwell said. "We want to expose our child to this and raise her in the next generation of scientists."
Like the "Bill Nye the Science Guy" videos that we grew up on, the march combined a serious subject with fun and a sense of humor. A small brass marching band kept spirits high, and floating above the crowd were three giant bumblebees attached to one participant via poles covered in flower garlands.
A little boy dressed as an astronaut mixed with researchers sporting their organization's credentials while brightly dressed stilt-walkers wound their way through the crowd. Signs were pun heavy, though many clever examples featured integrals and chemical equations, part of the joke being that you need to fund science in order to understand the joke.
Bringing together the young and the old, the novice and the veteran was a main focus of the march.
"[As scientists], we are so immersed in our work, but it's also important to try to communicate our work and raise awareness for science," march participant and Biotechnology graduate student Sana Ma said.
The protest centered around Trump administration policies that threaten to decrease the federal budget for scientific research, which would be a severe setback for the scientific community. However, organizers stressed that the event was nonpartisan.
"Why wouldn't you want to [fund science]?" Ma said. "Everything that makes our society advance is science."
After a 10 a.m. rally, marchers traveled down Columbus Drive, and eventually veered off into the Field Museum Campus for an expo and half-off admission to the museum. Northwestern graduate Katie Bock, now a medical school student at the University of Illinois-Chicago, elected to volunteer for the event, citing her "loud voice" and that she likes to help.
"All facts are not created equal," Bock said. "It requires a crowd to tell you, no, the sky is blue, because that is not debatable."
Chicago's March for Science participants asserted the city as a sanctuary for research and innovation, declaring, "United in defiance, we stand for science."