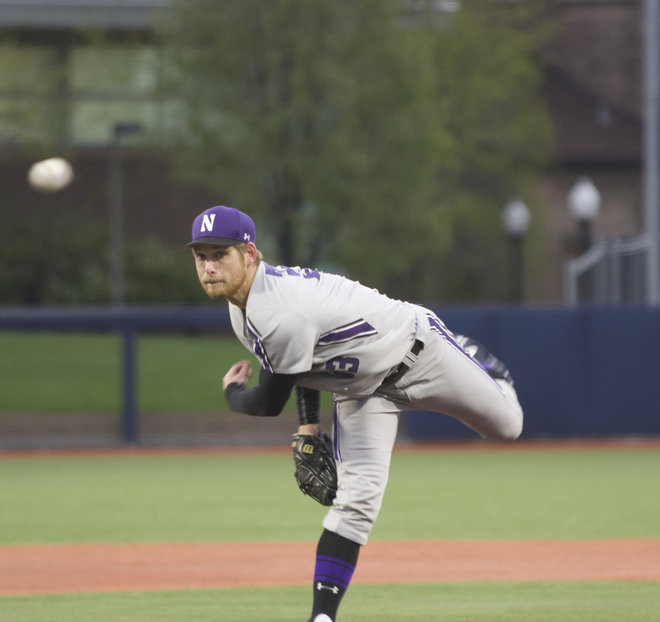 Standing on the turf of the newly renovated Rocky and Berenice Miller Park, donning his Northwestern baseball shirt and purple cap, Weinberg junior Cooper Wetherbee fits right in.
But Wetherbee never thought he would be here.
Just two years ago, Wetherbee was a freshman that played trumpet in the NU marching band. He also pitched for the club baseball team, and he was pretty good. So good, in fact, that one of his teammates suggested he try out for the varsity team.
"I kind of laughed him off and thought there was no way I [could] ever make that kind of commitment, I don't have that kind of time," Wetherbee said. "I didn't think I really loved the game enough to put all of this extra time and energy into it. And then the more I thought about it, the more I realized I would really regret not at least going out and seeing if I was good enough to make the cut."
This past fall, Wetherbee did exactly that. Head coach Spencer Allen had just taken over the program, and was open to having players walk-on. Allen liked Wetherbee's serious, caring attitude and needed another lefty arm, so he gave him an invite to the team.
But Wetherbee had already built his life at Northwestern. While he eventually dropped marching band, he is a double major in Economics and Environmental Sciences, has been the vice president of his fraternity and is a project manager of Analytics, a management consulting student group on campus. He loved club baseball and wasn't especially eager to give it up – 15 games in the spring combined with short, fun year-round practices gave Wetherbee the camaraderie of a team and the challenge of continuing to play baseball at a high level.
And as expected, the jump from club to varsity has not been easy. In 28.1 innings pitched this season, Wetherbee surrendered 47 hits and 28 earned runs, racking up a 8.89 ERA. Northwestern also went 15-39 this year, setting a program record for most losses in a season.
So why take on the grueling six-day, 20-hour a week, 54-game schedule that is demanded at the varsity level? What reason is there to get up for 6 a.m. lifts throughout the fall and winter, just to struggle on the mound in the spring? And who in their right mind would take this commitment on halfway through college, already working overtime to juggle the craziness of life at Northwestern?
"I think it's about being able to reach your potential," Wetherbee said. "[Club ball] was fun and I was playing with a group of guys that I liked, but I was never really going to find out just how good I could be."
It's something that Weinberg sophomore Mat Jones and McCormick senior Jake Stolley can relate to. Unlike Wetherbee, Jones and Stolley long held aspirations of playing baseball at the varsity level. Unfortunately, neither got a scholarship and while both enjoyed playing on the club team, they still desired the challenge of Division I baseball. Both walked on to the team and were forced to push themselves, and Stolley says he has learned a valuable lesson from the experience.
"You have to be able to deal with failure and learn from that," Stolley said. "When I started out as a sophomore on this team, I wasn't terribly successful. But I just kept getting chances and I had to learn from what I did wrong and what went wrong."
Stolley, Jones and Wetherbee are not going to be MLB players. Once their Northwestern careers end, their baseball careers will likely end as well. But as varsity baseball players, they have learned the merits of pushing yourself to be the best you can be and never settling for less – and these are lessons that go far beyond the diamond.
"Baseball was always something that came really natural to me – it was easy," Wetherbee said. "Now that I'm on this team and everyone was the best player on their high school team, everyone has tons of talent. The way that you stand out and the way that you become a contributor is you work really, really hard."