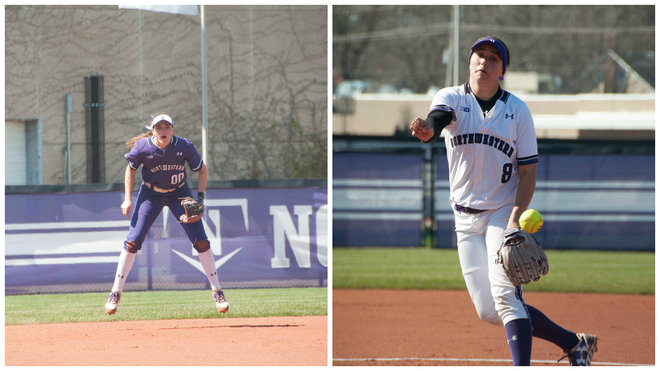 Andrea Filler and Amy Letourneau are the undisputed senior leaders of Northwestern softball – their work ethic, competitive drive and talent have powered the Wildcats to success time and time again.
But Filler and Letourneau aren't some hot-shot, stuck-up superstars. In fact, they might just be two of Northwestern's most relatable athletes.
After Filler suffered a season-ending wrist injury in her sophomore year at Boston College, she realized she wasn't happy at BC and made the tough decision to transfer.
She then went on an exhausting week of college visits from Indiana to Louisville to Wisconsin, with Northwestern as her last stop, and by that time, she just wanted to go home. But she gave it a chance, and with the convincing of NU head coach Kate Drohan, who used to coach at BC, decided to commit.
"When I came in, it was really helpful to have the girls, they were so accepting of me," Filler said. "I never felt like I was 'that transfer,' or someone on the outskirts … It was really easy for me to mesh in with the team."
Now, Filler describes her injury at BC as a "blessing in disguise." She has anchored the three-hole in the Wildcat lineup with 13 doubles, 14 home runs and 51 RBIs this season, receiving All-Big Ten honors last season and starting every game at shortstop the past two years while making game-winning plays like this.
It might seem like athletes at NU have a completely different college experience, but Letourneau, like everyone else, has just been trying to find a job. She is currently enrolled in a post-baccalaureate certificate program in finance after graduating in 2015, has worked two internships in Chicago over the past two summers and will finally be starting her first job in June.
Just like Filler, Letourneau has also dealt with a season-ending injury. Early in her junior year, Letourneau suffered a shoulder injury that required surgery, sidelining her for the whole season. The shoulder still bothers her today, but known for her borderline-insane competitive drive, Letourneau routinely pitches through pain.
Letourneau cannot stand the mere thought of losing. Her 140 innings pitched, 99 strikeouts and 11 wins lead the Wildcat pitching staff by a large margin. Her .352 batting average also leads the team, while her 14 homers and 50 RBIs provide NU power in the cleanup spot.
"I really will do anything to win," Letourneau said. "I've always loved hitting and I know I can help the team by pitching so really I'll do anything I can to help win. Everything else is besides the point."
In fact, during her sophomore season, Letourneau recorded both the highest batting average (.475) and the most strikeouts (113) in Big Ten league games, the only player to ever do that in the conference.
Drohan has seen her two seniors leaders grow – not only as players, but as friends.
"They've matured, grown in the game and grown in their roles," Drohan said. "Hitting three and four for us, they love the responsibility of that. It's been really fun to see their friendship grow as well and see them support each other on the field."
Like everyone, Letourneau and Filler had difficulty adjusting to school, and have faced countless challenges along the way. But they bonded with those around them, and both describe NU softball as a "caring" environment and a "second family."
Filler, reflecting on her career at NU, acknowledged the importance of her development beyond softball.
"The program at Northwestern just fosters positivity and encourages you to be more, and be the best version of yourself," Filler said. "The coaches care about us so much in softball, but also beyond that, they really want us to grow and become great women."
Especially at Northwestern, it's easy to get tied up in results and the future, focusing on the destination instead of enjoying the journey. But Filler reminds us what it's all about.
"I'm not going to look back and be like, 'I remember that series where I hit a home run or that series where I made 'x' amount of errors,'" Filler said. "It's really going to be about the relationships that I've made with the girls on the team, my coaches and the alumni."