Northwestern (2-2) left the Intercollegiate Tennis Association kickoff event this past weekend on a high note after splitting their first matches against Oklahoma and Georgia Tech. The kickoff, for which the winner would qualify for February's ITA Indoor Championships, was hosted in Norman, Oklahoma by the 18th-ranked Oklahoma Sooners.
Northwestern began their match against Oklahoma by losing a close doubles set 1-2, after Chris Ephron and Michael Lorenzini put the 'Cats up before Nick Brookes and Antonioni Fasano dropped a close 5-7 game to the 43rd-ranked doubles pair, Jochen Bertsch and Adrian Oetzbach. In the final doubles match, Ben Vandixhorn and Dominik Stary took Ferran Calvo and Jake van Emburgh to a 6-6 tiebreak, before losing 6-7.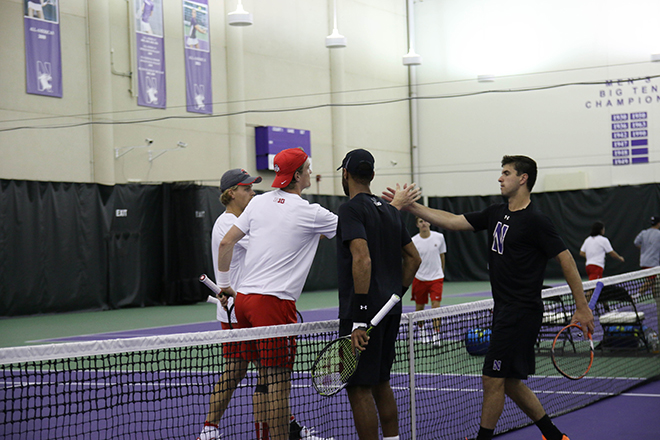 In singles, #1 Antonioni Fasano and #6 AJ Joshi went down by 3-6, 3-6 and 1-6, 2-6 respectively, putting the 'Cats at a 1-3 disadvantage that required them to win the rest of the singles matches to win the contest. Brookes continued his stellar performance from the start of the year by beating Adrian Oetzbach 6-3, 7-5 in #3 singles, and pulling the 'Cats within one game of an overall win; Brookes has still not lost a singles match in team play. Alas, Ben Vandixhorn lost to van Emburgh 4-6, 6-7 (2-7) to give Oklahoma the victory.
Against Georgia Tech (3-3), however, the 'Cats turned their performance around for a dominating victory, including a doubles set win for just the second time all season. In the doubles matches, Chris Ephron and Michael Lorenzini took their match against Phillip Gresk and Brandon Freestone by a tidy 6-1 score, before Dominik Stary and Ben Vandixhorn beat Carlos Divar and Michael Kay 6-4.
In singles, Jason Seidman took down Michael Kay 6-3, 6-4 to put the 'Cats one win from taking the game. #85 Carlos Divar took one back for the Yellow Jackets, beating Fasano 0-6, 5-7 in #1 singles. Ephron closed out the game by beating Daniel Yun 7-6 (7-5), 6-3.
Northwestern will hope to repeat its excellent performance against Georgia Tech when they travel to Durham, North Carolina to play Duke on Feb. 4, at 11 a.m.