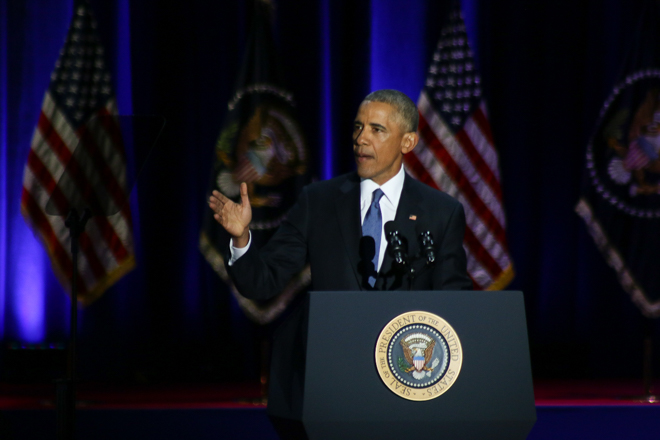 President Obama is preparing to hand off the White House and return to the role of private citizen under the highest approval rating he has had in seven years. His successor Donald Trump, however, is posting unusually low transition approval ratings. Historically, the president elect is able to run on a post-election high in polls that carries into the early stages of the first year in office.
How the current political situation will affect Obama's re-entry into the public sphere remains unclear, though. As one of the youngest outgoing presidents in history at age 55, Obama's role as a national leader in this country could still have a long future if he is able to maintain his current popularity.
The transition from sarcastic "Thanks, Obama" memes to genuine sadness to see him go could lend a helping hand to the Democratic Party if Obama chooses to use his position to help them regroup. Not only is the DNC polling at 39% favorability, they did the political equivalent of blowing a 3-1 lead by losing the presidential election and failing to gain a majority in the Senate.
"I think the Democratic Party would like to think that any president that is aligned with them and that is popular…has an obligation to reach out to their own supporters to cement future Democratic majorities," Northwestern political science professor Chloe Thurston said.
But in his farewell address, the president emphasized a bipartisan message. During the speech in Chicago last Tuesday, Obama used references to To Kill a Mockingbird to establish the need for people to listen to each other and restore "a basic sense of solidarity."
"He might not find it in his interest engage in projects and activities that try to rebuild the Democratic Party so much that he might decide that he is better off trying to engage in projects that try to build civic engagement more broadly," Professor Thurston said.
Civic engagement on lower political levels is where Obama got his start in politics. A return to the grassroots tradition that he was able to inspire to vote for him in 2008 would be in keeping with the message of "we the people" and "yes we can" from the farewell address.
This rhetoric directly contrasts Trump's infamous statement from the Republican National Convention where he claimed that this kind of contrast could be crucial for Obama to maintain his current popularity to become an effective cultural leader, according to Professor Thurston.
"If he pursued the things he was talking about in his speech that would be a way for him to be an active citizen, to make a difference, hopefully a positive one, but not one that's viewed as meddling," Professor Thurston said.
Becoming a kind of anti-Trump in the sense that he maintains what Thurston calls a "scandal-free" character, which is something neither Trump nor Hillary Clinton could promise, is key for Obama to maintain a base of supporters that will listen to and spread his message. So it would be detrimental to his cause if he were seen as meddling, as opposed to maintaining integrity and a dignified respect for our political institutions.
Obama will be facing tough challenges, though. The country elected Trump, and Trump supporters are certainly not the ones getting dewy-eyed over the thought of Obama leaving office.
"If you're polarized enough that you can't fathom voting for the other party, then in some sense who the leader is becomes unimportant," said Thurston.
Polarization actually grew worse during Obama's presidency. The country is now the least unified it has been since the end of Reconstruction. Given polarization, there will always be people who have decided they can't abide him, regardless of his message.
For Obama to become a cultural leader among citizens and spread the message he emphasized in his farewell address, he would need to overcome this trend. If people from both sides of the aisle are not listening to him, the idea of restructuring the rules of engagement so that there is some common sense of unity will not succeed. So despite his current poll numbers in comparison to Trump's, Obama's voice could easily get shut out by the wall of divisiveness in this country.
Then again, according to Professor Thurston: " I don't think many people in 2000 thought that there would be an African American president 8 years later...Trump's nomination I thought was impossible...there are so many examples where you can be proven wrong."