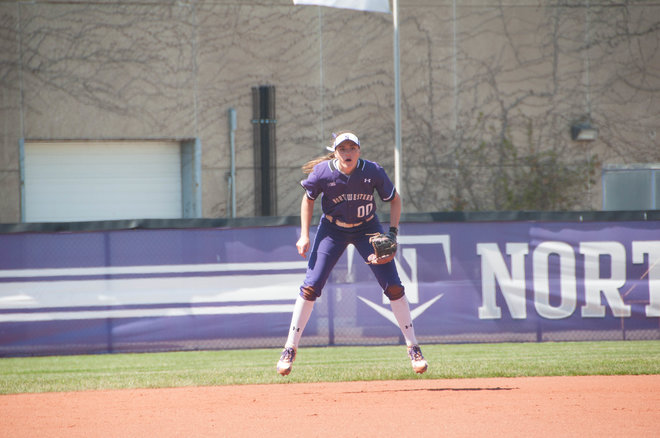 Northwestern (19-23, 10-7 B1G) celebrated its seniors with a sweep of Michigan State (22-25, 4-13 B1G) in its last home series of the year, making Senior Weekend a successful one.
The Wildcats started the weekend the right way on Friday, as senior pitcher Kristen Wood returned from injury and threw four scoreless innings, allowing just one hit, to power NU to a 8-0 run-rule victory in five innings. The 'Cats were up just 2-0 until the fifth inning, were they exploded for six runs, helped by senior Amy Letourneau's three-run homer.
Letourneau had two hits and four RBI's on the day, while third-baseman Morgan Nelson had a hit and two RBIs.
NU didn't find nearly as many hits on Saturday, but captured a hard-fought 4-2 victory. The 'Cats only recorded two hits, but one of them was a three-run double by Nelson, which was just enough to secure the win.
Letourneau went a full seven frames in a gutsy performance on the mound, allowing just four hits and two runs while striking out five. Nelson and senior shortstop Andrea Filler notched the only hits of the day for NU.
The 'Cats' bats woke up on Sunday, as two Filler home runs led NU to a 10-4 victory and a sweep of the Spartans. Filler hit a three-run dinger and a solo shot, and her three hits and four RBI's were a game-high. Nelson also added two hits and two RBI's, enjoying a fantastic weekend.
Wood got another win on Sunday, going four innings while giving up three hits, three runs and striking out two. Letourneau came in for a three-inning save, giving up just two hits, one run and striking out six in a shutdown performance.
NU will play its last home game of the season against Loyola (Chicago) on Wednesday at 4 p.m.