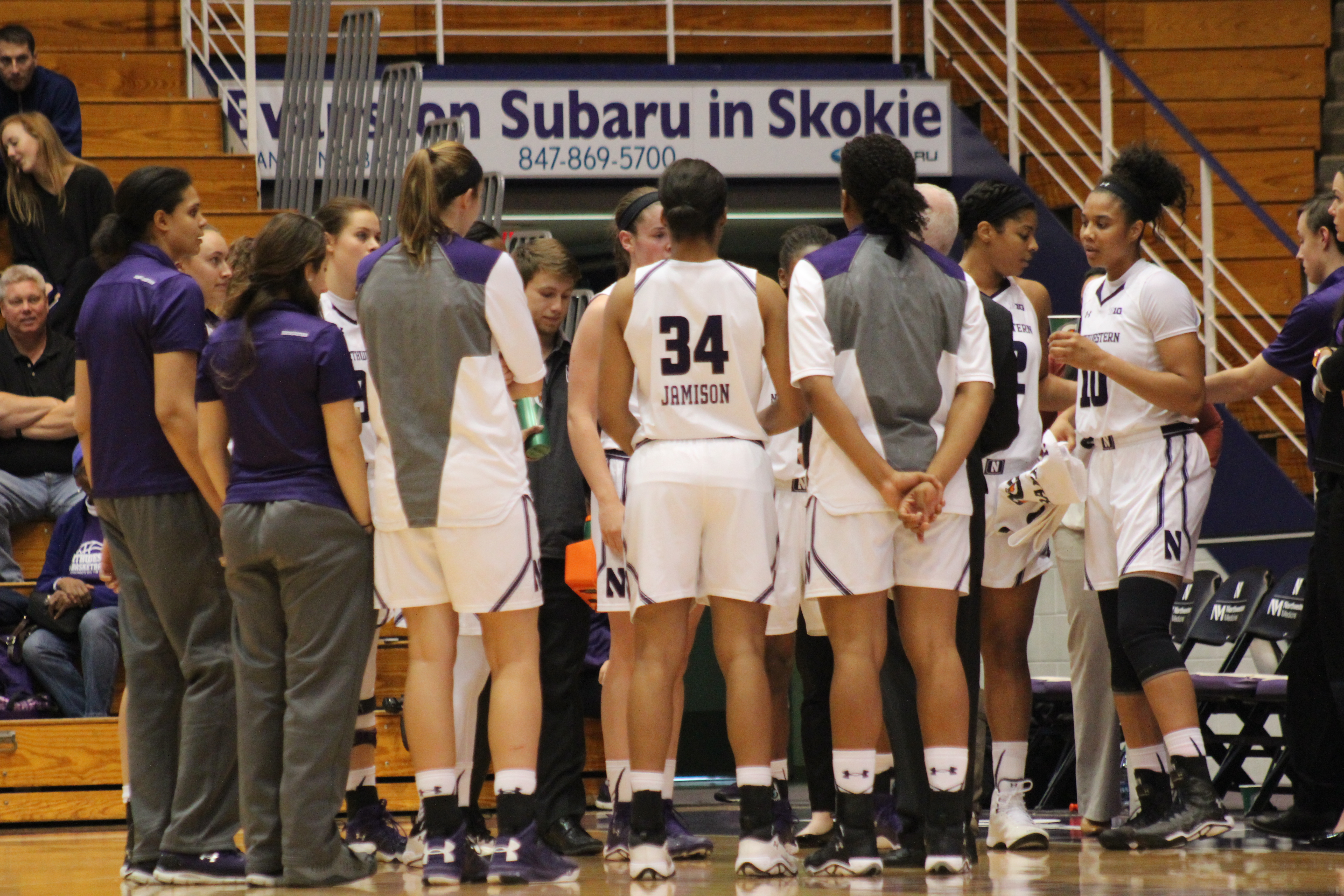 Twelve days ago, Northwestern was a comfortable 12-2, ranked No. 16 in the country and coming off a wonderful 85-62 win over Nebraska. But that was 12 days ago.
In their last four games, the Wildcats were blown out by Purdue and No. 21 Michigan State, surprisingly victorious against No. 7 Ohio State but then crushed once again at No. 5 Maryland. NU now sits at 13-5 and is just 2-4 to start Big Ten play. The Wildcats have lost five of their last eight games after starting 10-0, falling out of the top 25 in the process. Last year, NU qualified for its first NCAA Tournament since 1997, but lost in the first round - something the 'Cats want to change this year.
Barring an enormous collapse, NU will again participate on the big stage in March. But are the Wildcats capable of making a serious run after their recent skid?
One of the main issues is depth. The quartet of Nia Coffey, Maggie Lyon, Ashley Deary and Christen Inman is one of the best in the country, and those four have carried the 'Cats all year, but they have not gotten much help.
Inman leads the team with 629 minutes played while Deary (615), Lyon (614) and Coffey (578) are not far behind. No other Wildcat has played even half as many minutes, as Lydia Rohde (216) and Maya Jonas (206) are the only other players above 200 minutes played. NU has simply not been able to find a consistent fifth option worthy of extended minutes.
Similarly, Coffey leads the team with 340 total points scored this year, while Lyon (287), Inman (274) and Deary (242) have also heavily contributed. But only two other players on the team have scored over 27 points the whole year, as Jordan Hankins (70) and Rhode (40) have been able to help out occasionally.
This tweet, while coming after a 85-62 win over Nebraska, pretty much sums it up for NU.
Maggie Lyon, Ashley Deary, Christen Inman, and Nia Coffey combined for 81 of NU's 85 points. #BenchScoringIsForLosers

— Ben Goren (@BenG412) January 3, 2016
All of these numbers are enormous drop-offs and certainly causes for concern. The big four has been able to carry the Wildcats so far this season, but how far can they really take them? NU will have to find some help for their stars if they want to make some noise in March.
Enter Pallas Kunaiyi-Akpanah. The 6-foot-2 freshman recorded 14 points and 14 rebounds, breaking out in a big way to help lead her team to an upset victory over Ohio State.
The Nigerian-born forward would supply an enormous amount of support to NU's big four if she can consistently rebound and score in the paint. But in three losses against Purdue, Michigan State and Maryland, Kunaiyi-Akpanah combined to score just two points and grab 15 rebounds. If she can settle in and act as a reliable fifth starter, the 'Cats will greatly benefit.
The play of Ashley Deary is also a huge indicator of how NU performs. The junior point guard is the heart and soul of the Wildcats, acting as the catalyst on offense and leading the charge with relentless defense. Deary has been in a little bit of a shooting slump as of late, but her impact on the 'Cats goes beyond scoring.
In the win over Ohio State, Deary dished out 11 assists while limiting her mistakes with just three turnovers. But in three losses against Purdue, MSU and Maryland, Deary averaged 2.3 assists and a whopping six turnovers. Simply, when Deary is taking care of the ball and making plays, NU is a significantly better team.
Beyond that, the Wildcats just have to shoot the ball well. In their last three losses, NU combined to shoot a horrid 8-61 (13.1 percent) from three-point range. It's hard to beat anyone when shooting like that, much less some of the top teams in the Big Ten.
Every team goes through skids during the season and for NU, this recent slide is just that. But some glaring weaknesses have been revealed for the Wildcats in this rough patch, ones they will have to fix to fulfill their goals in March.