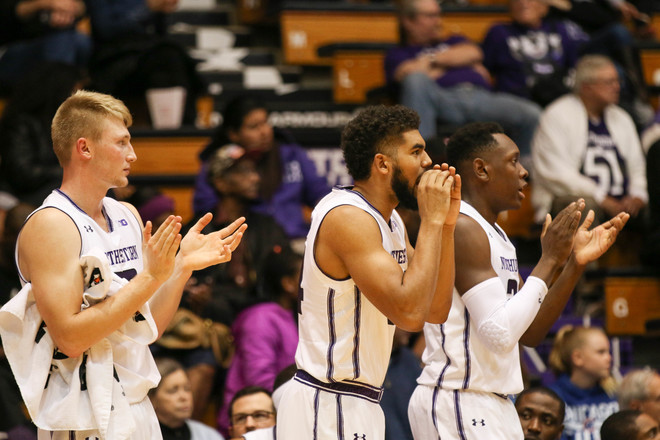 Before the start of Northwestern's basketball season, head coach Chris Collins made a bold statement about his team. Not only did Collins think his team would have more depth, but he also claimed he had a full lineup of legitimate scoring threats, a vast improvement from previous years.
"We've been a good team the last couple years but we were a little bit predictable – you had McIntosh, Demps, Olah and then you had a bunch of guys trying to find their way," Collins said. "On different nights we had different contributors, but it was really those three guys. But now, I really we think we have 5-6 guys, that on a given night, could score 18-20 points in a game. That makes it hard for teams to really lock in and prepare for different guys."
Through 12 games, Collins has been absolutely right. NU has had six different leading scorers in those 12 games – Vic Law has been the high scorer five times, Bryant McIntosh and Scottie Lindsey have each done it twice, and Nathan Taphorn, Sanjay Lumpkin and Gavin Skelly have all led the 'Cats in scoring once.
NU's scoring has been incredibly balanced, and like Collins said, it has made them a more dangerous, unpredictable team. Last year, it was easier to prepare for NU's one-dimensional attack – in the first 12 games, Alex Olah, Tre Demps and McIntosh led the Wildcats in scoring 11 times.
But now, the scoring comes from everywhere. In a blowout victory over IUPUI on Tuesday, NU had six players score in double figures, something that hasn't happened since 2010. Through 12 games, eight different NU players have scored 10 points or more, and many of those players have seen marked improvement from previous years.
Lindsey, perhaps NU's most improved player, has scored in double figures in every game this season (12 times). In his previous two seasons combined, he had only done that 13 times. The Wildcats' junior guard had shown flashes of his scoring potential, but he needed to be a more consistent scorer, and he's done exactly that.
Similarly, Lumpkin, not usually known for his scoring numbers, has stepped up immensely. In his previous four seasons, Lumpkin had only scored in double figures nine times. Through 12 games, he's done it six times, and has been a key contributor consistently. Skelly, had a laughable offensive game in his first two seasons, only reaching the 10-point mark once. But he's scored in double figures five times this season, and exploded for 19 points against IUPUI.
.@gavin_skelly is the only player in the country this season to come off the bench and have at least 19 points, 11 rebounds and 6 blocks. 👀 pic.twitter.com/i1SCdX5ot6

— NU Men's Basketball (@NUMensBball) December 21, 2016
The scoring improvement of NU's rotation players has made the 'Cats astronomically better. But it doesn't stop there – they're efficient, too. Taphorn ranks first in offensive efficiency for NU, Lumpkin is second and Skelly is fourth. Law, Lindsey and McIntosh might lead the Wildcats in scoring, but they rank fifth, sixth and eighth in efficiency, respectively. NU's role players are doing exactly what Collins dreamed – taking the pressure off star players by scoring consistently and efficiently.
Isiah Brown and Dererk Pardon are also large parts of NU's offensive gameplan. Brown, a streaky scorer who plays with extreme confidence for a freshman, is the Wildcats' wildcard. He's still learning, but Brown has shown the ability to take and make gutsy shots, and he can easily drop 15 points if he's hot (as he did against IUPUI).
Pardon, NU's best big man, broke his hand three weeks ago, and will be re-evaluated this week. Before the injury, Pardon ranked second in offensive efficiency, and when he returns, the Wildcats will have eight legitimate scoring threats.
Think about that – eight legitimate scoring threats. Law, Lindsey, McIntosh, Taphorn, Skelly, Lumpkin, Brown, Pardon. When was the last time NU was that deep? It's more difficult to defend a balanced attack, and with scoring contributions from up and down the lineup, the 'Cats are a tough team to defend.
The Big Ten will pose challenges, but with added depth, the Wildcats are better prepared to handle bumps in the road. If NU can maintain its scoring depth in conference play, the prospects of making the NCAA Tournament will become more and more real.