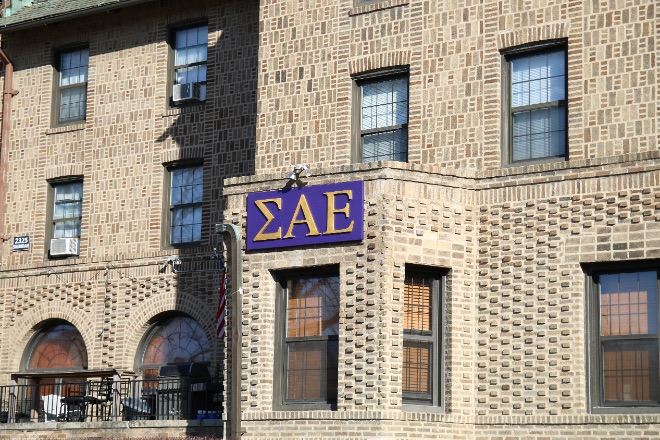 The Northwestern chapter of Sigma Alpha Epsilon fraternity has been suspended from campus for violating a standing disciplinary probation, the University confirmed on Friday. The decision to suspend SAE, made at a hearing on April 7, is unrelated to the allegations of sexual assault against the fraternity made earlier this year.
The fraternity was put under probation in Fall 2016 during a conduct investigation, said University spokesman Bob Rowley, and the probation was set to run out at the end of 2017.
"With blatant disregard to the terms of that probation, SAE planned and hosted social events with alcohol in January of 2017," Rowley said. The suspension runs through September 2018 with the possibility of an appeal.
According to Rowley, all students living in the fraternity's on-campus house must move out by May 6, and the University will work with students to help them relocate.
This comes just weeks after Vice President for Student Affairs Patricia Telles-Irvin said in March that the University would not take action against SAE after concluding its investigation into allegations of sexual assault against the fraternity. However, Telles-Irvin did note in her email that the University would continue looking into other rule violations from SAE that surfaced during the investigation.
"The safety and well-being of Northwestern students is a priority, and we will continue to enforce the University's disciplinary code to the greatest extent possible," Rowley said.
For students who were frustrated with the conclusion of the University's sexual assault investigation, SAE's suspension is a step in the right direction, albeit a different one.
"As students, none of us were there for the Title IX investigation, so none of us know who came and talked to them and how much evidence they did have, but I still think they could have done more," said Amanda Odasz, former outreach chair for Sexual Health and Assault Peer Educators (SHAPE). Odasz also helped sponsor the student petition to remove SAE from campus that circulated in February.
"At the end of the day I'm happy to see they are facing consequences for something," Odasz said. "I just wish they were facing consequences for sexual assault."
Former ASG president Christina Cilento echoed Odasz's concern.
"I'm happy SAE got suspended and think it will make campus safer, but I think a lot of students wish the suspension happened as a result of the sexual assault investigation and not just for alcohol violations," Cilento said in an email to NBN. "I know the University completed its process for sexual assault investigations and the results didn't allow them to take action against the fraternity, so ultimately I'm glad that they're being held responsible for their actions in some way, even if not for the reports of sexual assault."
At the time of publication, SAE national headquarters and Manos Proussaloglou, president of SAE's chapter at Northwestern, did not respond to requests for comment. Current ASG President Nehaarika Mulukutla, whose campaign partially centered on making campus more supportive of survivors, said over Facebook messenger that although ASG has no involvement in sexual misconduct cases, she and ASG Executive Vice President Rose Gambrah want to continue advocating for better survivor support on campus.
This story was updated on April 23rd at 3:36 p.m. to include additional statements from former ASG president Christina Cilento and current ASG president Nehaarika Mulukutla.