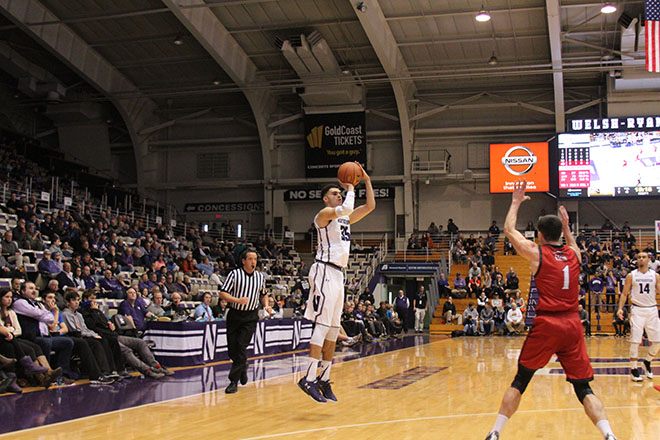 At 2-2, Northwestern men's basketball (14-3) is off to its best start in Big Ten play since the 2005-06 season, but the Wildcats' first four conference games haven't exactly been triumphant. In fact, NU's hot-and-cold performances have revealed a concerning truth about its identity.
In its two conference wins against Nebraska and Minnesota, NU shot a combined 57-for-108 (52.8 percent) from the field, 21-for-48 (43.8 percent) from three point range and 23-for-28 (82.1 percent) from the free throw line. Freshman sharpshooter Aaron Falzon nailed an exceptional 10 of his 15 (66.7 percent) threes and averaged 16 points per game in the two wins.
But in the two losses against No. 3 Maryland and Ohio State, NU was extremely inefficient, shooting 43-for-126 (34.1 percent) from the field, 8-for-45 (17.8 percent) from three point range and 21-for-37 (56.8 percent) from the free throw line. Falzon was 1-for-9 (11.1 percent) from three and averaged just eight points per game in the two losses.
In all fairness, Maryland and Ohio State are decidedly better teams than Nebraska and Minnesota. The defensive abilities of Maryland and Ohio State absolutely bothered NU. But the extent to which NU lives and dies by its shooting performance – especially from three-point range – is alarming.
After Maryland drubbed the Wildcats, Northwestern head coach Chris Collins was asked about his team "living and dying by the three."
"We have to be who we are," Collins said. "If Aaron Falzon, Nate Taphorn, McIntosh, Demps and Lindsey are open, they gotta shoot the ball because that's how we're constructed. To say live or die by the three, I don't know if I'm going to say that, but it's a big part of our game. We didn't make them [against Maryland], they defended us well and we gotta keep shooting them."
The fact of the matter is, this Northwestern team is built around the three-point ball. It is what the Wildcats do best, and when they are hot, they are tough to beat. The problem is, once opponents focus on defending the three-point line, it is difficult for NU to find other ways to score.
After the 'Cats ran out of steam and fell to Ohio State, Collins acknowledged his team's offensive troubles when opponents key in on taking the three-point line away.
"On offense as a whole we just have to convert better. We have a couple guys that can drive, like Bryant [McIntosh] and Tre [Demps]," Collins said. "The other guys have to get better at that. It hasn't been a strength of what they do. We gotta find some points from other guys."
It will only get more difficult for NU, as Big Ten teams excel defensively – especially at guarding the three-point ball. Michigan State is ranked fifth in the country in three-point defense, holding opponents to 26.6 percent from behind the arc, Purdue is ranked 16th at 29.4 percent and Iowa is 31st at 30.2 percent. The Wildcats must play all these teams, along with Maryland and Ohio State again, both who already know how to defend and win a game against NU.
The eventual return of Olah will greatly help the 'Cats find other scoring options down low. But NU has relied on the three-ball all year, even with Olah in the lineup. The Wildcats were able to prey on their cupcake non-conference schedule whether or not shots were falling, but they have quickly learned that it is not going to fly in the Big Ten.
For this NU team to make the so-desired first NCAA tournament in program history, it will have to adjust and find other ways to score when opponents take away the three-point line. In the Big Ten so far, the Wildcats have not been able to do this. Perhaps, this team doesn't have what it takes to qualify for the NCAA Tournament. Maybe with the absence of Vic Law and the injury to Olah, NU has lost too many scoring options and become too reliant on the three-pointer.
Only time will tell if the Wildcats are able to find a balance on offense, scoring in other ways than from behind the arc. If it is able to adjust, this Northwestern team might just be the one that makes history.