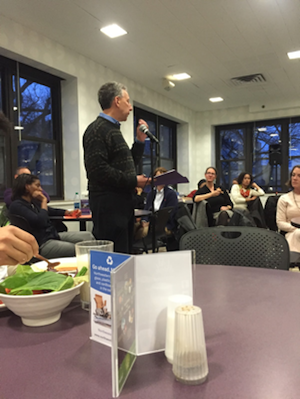 Provost Dan Linzer and other Northwestern faculty gave students a look at the slightly vague umbrella of diversity and inclusion in academics, as well as updates on the provost's task force that recommends ways to improve students' experiences, in a community dialogue Wednesday evening.
Students came in response to emails from various administrators - possibly ones that went directly to your "Mark as Read" section - to hear from the faculty who committed to hearing student feedback and maintaining transparency in decision-making processes about how to better campus inclusivity in a community dialogue Wednesday evening.
"[Diversity] is an issue of such import and something that I know all of us think of as one of the key issues and key opportunities as we think about the future of Northwestern, as we think about our space on campus and creating a community," said Celeste Watkins-Hayes, the moderator of the dialogue and a professor of sociology and African American studies.
Provost Linzer, who oversees academic initiatives, spoke candidly about both "optimistic" and "concerning" trends in diversity.
"Like it or not, we have a history of inequality and exclusion," said Linzer. "There's stuff that's happened over the years that we're trying to deal with and make the place better."
Linzer went on to say, "if there's one student at Northwestern who is unhappy and feels that things have gone wrong, that's one too many." Administrators often make mistakes and have to try new things, though they may be possibly grandiose and idealistic, he said.
The optimism Linzer expressed about the power of collective impact and care at NU was shared by other speakers including the deans of Weinberg and McCormick, Adrian Randolph and Julio Ottino.
This year, the provost and President Morton Schapiro have implemented changes to financial aid including to undocumented students. They also began an effort within admissions to increase outreach to Native Americans and partnered with liberal arts schools to expand diversity in STEM.
Linzer said increasing faculty diversity will create a more inclusive environment.
"We started an outreach program with departments to work on how to conduct faculty searches to be more inclusive," he said.
The provost's task force is in the process of considering some of students' top campus concerns, including making changes to CTECs, the advisor system, credits needed to graduate and how to track the costs of courses and textbooks.
Though implementing these programs may be possible and even probable in upcoming years, "it's hard to change cultures," Watkins-Hayes said.
However, having conversations between unheard community members can expose faculty and students to issues to improve.
"That's why communication is so important," Watkins-Hayes said.