This week, Northwestern's Muslim Cultural Students Association (McSA) is hosting "Discover Islam Week" to promote awareness about the experiences of Muslims and their allies. As part of the initiative, a variety of lecturers will be giving speeches this week discussing different topics relating to Islam, particularly in line with the week's "We the People" theme. McSA members will also be passing out lemonade at the Rock all week.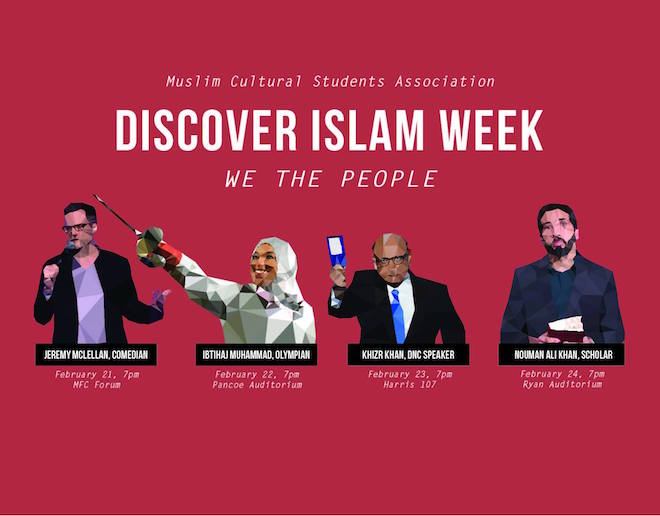 Tuesday: A Night of Comedy ft. Jeremy McLellan (McCormick Foundation Center, 7-9 p.m.)
Stand-up comedian Jeremy McLellan will perform Tuesday night to kick off the week. McLellan is known for tackling topics ranging from race to Santa Claus during his routines, and he has won several awards in his hometown of Charleston, South Carolina for his performances.
Wednesday: En Garde: Ibtihaj Muhammad's Journey (Pancoe, 7-9 p.m.)
Ibtihaj Muhammad, the first Muslim woman to win an Olympic medal for the U.S. (and the first woman to compete in the olympics in hijab), will give a presentation on her experiences growing up as a Muslim woman in the U.S. and how she grew to represent Islam on a global scale through the Olympics. Muhammad is currently a sports ambassador for the U.S. Department of State's Empowering Women and Girls through Sports initiative and owns her own clothing company, Louella.
Thursday: Khizr Khan: Muslim Gold Star Parent (Harris Hall, 7-9 p.m.)
Khan, who is most known for his speech at the 2016 Democratic National Convention, will give a speech about citizens' role in keeping order in the new political climate. Khizr's son Humayun was an army captain who was killed in Iraq and posthumously awarded the Bronze Star Medal and Purple Heart. At the DNC, Khan gave a memorable speech about how President Trump will impact Muslim families like Khan's and their experiences in the U.S.
Friday: Spiritual Resilience: Combating Adversity with Nouman Alii Khan (Ryan Auditorium, 7-9 p.m.)
The week's keynote speaker, prominent Muslim scholar Nouman Alii Khan, will discuss addressing adversity and hardship from a spiritual perspective. Khan is the founder and CEO of Bayyinah, the Institute for Arabic and Qur'anic studies.