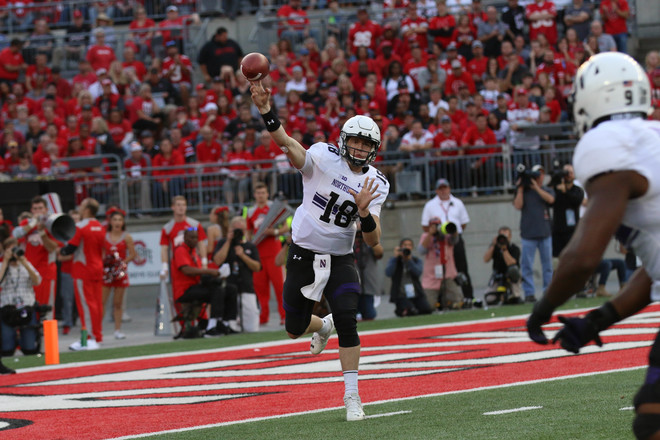 Northwestern (6-6, 5-4 Big Ten) will play No. 23 Pittsburgh (8-4, 5-3 ACC) in the New Era Pinstripe Bowl at Yankee Stadium in Bronx, NY on Wednesday, December 28 at 1 p.m. CT. Here's everything you need to know about Northwestern's chances:
Pittsburgh scores a lot of points (and gives up a lot of points)
Pitt averaged 42.3 points per game this season, the 11th highest total in the country. That's a lot of points. Led by senior QB Nathan Peterman (2,602 pass yards, 26 TDs, 6 INTs) and star junior RB James Conner (1,060 rush yards, 16 TDs), the Panthers win games by outscoring teams in high-scoring shootouts.
Back on Sep. 10, Pitt took down No. 5 Penn State 42-39. On Nov. 12, Pitt dealt No. 2 Clemson its only loss of the season, 43-42. The Panthers even put up 76 points in their last game of the season, beating Syracuse 76-61 in the highest-scoring game in FBS history.
So yeah, Pitt scores a lot, but it gives up a lot of points, as well. The Panthers rank near the bottom in scoring defense, allowing 35.6 points per game. They gave up 51 to Miami and 45 to Oklahoma State (both losses), and even though they beat Syracuse, they still let up 61 points. Almost every game Pitt has played has been a shootout, and in 10 out of its 12 games, Pitt has allowed at least 27 points.
What does this mean for Northwestern?
Pitt is going to make this game a shootout, which seems to play into NU's favor. The Wildcats have played both high-scoring and low-scoring games in their rollercoaster season, but they have more success when the score is higher.
When NU football has scored over 21 points this season, it's 6-0. When it hasn't, it's 0-6. Pitt's defense allows 35.6 points per game. 🤔

— NBN Sports (@nbn_sports) December 23, 2016
NU has shown the ability to win shootouts, in the form of a 54-40 victory over Michigan State and a 38-31 win over Iowa. When in sync, NU's offense is really good, like record-breaking good.
Redshirt sophomore QB Clayton Thorson (2,968 pass yards, 21 TDs, 8 INTs) is tied for the most single-season pass TDs in NU history. Senior WR Austin Carr (1,196 receiving yards, 12 TDs) has enjoyed an All-American season, and was a Biletnikoff finalist, awarded to the best receiver in the country. And while Pitt boasts one of the best running backs in the country in James Conner, so does NU – junior Justin Jackson (1,300 rush yards, 12 TDs) is the Wildcats' bread-and-butter, and by the time his career is over, will go down as one of the best players in program history.
NU has run into trouble when its offense fails to move the ball and when it can't finish drives with points. But it doesn't seem like Pitt's defense will give NU a hard time, given it allows 35.6 points per game. Both NU and Pitt should score in bunches, and a high-scoring shootout is extremely likely.
Will either defense be effective? (hint: probably not)
With talented offenses and a shootout likely, neither defense will dominate the game. But if one side can get a slight edge, it might be the key to securing a victory. So what's the best way to slow each offense?
For Pitt, it all starts on the ground with Conner. NU boasts the 32nd best rush defense in the country, allowing 136.7 yards per game. The 'Cats have had success limiting the run, but against one of the top backs in the country, they will have to be at their best.
Conner, the ACC career leader in TDs, is especially prolific near the endzone, and if the Wildcats can keep him out, they will gain the edge. But it won't be easy – Pitt is among the best in the country with 30 red zone rushing TD, and Conner hit paydirt in 11 out of 12 games this season. If NU fails to slow Conner, it will open up Pitt's passing game, and the Wildcats will be in trouble.
NU's offensive capabilities largely hinge on the performance of its offensive line. Without push up front, the Wildcats have difficulty establishing the run, and without pass protection, Thorson is often hurried into poor decisions and costly turnovers. Pitt's senior defensive lineman Ejuan Price (21 tackles for loss, 12 sacks) is one of the best in the nation, and he could cause problems for NU.
But Price might not be enough to cover up his team's horrendous pass defense. Pitt allows 343.1 pass yards per game, the second-worst mark in the entire country. The Panthers have allowed more than 400 passing yards in five games this season. If NU's offensive line gives Thorson time, he is capable of having a career day.
So what's going to happen?
NU is going to have difficulty stopping the Pitt offense. The Panthers' attack is one of the best in the country, and they beat two top-5 teams with their high-scoring unit. Few teams have been able to slow Conner, and if the Wildcats can't, Pitt will pile on points.
But will NU be able to keep up with Pitt's offense?
Yes, Pitt's pass defense is terrible, and Thorson will have success, but that might actually work to Pitt's advantage. Pitt's high-scoring offense gives them a cushion – the Panthers will let NU throw all day, betting that Thorson will make a few costly mistakes.
Against Clemson, Pitt forced DeShaun Watson, one of the best QBs in the country, to throw 70 times. Watson threw for an astounding 580 yards, but tossed three key interceptions and Pitt pulled off the upset victory. Thorson isn't as good as Watson – if he has that many pass attempts, he's going to make mistakes and Pitt will capitalize on them.
In order to keep up with Pitt, NU will have to establish the run, utilizing one of its most dangerous weapons in Jackson and creating a balanced, unpredictable and effective attack. When the Wildcats get Jackson going, they perform better – in their six wins this season, Jackson compiled 159 carries, 847 yards and eight TDs. In NU's six losses, Jackson only rushed 107 times for just 453 yards and four TDs.
While Pitt's pass defense gives up over 343 yards per game through the air, its run defense allows just 109 yards per game (8th best in the country). The 'Cats will have to resist Pitt's efforts to make them a pass-heavy, one-dimensional offense and find that balance that makes them so successful.
NU football is best when balanced on offense.
In wins (avg): 191 rush yards, 253 pass yards
In losses (avg): 99 rush yards, 241 pass yards

— NBN Sports (@nbn_sports) December 24, 2016
If the Wildcats can assert themselves on the ground, they should be able to keep pace with Pitt's high-scoring attack, giving them a chance to pull off the victory. If not, Pitt's offense will breeze past them, leaving NU behind in a Pinstripe Bowl shootout.
Check back Tuesday for NBN's staff predictions for the Pinstripe Bowl.