Many Wildcats have shaped American politics. Governors, cabinet members and members of Congress are among our esteemed alumni – but most of of these alumni are also big losers. Some NU graduates ran for president multiple times only to lose in landslides so embarrassing that even our football team laughs at them. Don't worry, not every former Wildcat failed to achieve their dreams. Some of them are incredibly corrupt governors who get removed from office for selling a Senate seat.
Northwestern loves to brag about how their alumni run Hollywood and sweep the Emmys. But, they have not quite cracked D.C. just yet. Maybe the first Northwestern student to be elected president is currently a freshman, and maybe Northwestern will win the Big Ten Championship Game this year. Read this timeline to learn that even the most successful Northwestern alumni can fail miserably.
Rod Blagojevich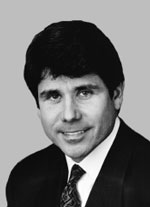 Former Illinois Governor Rod Blagojevich transferred into Northwestern after attending the University of Tampa for two years. Blagojevich graduated in 1979 with a B.A. in history. NBN cannot confirm whether or not he sported his infamous hairstyle during his time at Northwestern. He would go on to attended law school at Pepperdine University after being rejected from Northwestern and the University of Chicago's law schools. In 1992, Blagojevich won a seat in the State House of Representatives and became a United States congressman, which he surrendered to campaign for Illinois fifth Congressional District in 1996. He was elected governor in 2003 and Blagojevich, who was once a Golden Gloves boxer, ran Illinois like his own personal boxing ring. He became well known for conflicts with members of his own party. Unfortunately, Blagojevich probably failed his civics classes at Northwestern. Blagojevich gained national infamy for trying to sell then President-elect Obama's vacant Illinois senate seat. He did seem to have learned something from his econ classes, referring to the senate seat as "f'n golden" and vowing to sell it for an appropriate price. He was removed from office and later sentenced to 14 years in prison. When somebody does something too corrupt for Illinois, you know he crossed a line. Another highlight of the Blagojevich saga was his appearance as a contestant on the Celebrity Apprentice, where he was fired after the fourth episode. One can only assume that Blagojevich gave Trump a few pointers on how to be an effective politician. Blagojevich might not be the Northwestern's favorite alumni, but at least he can speak decent Spanish.
Pat Quinn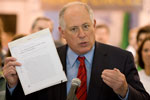 Blagojevich's successor also attended Northwestern University. Former Illinois governor Pat Quinn graduated from Northwestern Law School in 1980, having previously graduated from Georgetown in 1971. In 1982, he was elected as commissioner of the Cook County Board of Tax Appeals and in 1990, he was elected state treasurer. Yet the real drama began in 2002, when Quinn was elected as lieutenant governor to Blagojevich. When Blagojevich was removed from office, Quinn took over as governor, serving the rest of his term. In a real nailbiter, he won his own term as governor in 2010. Quinn tried to get a second term and ran against Bruce Rauner, but came up short of victory.
Richard "Dick" Gephardt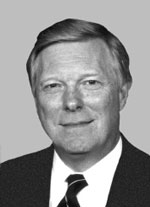 By the time Richard "Dick" Gephardt graduated from Northwestern in 1962, he was president of Beta Theta Pi fraternity, ASG and his class. But Gephardt's ambition didn't stop at Northwestern – he eventually ran for Congress and president of the United States.
Gephardt started his political career in 1968 as an alderman in his home state of Missouri. In 1976, he was elected to the House of Representatives. Gephardt served the third district of Missouri for 28 years, becoming a leader in the Democratic party. He was the House Democratic leader, the majority leader and the minority leader.
Embodying the classic overachieving attitude of Northwestern students, Gephardt wasn't satisfied. He ran for president in 1988 and 2004. Gephardt won three states and six percent of the vote in the 1988 Democratic primary. While he was not as successful in 2004, he was on Democratic presidential nominee John Kerry's shortlist for potential vice presidential candidates.
George McGovern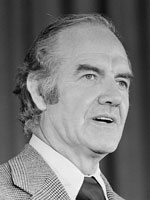 Senator George McGovern was a champion of American liberalism and one of the biggest losers in the history of American presidential elections. Before becoming a part of the Northwestern community, McGovern enrolled in Dakota Wesleyan University and served in the U.S. military. He also spent time as a preacher in Illinois before becoming disillusioned with the ministry and enrolling in Northwestern University's graduate school, graduating in 1949. McGovern was then elected into South Dakota's First Congressional District in 1956 and he became a senator in 1960. He first ran for president in 1968 as an anti-Vietnam War candidate. However, Vice President Hubert Humphrey secured the nomination during the turbulent Democratic National Convention. McGovern would later chair a commision that worked to ensure that the Democratic Party practiced fair elections. He did eventually get his day to be the Democratic nominee, but President Richard Nixon beat him in every state but Massachusetts. Sad!
William Jennings Bryan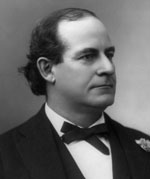 William Jennings Bryan studied at Northwestern Law School before it was Northwestern Law School. Union Law College in Chicago was the first law school in the Windy City and in 1891, it became the Northwestern School of Law. Bryan was eight years shy of becoming a Northwestern student when he graduated the law school in 1883. He was elected to Nebraska's first Congressional district in 1891. The leading member of the Democratic Party's populist wing, Bryan was the Democratic nominee for president in three elections. Yet Bryan had to settle for becoming secretary of state in 1913, later resigning due to his pacifist beliefs. However, Bryan is possibly best known for defending Creationism in the 1925 Scopes Trial. Do not worry, he did not major in biology at Northwestern.
Adlai Stevenson II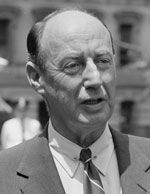 After finishing his law degree at Northwestern in 1926, Adlai Stevenson went on to start a renowned career of public service. Stevenson previously went to Harvard Law School, but he lost interest in law after talking to Supreme Court Justice Oliver Wendell Holmes. In 1948, Stevenson successfully ran for governor of Illinois on a progressive platform. He later became the Democratic nominee for president in 1952 – and lost to Dwight Eisenhower in a landslide. Not one to give up, Stevenson ran against Eisenhower again in 1956 and lost by an even worse margin. Sure that third time was the charm, Stevenson ran again in 1960 only to lose to a young upstart from Massachusetts named John F. Kennedy. Unfortunately, the Kennedys did not like Stevenson and refused to make him secretary of state in spite of his desire for the title. Instead, they threw him a bone and appointed him ambassador to the United Nations.