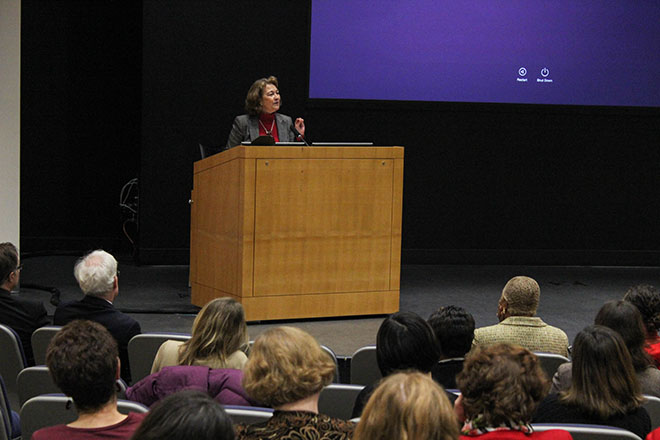 On Wednesday night, long-time feminist lawyer and NU alum Terry O'Neill spoke to an audience of about 50 students, faculty and Evanston residents about the importance of women mobilizing against president-elect Donald Trump.
O'Neill is the president of the National Organization for Women (NOW), as well as a former attorney and law professor, and addressed the majority-female audience with a passionate call to action.
"Our country has turned a corner, and we need to be very clear-eyed about what's happening," O'Neill said. "There is no sugar-coating what 67 percent of white men and 53 percent of white women [who voted for Trump] just did to us."
During her speech, O'Neill emphasized the importance of intersectionality, or considering how gender intersects with other facets of identity like race and class. To demonstrate how intersectionality affects women's experiences, she looked at the "gender gap:" i.e, while white women make 79 cents to every dollar a white man makes, that number is even lower for minorities. Black women make only 63 cents and Latino women only 59 cents to every dollar a white man does.
"I thought [her speech] was amazing," College Feminists President Kendall Sheer said. "She could have just gone up there as a white woman and spouted back a lot of the things we're used to hearing, but she focused so much on intersectionality and I really applaud her for that. She really fired me up."
O'Neill also warned against the normalization of president-elect Donald Trump's racist and sexist comments. She read an excerpt from The New York Times that employed language such as "if he abandons his racist rhetoric, many will support him," suggesting that the writer was speaking about Trump, but then revealed the excerpt was actually written in the 1930s about Adolf Hitler. O'Neill acknowledged she knew this would be a contentious connection, but argued that principles of white nationalism were too clear in both men to ignore.
"[Her speech] was a breath of fresh air," Medill freshman Victoria Alfred-Levow said. "It was just an amazing thing to see how passionate and how honest she was. I don't necessarily feel like all Trump supporters are white nationalists, but I can understand where that's coming from and I'm really glad I got to hear what she had to say."
Northwestern Dean of Libraries Sarah Pritchard helped bring O'Neill to campus in conjunction with a library archive initiative inspired by Karen DeCrow, another former NOW president and Northwestern alum. The library is hosting an exhibition entitled "You're no one until somebody hates you" that details DeCrow's life, and Pritchard thought O'Neill would be a welcome supplement to the exhibit.
"We got this idea over the summer – we didn't know how the election was going to turn out," Pritchard said. "We just knew that Northwestern may be the only place in the country that has had two alums serve as presidents of the National Organization for Women."
Finally, O'Neill emphasized the importance of grassroots organization. She encouraged anyone who was interested in supporting feminists and women to get involved with the Chicago Chapter of NOW, or participate in any way that makes sense for them.
"This work is personal," she said to close her speech. "It's emotional; it's spiritual. You have to find what works for you and be dedicated."
Editor's note: Victoria Alfred-Levow is a contributing writer to NBN.