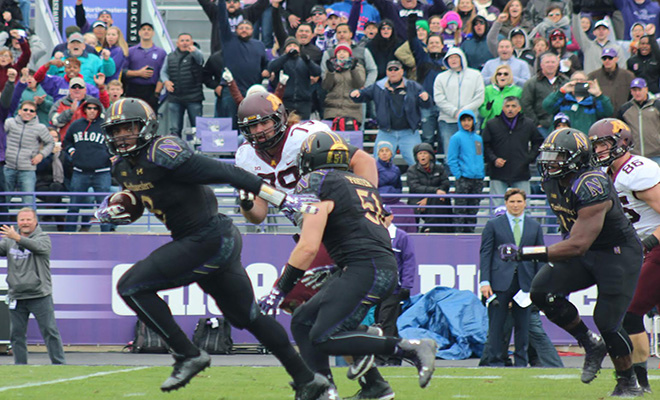 Defense. It's been Northwestern's forte all year and on Saturday, the story was no different.
Northwestern (5-0, 1-0) opened its Big Ten schedule with a bang in a 27-0 drubbing of Minnesota (3-2, 0-1) at Ryan Field, in what was the Wildcats' second shutout of the year. It was Northwestern's first shutout in B1G play since 1995 and the first time the 'Cats have recorded multiple shutouts in a season since 1965 – and it's only five games into the year.
"I'm not ready to even put this [defensive] group in the category because we've got a lot of chapters left to write," head coach Pat Fitzgerald said. "I think they've got the chance to be much better [than the '95 defense]."
NU held Minnesota to just 173 yards of total offense – 74 on the ground and 99 through the air. The Gophers never even advanced past Northwestern's 31 yard line.
Through five games the Wildcats have only allowed three touchdowns – two of them to Ball State and one to Duke, which was off of an interception.
And more, Northwestern's defense can often be its best offense. A Matthew Harris interception in the second quarter gave the Wildcats great field position and an Anthony Walker 13-yard fumble recovery TD highlighted the 'Cats superb defensive day.
"I think defensively our confidence has grown from facing teams like Stanford and Duke early on that were both physical and had speed," standout defensive end Dean Lowry said. "So we were really battle tested playing two different styles of scheme and we feel really confident that we can play against anybody."
Redshirt freshman quarterback Clayton Thorson enjoyed one of the best weeks of his five-game career. The Illinois native was 14-19 for 128 yards and ran 11 times for 30 yards with two rushing TD's, but most importantly, did not turn the ball over once.
Zero turnovers, baby," Fitzgerald said of the play of his young, mild-mannered quarterback. "That's all that matters. He found a way to win again."
Thorson is looking more and more comfortable each week. Through four games, the redshirt freshman had been a mixed bag – sometimes making questionable decisions and turning the ball over, and sometimes showing the ability to create plays with his arm and his feet.
Against Minnesota, Thorson appeared confident and stood tall in the pocket, delivering lasers to receivers for first downs multiple times and keeping drives alive in the process. More than capable of running the ball, Thorson scored both offensive touchdowns for the 'Cats on the ground, punching in a five-yard and a one-yard score.
"It felt good, I felt comfortable," Thorson said. "I had no turnovers, that was a positive. I think we did a good job as an offense of just executing drive in and drive out and that's why we won the football game."
Justin Jackson had 20 carries for 121 yards and played a huge role in Northwestern's second touchdown drive, scampering for carries of 31 and 12 yards before Thorson punched it in from the one yard line. After totaling 68 carries the past two games, and with concerns building over Jackson's workload, a 20-carry day is certainly an encouraging sign for hopes of keeping Jackson fresh well into December.
After what was hands-down Northwestern's best performance of the year, there is a strange aura of confidence around Ryan Field. An unusual feeling for the often disappointing Wildcats, this team might actually be for real. NU made it through its out-of-conference slate unscathed, but it was unclear how well the 'Cats would fare in the brutal, physical B1G. Not only did Northwestern cruise to victory in its B1G opener, it did so in the most convincing fashion it had all year.
Expectations are rightfully high for the Wildcats, and a trip to No. 22 Michigan next week will be its biggest test yet. Just how good is this Northwestern team? With arguably the best defense in the nation, an increasingly confident and versatile quarterback, and one of the strongest running back committees in the B1G, this might actually be NU's year.