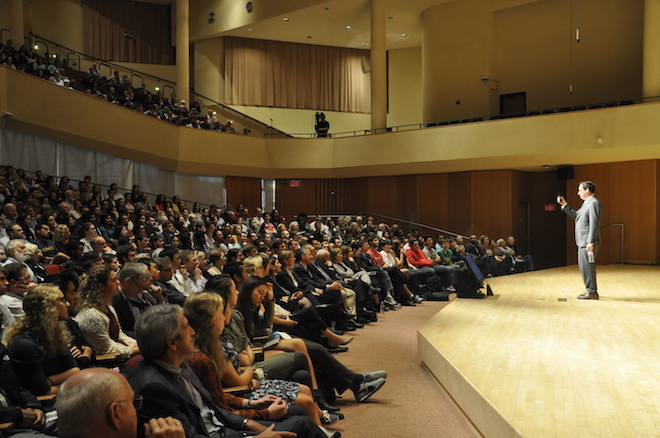 Nate Silver, the Editor-In-Chief of FiveThirtyEight and the author of this year's One Book One Northwestern selection, delivered a keynote address at Pick-Staiger Concert Hall Thursday as part of the One Book program.
Silver's book, "The Signal and the Noise: Why Most Predictions Fail – But Some Don't", was given to all first-year Northwestern students before the school year, and Silver discussed current events related to the themes in his book.
Silver used a slideshow presentation to supply charts and graphs of important trends in politics, sports and weather, giving examples of specific instances where predictions had gone right or wrong and explaining what could have prevented them from going awry. One of his overarching messages addressed the disconnect between making predictions and the expectations that come with it.
"To me, prediction is central in just the process of gaining knowledge … [Uncertainty] is a big part of it too," Silver said in an interview before the address. "Our role is not to say we can predict everything perfectly. It's to say when are things relatively more or less predictable. What are realistic scenarios, versus plausible but unrealistic ones, versus nearly impossible ones?"
A graduate of University of Chicago, Silver worked as a consultant at KPMG in Chicago following graduation. But it wasn't the job for him, and he developed the now-famous PECOTA statistical system to project performance in baseball and started writing for Baseball Prospectus. Silver then started his FiveThirtyEight blog, which was picked up by the New York Times before being sold to ESPN in 2014.
After correctly predicting the winner of all 50 states and the District of Columbia in the 2012 Presidential Election, Silver gained a reputation as the closest thing to a real-life fortune teller – but he says he'd rather not have the spotlight. Silver talked about the success of FiveThirtyEight and the future of data journalism, a field he would like to see get more attention.
"I think the most short-term problem is that we need more talented data journalists," Silver said. "People haven't necessarily been trained with these skills in mind. If they have them, they're very valuable not only to an organization like FiveThirtyEight, but they can also go teach, they can go in the private sector, they can do a lot of things."
Northwestern President and Economics professor Morton Schapiro sat front and center for the address, and had nothing but praise for his fellow statistician afterwards.
"I've been teaching this stuff for 38 consecutive years," Schapiro said. "One of my takeaways is that if you do statistics in the right way, you can understand truth. And you know, his examples are better than mine … his examples are really cool and they capture the imagination. Rather than say, 'Oh, he's not an academic,' I think thank god for people like Nate Silver."