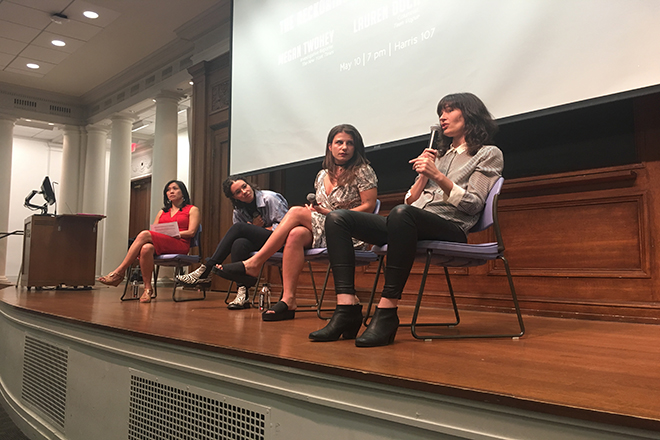 It feels like eons ago that #MeToo entered the common vernacular. But incredibly, the #MeToo movement has ridden the crest of a new and growing tidal wave of feminism for less than a year, after a New York Timesinvestigative piece revealing decades of sexual misconduct by now-infamous Hollywood tycoon Harvey Weinstein was published October 5.
There were major sexual abuse allegations against powerful people before—including against President Donald Trump—but the Harvey Weinstein story changed something. This Thursday, the Contemporary Thought Speaker Series brought three journalists to campus who have been at the forefront of the #MeToo discussion and women's rights issues in general for a panel discussion called "Media and #MeToo: The Reckoning and its Repercussions," where they got down to the root of what happened and where the movement is going.
The panel was moderated by associate journalism professor Mei-Ling Hopgood, and featured:
Megan Twohey, New York Times investigative reporter (and Evanston Township High School grad!)
Six months ago, Twohey and partner Jodi Kantor's reporting unveiling the Harvey Weinstein story catapulted the #MeToo movement into being. The piece recently won a Pulitzer Prize, journalism's highest honor, which it shared with The New Yorker for its own Weinstein coverage.
Key panel quote: "There was this bubbling rage that was ready to be unleashed."
Duca's "Donald Trump Is Gaslighting America" recently became the most viewed post in Teen Vogue's history. In her column, "Thigh High Politics," and her freelance work, Duca covers politics, pop culture, and issues of gender inequality.
Key panel quote: "[#MeToo] is corroborating the fact that this is the state of our culture."
Erika Allen, The Outline managing editor
As an editor of the new and innovative digital media site The Outline, Allen manages stories covering power, culture, and the future. Allen's experience includes time as deputy editor of Vice Magazine and editor of Times Insider at the New York Times.
Key Panel quote: "[Being a woman] made it hard for me to read, and follow up on, and to keep pushing on these stories because it is like lived experience, and to read it over and over happening to so many people is both motivating and also obviously distressing."
This is what they had to say.
On the story that changed it all.
"I had no idea that this was going to help unleash this broader worldwide reckoning," Twohey said.
As unbelievable as this may sound now, Twohey said that during the reporting process she and her partner, Jodi Kantor, were unsure that their story would have an impact, and that they even questioned if people knew who Weinstein was.
Twohey covered stories about sexual assault before the Weinstein investigation, and her reporting experiences included a verbal lashing from the president over the phone as she presented him with allegations that she was preparing to publish.
"He yelled at me, he called me a disgusting human being, and it really felt like we were in the trenches with that reporting," Twohey said. "I wondered what it meant that somebody could be accused by so many women of sexual misconduct and then go on to be elected."
The Weinstein investigation was part of a broader effort by the Times to investigate powerful people against whom sexual assault allegations had been made, following the response to the Bill O'Reilly story. When it came out, a movement was born.
"What happened with the Weinstein story is that, for the first time this was a case where many of the accusers were more famous than the accused," Twohey said.
Once these empowered women were able to step forward, other women felt that they could, too.
"It is like if this could happen to someone who is so rich, and so powerful, and so famous, and they can say 'me, too' then it really does lend power to other women coming forward and other people just believing," Allen said.
On how the conversation has evolved.
While the movement returns power to dismissed voices, it is not just about accusing men "willy-nilly."
"Our job is to listen, but also to look, and to really try the whole story," Allen said.
The purpose of #MeToo is to change the culture around how we treat people who are coming forward with their stories, the panelists said.
"[#MeToo] is these women kind of building into a collective power of reflecting on these experiences and finding power in numbers to come together and talk about them in a more cogent way," Duca said.
The panelists emphasized that the story is fundamentally about how power dynamics are used and abused, and how abuses are covered up. #MeToo offers a place for victims to compare their stories, and figure out how to address them.
"A lot of it is just the consideration," Allen said. "Sexual assault is one thing, but sex and relationships, it's not a black-and-white, straightforward thing, it's super complicated."
#MeToo has normalized conversations that allow people to define the "gray zone" of sexual encounters, which decrease the likelihood of power abuses and manipulation, according to the panel.
"A lot of stories don't have a clear hero or villain," Duca said. "But what we should be pushing for is enthusiastic consent."
Coincidentally, the discussion occurred on the same day that the Times published an edition of its "Modern Love" column that comprised of 45 stories of sex and consent on campus.
"I think the main thing that has changed is that people are talking about it," Allen said.
On where the narrative needs to move now.
There are still a lot of questions to ask.
"We haven't really decided collectively, we've just begun navigating this new landscape and the consequences are not evenly applied," Duca said. "With Donald Trump as president, we can't fully see the success of the #MeToo movement."
According to the panelists, the conversation has to move forward to understand how abuse is embedded within the structures of society and culture.
"It's not just about identifying individual predators and bad actors, it's about basically trying to identify the institutions that enabled them," Twohey said.
Twohey cited the recently unveiled case, which originally occurred in 2008, where Hillary Clinton a senior advisor to her presidential campaign despite accusations of repeated sexual harassment.
"There were systemic failures in these various institutions that had basically worked to silence and dismiss the women that did come forward," Twohey said.
Accusations have not been limited to one industry, hitting Hollywood, politics, Silicon Valley, the restaurant industry, and more. Allen noted that the movement must be supportive of all voices just as it has taken down abusers across all industries.
"I think the way people of color experience these situations is something that enough attention can't be paid to...it's different and should be reported on," Allen said.
The work ahead can be daunting, but most of all #MeToo has given people hope that the work can be accomplished, and that people really do want to put a stop to these gross abuses of power and inequity.
"I would be lying if I said that I'm not emerging from the last six months a more optimistic person, and a more hopeful person."