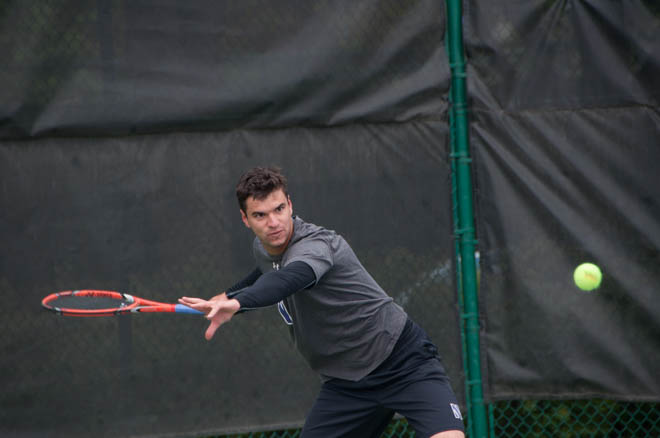 All eyes were on Konrad Zieba.
No. 13 Northwestern men's tennis (26-5) was tied 3-3 with No. 27 Stanford (16-10) in the second round of the NCAA Tournament in Evanston, and Zieba, the No. 20 player in the country, was going up against Stanford's Tom Fawcett, the No. 15 player in the country.
Zieba had split the first sets 7-5, 0-6 and was locked in an intense third set with Fawcett. But the star junior could not come out on top, and lost the deciding set 6-4, eliminating the Wildcats from the NCAA Tournament. It was a tough match for the 'Cats, and despite their shortcomings in the end, head coach Arvid Swan said he was proud of his team.
"I thought the guys battled, they did a good job," Swan said. "We competed all the way through and gave ourselves a chance to win – came up a little short at the end but I'm very proud of this group."
No. 40 Sam Shropshire won his match 6-3, 6-4 and No. 57 Strong Kirchheimer was victorious 6-0, 6-4, but those were the only Wildcat singles' wins. Along with Zieba, Fedor Baev fell 6-3, 6-2, Ben Vandixhorn lost 6-1, 7-5 and Alp Horoz was defeated 6-4, 6-4.
Northwestern did get the doubles point, as the combos of Baev/Kirchheimer and Zieba/Shropshire were victorious.
The day before, the Wildcats easily handled Valparaiso 4-1 in the first round of the NCAA Tournament. Shropshire, Kirchheimer and Vandixhorn all got wins, while the doubles' teams of Zieba/Shropshire and Horoz/Kumar secured the doubles point.
NU's historic season may have come to an end, but Swan is staying optimistic. The Wildcats' top three players are all juniors and will return next year, ready to avenge its failures.
"We're good – we're one of the best teams in the country," Swan said. "Didn't make the final site this year, but if you look at our record and teams we've beat, we've got a good team. Great group of guys, great character – I feel real excited about what the future holds for our program."