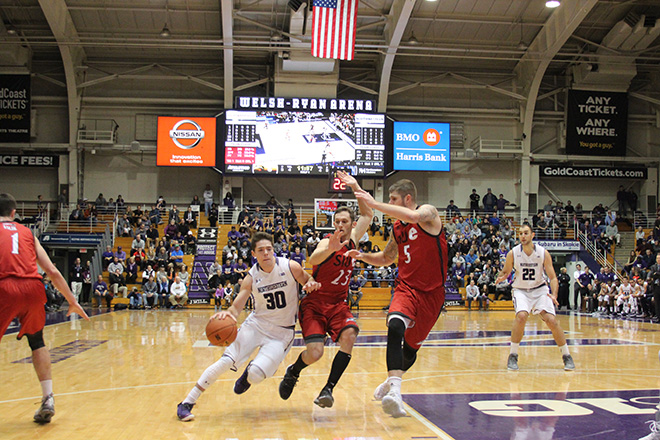 Whether it's by 25 or just two in overtime, Northwestern keeps on winning. With two more encouraging results this week, an 81-56 blowout of SIU-Edwardsville (1-7) on Saturday and a validating 81-79 OT victory at Virginia Tech (5-3) on Tuesday, NU is off to a 7-1 start – its best record to this point since the 2011-12 season.
After falling to North Carolina 80-69 on Nov. 23, the 'Cats faced what was probably their toughest remaining nonconference opponent, traveling to Blacksburg to take on Virginia Tech as part of the Big Ten/ACC Challenge.
NU jumped out to an early lead and held it until late in the second half, but could never seem to put the Hokies away. Virginia Tech was able to chip away and tie the game at 73 with two late free throws, forcing overtime.
Sophomore Bryant McIntosh played the hero role in overtime, nailing a key three and hitting the game-winning layup with 24.7 seconds left. McIntosh led the 'Cats with 19 points and added four assists. Senior Tre Demps had 17 points and four assists.
It was an important win for Northwestern, as beating an ACC team on the road is never an easy task. While it seemed the Wildcats could have won more handily, this team continued to show its ability to win close games – something it has struggled with in the past. NU has already won two overtime games, against Virginia Tech and Columbia, and was able to defeat Missouri by five, a tightly contested game that Head Coach Chris Collins said 'Cats might not have won just a year ago.
On Saturday, however, NU did not need to worry about a tight finish. Senior Alex Olah got back on track offensively and dominated from the start, finishing with 21 points and eight rebounds. Freshman Aaron Falzon helped put the game away, hitting three three-pointers in a row to start the second half, further extending the Wildcat lead. Falzon finished with 17 points.
After coasting to an 81-56 victory over SIU-Edwardsville, NU would like to see more of the same as it finishes up its nonconference schedule. The 'Cats don't have the most intimidating draw, facing Chicago State, Mississippi Valley State, Depaul, Sacred Heart and Loyola (MD) – who have a combined record of 9-31 – before starting Big Ten play at Nebraska on Dec. 30.
It is quite possible that NU will be sitting at a pretty 12-1 by the time it tips off B1G play, a much-needed luxury before an always-bruising conference schedule.
But Collins doesn't like to speculate. "I'm just looking to win the next game," Collins said. "Our motto with this team is who is our next game and what do we need to do to win that next game."
That next game will not be for another eight days, as the 'Cats will get a nice rest for finals week before resuming action on Dec. 13 when they host Chicago State.