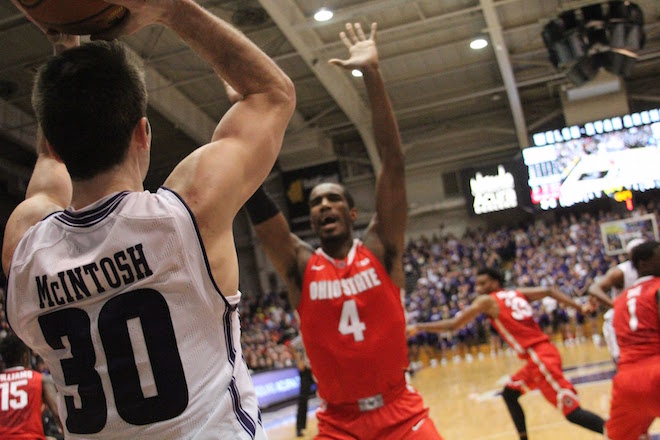 Men's basketball bounces back
Northwestern (14-3, 2-2 B1G) got a key victory on Saturday, cruising to a 77-52 victory at Minnesota (6-10, 0-4 B1G).
After two straight home losses to Maryland and Ohio State in which NU shot 34.1 percent from the field and 17.8 percent from three-point range, the Wildcats were able to turn it around. NU knocked down 11 of its 25 threes (44 percent) and shot 56 percent from the field at Minnesota, using a 28-12 run out of halftime to get a key road win.
Freshman Aaron Falzon enjoyed a 20-point day on which he shot 6-for-9 from three-point range. The sharpshooting forward had a much-needed bounce back performance, as he was just 1-for-9 from three over the two game losing streak.
Senior Tre Demps added 13 points and five rebounds, while sophomore Bryant McIntosh notched seven points and a career-high 11 assists. Senior Joey Van Zegeren also added 11 points.
Northwestern improved to 4-0 in true road games with the victory. The 25-point win was its largest margin of victory in a Big Ten road game since a 77-20 win at Chicago all the way back in 1944.
The Wildcats will host Wisconsin this Tuesday, Jan. 12 at 6 p.m.
Women's basketball drops second in a row
After a 74-51 loss at No. 23 Michigan State (12-3, 3-1 B1G) on Sunday, No. 16 Northwestern (12-4, 1-3 B1G) has now lost three of its last four games.
It was certainly not the start the Wildcats wanted in Big Ten play, as they now sit at 1-3 and have still yet to face No. 5 Ohio State and No. 8 Maryland.
Michigan State outscored NU 23-9 in the second quarter to build a 42-24 halftime lead. The Spartans never looked back, only extending their lead in the second half. Redshirt junior Aerial Powers got the best of the Wildcats', putting up a game-high 21 points and 12 rebounds.
Northwestern really struggled shooting, converting 18-for-66 (27 percent) from the field, 3-for-26 (12 percent) from three-point range and 12-for-19 (63 percent) from the free throw line. Junior Nia Coffey led the team with 13 points and nine rebounds, but was just 3-for-15 from the field.
Junior Christen Inman and senior Maggie Lyon both totaled 11 points. Junior Ashley Deary added nine points.
The road will not get any easier for NU, as its next two games are against the two best teams in the Big Ten – No. 5 Ohio State and No. 8 Maryland. The Wildcats will need to regroup and perform much better if they have any hopes of avoiding a four game losing streak.
The 'Cats will return home for a battle with Ohio State on Thursday, Jan. 14 at 7 p.m.