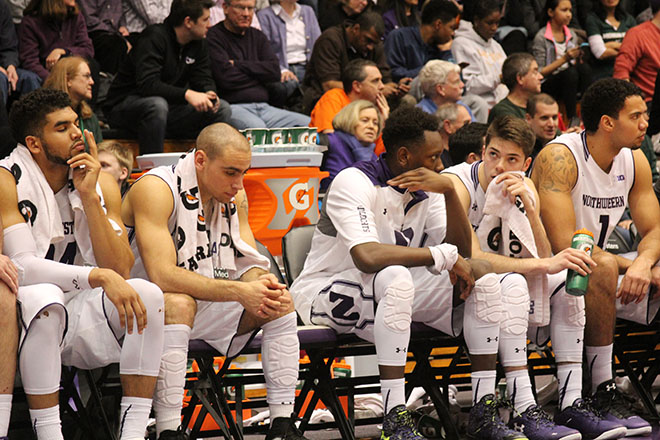 There just wasn't much Northwestern could do.
The Wildcats were simply overmatched on Thursday night, as No. 12 Michigan State (18-4, 5-4 B1G) outclassed NU (15-7, 3-6 B1G) en route to a 76-45 victory.
The Spartans jumped out to a 7-0 lead and started the game a scalding 8-for-10 from three-point range, going ahead early and never looking back. Northwestern never led during the contest.
"They have a really dynamic team and when they shoot it like that they are tough to beat," head coach Chris Collins said. "They played really hard and I thought they had a good game plan defensively."
While Michigan State was hot, NU was freezing cold. The 'Cats shot a pitiful 12-for-58 (20.7 percent) from the field and an even worse 4-for-23 (17.4 percent) from three-point range. On a night when the Wildcats needed to be at their best, all of their flaws were exposed by the experienced, talented Spartans.
"Obviously a tough night, it's hard to win when you can't make shots," Collins said. "If you can't put the ball in the basket you're not going to win against really good teams. One team shot the crap out of it, and one team couldn't make anything."
Sophomore Bryant McIntosh led NU with 14 points, but shot just 4-for-15 from the field and only recorded two assists. Senior Tre Demps could not get anything to fall, as he was an ugly 2-for-14 from the field and 0-for-7 from three-point range, contributing just four points. Freshman Aaron Falzon added 11 points, hitting two of NU's four three-pointers.
Star senior and NBA draft prospect Denzel Valentine did it all for the Spartans, totaling 19 points, seven assists and six rebounds. Valentine was lethal from long distance, shooting 5-for-7 from three-point range.
"I thought [Valentine] hit some really good shots," Collins said. "We let a great player do what great players do, and that's make shots. "
It wasn't a fun night in Evanston, as many fans are coming to grips with the fact that this Wildcat team still has a long way to go. The 'Cats have lost their last four games and are slowly working their way out of tournament contention. It will not get any easier, as NU travels to No. 3 Iowa on Sunday.
A wonderful 13-1 NU start exceeded expectations, but it was just that - a start. As the Wildcats have gotten deeper and deeper into Big Ten play, their tournament chances have only gotten smaller and smaller. Unfortunately, it is looking like NU fans will be saying "wait 'till next year" once again.