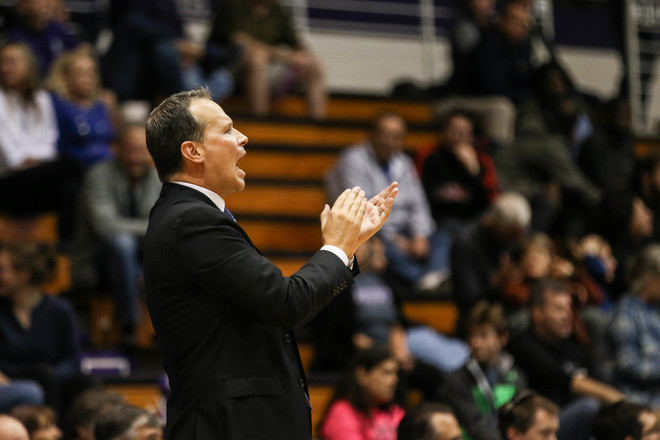 Northwestern (9-2) held off Dayton (7-3) in the State Farm Legends Classic at the United Center on Saturday, barely escaping a late Dayton run to secure a 67-64 victory.
The Wildcats came out firing in the first half, playing relentless defense and scoring at will. After 11 straight points to start the game, NU surged again with a 13-0 run a few minutes later. By halftime, NU led 40-17 and was thoroughly dominating Dayton.
In the first half, the 'Cats shot 52 percent from the field, had 10 assists and were getting easy baskets. On defense, they grabbed seemingly every rebound, blocked shots and didn't allow anything in the paint. Five players scored over five points and Sanjay Lumpkin had 11 rebounds. It was a spectacle to watch, a basketball clinic. Head coach Chris Collins said the first half performance was "the best our team can play."
But the second half wasn't as kind to NU. Dayton became more aggressive, forcing turnovers and making shots. The Wildcats only converted one field goal in the last 10 minutes of the second half, and Dayton climbed its way right back into the game. NU had trouble taking care of the ball and making free throws late, and Dayton hung around. Collins cited fatigue as a reason, and Dayton's pressure looked to tire the 'Cats.
Dayton may have outscored NU 47-27 in the second half, but the Wildcats wouldn't let go and finally secured the victory. Lumpkin led the way with 14 points and 14 rebounds, playing one of his best games ever. Nathan Taphorn was 3-of-4 from three-point range, totaling 11 key points. Bryant McIntosh had 13 points and five assists, but also eight turnovers.
It wasn't pretty for the 'Cats, and it might never be. But the fact remains – NU just beat a Dayton team that has made three straight NCAA Tournaments. With two easy non-conference games remaining (IUPUI and Houston Baptist), the Wildcats have three top-100 wins (Dayton, Texas, Wake Forest) and two close losses to top-25 teams (Butler and Notre Dame).
And the Wildcats have shown how dominant they can be when playing their best, and have truly looked like a NCAA Tournament team at points this season. The only problem is consistency. NU is inexperienced, and has trouble finishing games, often blowing late leads. The 'Cats must do a better job taking care of the ball, making free throws and controlling the game – especially when time is running out.
Barring a tremendous upset, the Wildcats will be in fantastic position going into Big Ten play, where they will be tested even further. They desperately hope to have big man Dererk Pardon back – both Gavin Skelly and Lumpkin fouled out against Dayton, and for the last few seconds, Taphorn was NU's big guy. If Pardon remains sidelined into Big Ten play, NU will struggle with its lack of depth down low.
But for now, the 'Cats will work off their convincing non-conference performances, hoping to patch up their late-game struggles. For those wondering about the NCAA Tournament, it's still too early to tell, but NU is certainly on the right track. The 'Cats have exceeded almost all expectations in non-conference play, and they must continue to perform at a high level in the Big Ten.