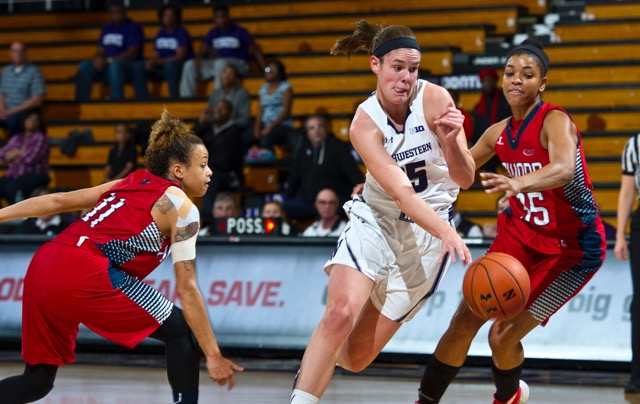 It seems like it was Maggie Lyon's destiny to change the face of Northwestern women's basketball.
Lyon is entering her senior year at Northwestern and is looking to push the 'Cats to even greater heights than they've seen in her time in Evanston. Her individual success in the context of Northwestern history is unprecedented, as she enters the 2015-2016 campaign as a team captain for the second consecutive season, leads all active Wildcats in scoring (1,197 points), and ranks third in program history in three pointers made (201).
At Big Ten National Media Day on October 15, Northwestern women's basketball coach Joe McKeown said of Lyon's role as a senior: "[Maggie] may be the most underrated player in the Big 10 and is capable of putting the team on her back. I'm looking to her. She's a senior. She's been a four year starter. She's really matured into her role."
The staple of Lyon's game has always been her three-point shooting, as she looks to build off a season in which she ranked fourth in the Big 10 in three-point shooting percentage (.411). Before Sunday's season opening victory against Howard, Lyon has also not gone a game since March 2, 2014 without making a three-point field goal.
But in the rush to revel in Lyon's past success and look optimistically toward the future, it's easy to forget how she started with Northwestern basketball in the first place.

Lyon was born and raised in Wilmette, Illinois, less than 10 minutes away from Northwestern's Evanston campus. The daughter to a mother who's basketball coaching career spanned 25 seasons, Lyon's path to basketball stardom appeared predetermined. She emphasized, though, that she kept her mind open in making her college decision.
"I grew up going to Northwestern sporting events, but I never really dreamt of going anywhere specific," Lyon said. "I just kind of took things as they went."
Following her freshman year of high school, Lyon realized it would be problematic juggling her commitments to both her high school basketball and softball teams.
"My dad's a huge baseball guy, so I played softball," Lyon said. "That was so much fun, but it was always more of a social sport for me. I made my best friends from playing softball growing up, but I was more serious playing basketball."
Lyon directed her full attention to basketball after her freshman year and the rest is history. Three All-State selections, 95 wins and 1,870 points later, Lyon found herself the 27th ranked small forward prospect by ESPN in her graduating year of high school, 2012. From there, she received offers from various Division I schools to play basketball, and narrowed her decision down to Northwestern and Vanderbilt.
Lyon, who received honor roll recognition every semester of high school, said she prioritized academics as she crossed schools off her list. However, her decision ended up boiling down to something deeper and more profound than the quality of the schools or their proximity to her home.
"I didn't just want to go to a school that had an established tradition," Lyon said. "I didn't want to just be another player in their system. I wanted to build something and be a part of the beginning of tradition."
Lyon's decision began to pay dividends immediately upon her arrival to Northwestern, as she earned the honor of Big Ten Freshman of the Year in 2012-13, while ranking second on the team in scoring and starting 24 of the 25 games she played in.
"I had confidence in myself but at the same time I just wanted to help out the team in any way possible," Lyon said. "Coach McKeown gave me a lot of opportunities to do that freshman year and fortunately the ball went in a couple of times."
The Wildcats won only 14 games in the 2012-2013 season, but Lyon's big season validated the optimism that surrounded the program upon her arrival. Northwestern won four more games in Lyon's second year than the season prior, and Lyon herself saw her starts, points, rebounds and minutes per game increase between her freshman and sophomore years. This trend would continue into Lyon's junior year, when she achieved career highs in overall shooting percentage, three point shooting percentage, points and minutes per game, all while leading Northwestern to a 23-win season, a No. 22 AP ranking, and the Wildcats' seventh NCAA tournament berth in program history. It was their first appearance since 1997.
Lyon attributes her tenacious work ethic to the academic mentality promoted by Northwestern, an aspect that at one point was key in her choosing Northwestern over various other schools.
"When we're on the road, the mentality of a Northwestern student is that we're studying on the bus," Lyon said. "We're not joking around and playing games, the team culture is to do work.
"My work ethic is very focused and determined. I don't like to just do nothing, which is how I am with my school work. I feel guilty about not doing something, whether that's not shooting a little bit on a day-off or if I have a reading for class that I don't do."
"Maggie has an incredible work ethic and passion for Northwestern" McKeown said in an article for NU Sports.com. "She backs up everything with her actions and that's what you want in a leader."
Northwestern enters the 2015-2016 season ranked No. 19 in the AP Poll, but Lyon said she doesn't see this number as defining, and, in fact, has embraced the role of underdog coming into the season.
"It's hard to not see it, but preseason rankings don't say anything about what we're doing this year," Lyon said. "People still doubt us, but I think that's helpful. We're trying to prove to people that it wasn't just a fluke last year."
The heights Lyon has reached personally and with the team in her time at Northwestern are nearly unprecedented in program history. But Lyon isn't going to rest on those laurels, especially after last season's Tournament exit, when the 'Cats blew a late 13-point lead over Arkansas and were sent packing early.
"That last game against Arkansas left a bitter taste in our mouths," Lyon said. "We want to redeem that. We want to make the NCAA tournament and advance in the NCAA tournament. We want to win the Big 10. We're right there and we're making good strides. We have those goals in mind and we've been working on them since the Arkansas game ended last year. We're really confident in ourselves but at the same time we know it takes a lot more than confidence to win at this level."
There's reason for optimism coming into the 2015-2016 Northwestern Women's Basketball season. A team on the upswing, the Wildcats have lofty expectations for their season, loftier than most any team in this program's past. It's safe to say now that Lyon's decision to play at Northwestern has paid off. Lyon got what she wanted. She wasn't just another player in the system, and she's looking to cap a memorable career off with an even more memorable final chapter.
"Freshman year I just wanted to play basketball," Lyon said. "Now I know what it takes to get there."