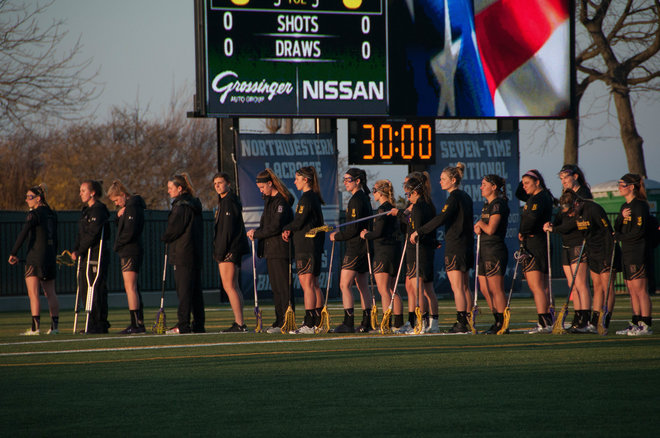 Last Sunday, after Northwestern fell 12-9 to No. 1 Maryland in the Big Ten Championship, senior Kaleigh Craig had some promising words as her team looked ahead to the NCAA Tournament.
"We've gone through anything we could have possibly gone through this season and we really have nothing to lose," Craig said. "We're ready to go."
And Craig wasn't lying. In the opening round of the NCAA Tournament on Friday in South Bend, Indiana, Northwestern (11-9) ran over Louisville (12-6) for a convincing 15-5 victory, dominating the whole game.
The Wildcats jumped out to a 3-0 lead in the first four minutes of the contest, controlling the pace from the very start. And NU didn't let up, either, as it extended its lead to 9-2 by halftime. Craig led the way with three goals and one assist, Selena Lasota added two goals and three assists and Danita Stroup registered three goals of her own.
Everything was clicking for the 'Cats on Friday, as freshman Leighton Yenor stepped up with a season-high three goals and senior Nancy Dunbar put in two goals with one assist. Freshman Mallory Weisse also had a season-high 12 saves, stifling Louisville to a season-low five goals.
It was a huge turnaround from the two teams' last meeting, when Louisville handily beat NU 10-4 on March 3. The Wildcats made a point of avenging their early season loss, and have certainly come a long way after a difficult season and a rigorous schedule.
No matter how much NU may have struggled this season, its losses are in the past. It's the NCAA Tournament, where the name of the game is survive and advance - and head coach Kelly Amonte Hiller knows it well, posting a 40-5 NCAA Tournament record in her career at NU.
Next up, NU will face off against Notre Dame (13-6) in South Bend, where Notre Dame will have home-field advantage. The Wildcats beat Notre Dame 17-12 back on April 10 in one of their best performances of the season, and will be confident going into Sunday's matchup.