During her stand-up routine at Tech auditorium Thursday night, Jenny Slate talked about losing her virginity on a historic week: "I got it done, two days before 9/11. It was a huge week for me."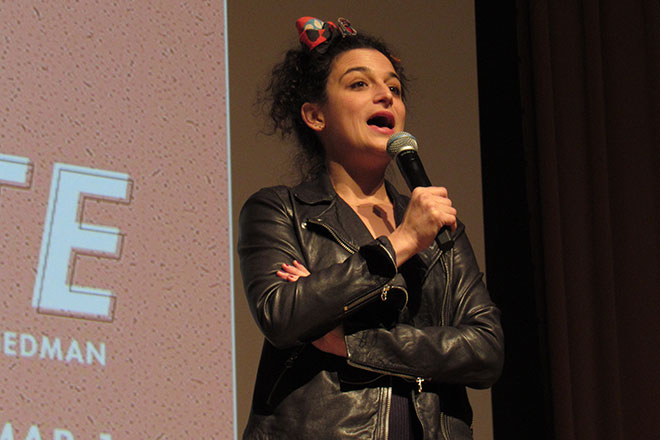 The comedian and actress, known for starring in Obvious Child and her recurring role in Parks and Recreation, brought her frantic energy to Northwestern as A&O Productions' winter speaker. The event was also co-sponsored by the College Democrats.
Before Slate came on stage, comedian Gabe Liedman performed an opening routine. His set featured jokes about topical subjects like the expectation that comedians have now have great material under the Trump administration, feminism and the perceived liberal bubble of college campuses.
Liedman described his shock when talking to a woman who did not identify herself as a feminist: "It felt like I was at a party and suddenly I was talking to a cow. And the cow was like, 'Yeah my favorite lunch is steak.'"
Liedman also left room for dick jokes in his set. He went on to discuss the issues that come with being in a same-sex relationship while being the less-endowed partner, saying, "I'm constantly fast-forwarding decades into our relationship and all I see is me … with a teenager inches from my face, and he's just screaming, 'Well, big-dick dad said I could!'"
When Slate came on, she performed a set that tackled wide-ranging subjects from 50 Shades of Grey to her family to discovering her sexuality. Talking at a breakneck pace, Slate discussed these topics with the bold frankness for which she is known.
She read every book in E.L. James' series, but she found it unrealistic that the main character was a 22-year-old virgin who never masturbated.
"I don't think anyone's just like, 'Wow what's that cosmic buzz between my legs," Slate said. "I guess I'll just ignore it and keep reading Jane Eyre for the twentieth time."
Slate also mined material out of her family and upbringing. The daughter of a potter mother and a poet father who lived in a haunted house in Massachusetts, Slate joked about their idiosyncrasies.
Slate singled out her mother in particular for her morbid personality, noting, "She is the scariest and most morbid woman who has ever walked this round earth." Slate said that her mother would say very dark things and seemingly take pleasure in that darkness.
Sexuality was a recurring theme in Slate's set – she discussed how she developed a negative attitude toward sex, one so bad it prevented her from having sex and even using tampons.
"Nobody told me that 'slut' is a fake word made up by really gross men who don't want me to feel powerful about sex," Slate said. "It's such a bummer, all the different hand jobs that I could have been a part of."
After her set, filmmaker and actress Kris Swanberg hosted a Q&A with Slate. Swanberg asked Slate if the recent desire for more women voices in Hollywood has changed the industry. Slate responded by addressing her changing tolerance for sexism, saying, "I know personally that I have a lot more stopping points now, where I'm like, 'That's not happening.'"
Swanberg opened the discussion up to questions from students, where they asked Slate about topic ranging from favorite animals to the #MeToo movement. One student shocked by asking her about the allegations against Aziz Ansari, whom Slate worked with on Parks and Recreation.
"The way that I felt was that we're missing really big opportunity to have a conversation about how coercion has somehow been built into what is a normal sexual experience" Slate responded.
For Communication junior Liza Alrutz, the highlight of the night was when Slate interacted with her.
"I unintentionally yelled, 'Woo!' and then she had a mini conversation with me," Alrutz. "I think she is just an incredible woman and everything she says just resonates deep in my heart."