If you're a Wildcat with a passion for politics, there's a pretty high chance you've taken a peek at the infamous 2016 GOP candidate Donald Trump's top donor list.
Which means you've also seen the $2,700 donation, the highest permitted from an individual donor, listed from our very own Northwestern University: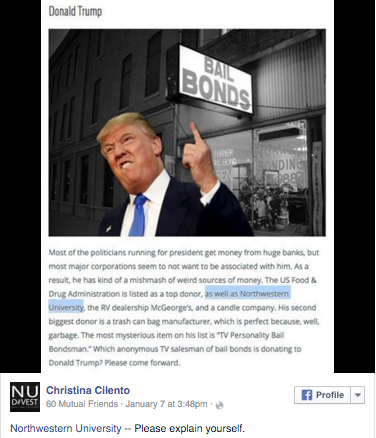 Now before you rush off to post a concerned (or excited) Facebook status, let's take a closer look at where this money really came from.
As it is, neither the money source nor the cause for donation is accurate. The donation comes from a law professor at The Northwestern Pritzker School of Law — and today, he doesn't even support Trump.
Professor Steven G. Calabresi said he often donates to a number of Republican campaigns before individuals announce their candidacy. Last summer, Calabresi said, he donated to seven or eight.

Opensecrets.org lists endorsement amounts, donors and recipients of campaign contributions across the country. Northwestern is close to the top of the list of Trump's individual contributors. This is due to a federal law requiring the donor's occupation and employer be disclosed. The money listed can be from "their individual members, employees or owners; and those individuals' immediate families."
Calabresi called this attribution to his employer "completely unfair."
"I feel that it's misleading because Northwestern has no position [in the donation]," he said. "Northwestern University is a nonprofit institution, it doesn't take positions on politicians or candidates for office.
"Even saying my donation is supporting a candidate or endorsing a candidate is not accurate," Calabresi continued.
His goal in donating was not to back any single candidate, but rather to ensure a lively Republican debate and later determine who he thought was best.
After six months of following the debates and watching the campaigns unfold, Calabresi decided that John Kasich was the best candidate. Calabresi says the current governor of Ohio is, like Calabresi himself, moderate and centrist in policies.
Calabresi, a vocal supporter of same-sex marriage, reflects that Trump was a supporter of both same-sex marriage and was pro-abortion before he became a candidate. In a 1999 interview, Trump stated "I am very pro-choice," and said he hadn't given much thought to same-sex marriage. His views on both topics have progressed and regressed periodically during his tenure in the public sphere. Since Trump announced his candidacy, he's on board with pretty much all of the traditional far right points. However, now Calabresi considers much of his behavior "appalling" and wants nothing to do with his views.
Calabresi said he hopes his endorsement of Kasich will clarify the erroneous claims that either he or Northwestern support Donald Trump.
"I am now opposed to Trump and I will not vote for him in the primary and I won't vote for him if he's nominated."