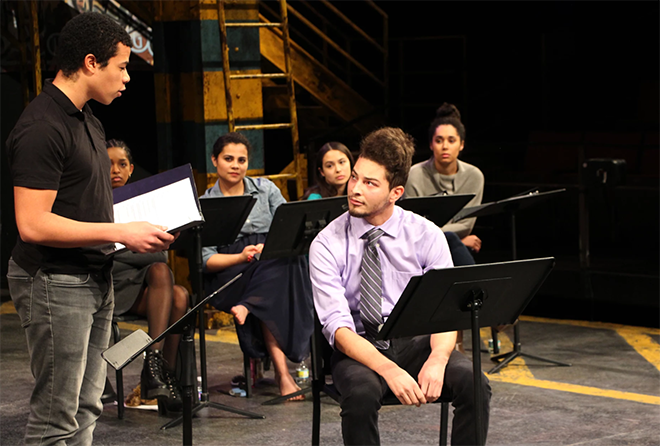 Student writers, directors and actors brought their experiences of being Black in America to life Tuesday night in the university-level debut of Black Lives Black Words.
Twelve actors approached the question, "do Black lives matter today?" through a series of eight 10-minute plays performed at the Virginia Wadsworth Wirtz Center for the Performing Arts. These original pieces included monologues, spoken word and musical performance.
Black Lives Black Words (BLBW) began in Chicago in 2015 as a platform for artists of color to comment on racial issues through professional performances. Since its inception, the show has been performed internationally. This was the first collaboration with a university.
"I think by giving these college voices the opportunity to speak on such important issues such as Black Lives Matter, it causes the next generation to have a voice in the struggle," said Reginald Edmund, founder and curator of BLBW. "Because they aren't professional writers – they're just young voices speaking out – there's a rawness and a beauty to it that is untapped and untouched."
Theater professor Aaron Douglas suggested BLBW bring the program to Northwestern and helped Edmund recruit students. The writers were given one week to write the first draft of the play and an additional two weeks to gather directors and actors and rehearse. The final pieces addressed topics including Black identity, historical oppression and non-black ignorance to racial issues.
Some plays portrayed issues specifically faced by students of color in college. In Chloe Noelle Fourte's play "Just a Thought," a college-aged woman played by Dominique French contemplates suicide because of the ostracization and apathy she experiences as a Black woman.
"It's weird moving from museum exhibit to invisible," French's character said about the transition from high school to college.
"Yes, I was acting, but these emotions are true because I have felt them before," said Ziare Paul-Emile, a Communication sophomore.
Paul-Emile started the night off with an acapella version of Solange Knowles' song Don't Touch My Hair, which calls for the preservation of individual and cultural identity. She also played the part of a misunderstood girl in Intimidated and a young girl trying to understand Black beauty in Milk.
"I would want the audience to understand that as people of color, we're just people ... if you're going to write stories, just write about humans," Paul-Emile said.
The performance came at a time when discussion about diversity and inclusion is pertinent in the theater community, from racial disparities in University admissions to the theater department to casting for plays. The performance aims to create an opportunity for students of color to express themselves where they may otherwise be marginalized.
"The theater community is, too slowly, but still, acknowledging that there is a dearth of stories like this and we need to create spaces and acknowledge these people in our communities," said Kimberly Mcbride, a Communication junior.
Edmund announced that the pieces presented by the students would be included in the professional anthology. BLBW will employ the model used at Northwestern to expand its program to other universities nationwide.
To show support for the messages of the show, BLBW encourages people to use the hastag #blklivesblkwrds.