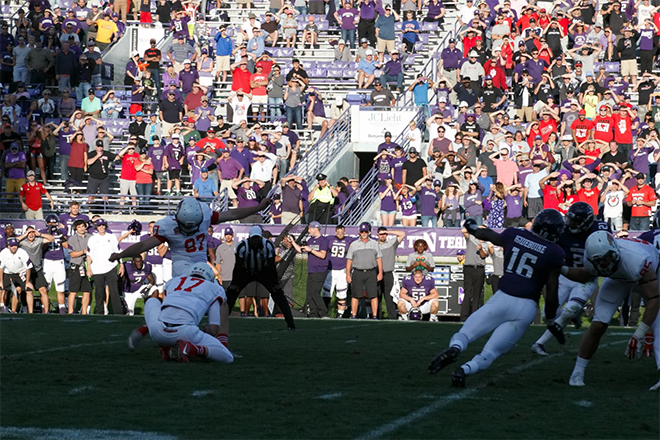 Right now, at this very moment, Northwestern football is bad. We know that because in its home opener, NU failed to execute at crucial points and was upset by Western Michigan. We know that because on Saturday, the Wildcats were embarrassed in a boringly depressing 9-7 loss to FCS opponent Illinois State.
The first loss was because the defense failed to show up. The second time, it was the offense that couldn't get anything going. Even the special teams performance has been poor; almost every unit is hampered by inconsistency, inexperience or injury – sometimes all three.
NU football has been bad before, so this wouldn't really be a big deal if it weren't for the fact that the Wildcats impressed with a 10-3 record last year. What happened to that team?
Well, for starters, NU graduated a handful of talented seniors: Dean Lowry, Deonte Gibson, Dan Vitale, Traveon Henry and Nick VanHoose held key leadership roles and left holes for NU to fill. But the Wildcats were confident in their replacements before the season, and let's be honest, far less talented players have beaten Western Michigan and Illinois State.
NU's offensive line was inconsistent last year, but through two games, it appears to have gotten even worse. Clayton Thorson and Anthony Walker have shown signs of regression. Injuries to Keith Watkins II and Matthew Harris have crippled the secondary.
All these problems have plagued NU, but the real issue is how last season was perceived. The 10-3 record always seemed too good to be true, and honestly, it was. Eight of NU's 10 wins were by 10 points or less, and its three losses were by 30, 38 and 39. For the most part, the Wildcats barely edged mediocre teams and got crushed by better ones.
Three of the 'Cats' tightest games last year were wins against Nebraska, 30-28, Penn State, 22-21 and Wisconsin, 13-7. All three of those games could have gone either way - what if NU was 7-6 last year instead of 10-3? Then the Wildcats would have been judged more correctly, as an above-average, defensive-minded Big Ten team, not as some emerging blue blood.
Maybe NU's good luck in close games has just run out this year. But usually, it's not luck. It's the ability to execute the little things: getting that third down stop, making that field goal, covering the ball to prevent a fumble close to the goal line. The Wildcats were able to execute the little things last year, and that got them a few more wins. This year, they are on the opposite side, and it's getting them the opposite result.
The execution in small, key spots and the sheer beauty of a double-digit win mark caused NU to overlook a stagnant and predictable offense, an offensive line in bad shape and the departures of dominant defensive seniors. It made the Wildcats think they were fine – if it ain't broke, don't fix it. But now, it's broke, and it's time to fix it.
Head coach Pat Fitzgerald has flipped around the offensive and defensive line, and it remains to be seen if the changes will help. But NU's issues could be deeper than that, and changes on Fitzgerald's staff are plausible, especially with offensive coordinator Mick McCall. Seven points against a FCS opponent and a last-place finish in scoring in the Big Ten in 2015 will earn you that.
It's not looking great for the Wildcats, as injuries are also starting to pile up. Harris won't be available next week, Warren Long is out for a few more weeks and Justin Jackson was taken out in the fourth quarter on Saturday with an injury. Jackson has said he will play this week against Duke, but the injury is not a good sign, and if NU's best offensive playmaker is out, the troubles will multiply.
It's difficult to predict what exactly will go down in the rest of NU's season. Could the Wildcats turn it on and win some games, maybe even upsetting a better team along the way? It's possible. But after a baseball score loss to a FCS team, there's not much reason for optimism. NU's first two games have presented it with glaring issues that 10 wins might have been able to mask, but 0-2 no longer can.