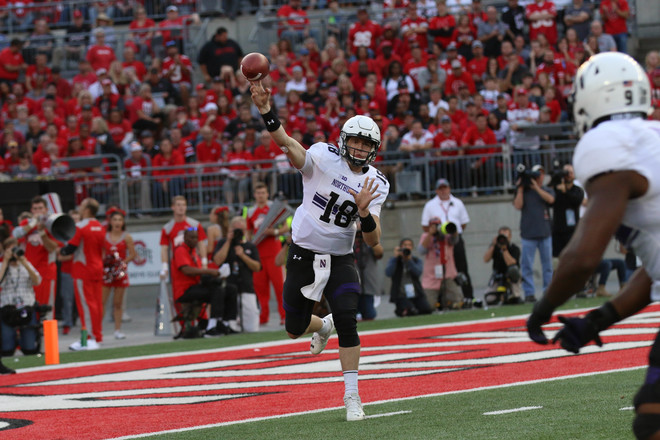 Northwestern's offense has been breaking records left and right this season, and Saturday's 45-17 win over Purdue was no different. Austin Carr tied NU's single season receiving touchdown record with his 12th of the year, Justin Jackson became the first player in program history to rush for over 1,000 yards in three consecutive seasons and Clayton Thorson set a personal career high with 352 passing yards. All three of these players are within sight of multiple program records, but what are the chances that Carr, Jackson and Thorson can continue their record-breaking pace?
It's Gonna Happen
Single Season Receiving TDs: 12, D'Wayne Bates (1996) and Austin Carr (2016)
Carr caught his 12th TD of the year on Saturday, tying Bates's previous record in 1996. NU has two games left in its season, and needs to win just one against Minnesota or Illinois to be bowl-eligible. For purposes of this story, we are going to assume that the 'Cats will play in a bowl game, as it is the most likely outcome (Illinois is 3-7 and very bad). This will leave them with three games left in their season.
It would be very surprising if Carr doesn't catch another TD in three games. He has 12 TDs in 10 games and there's only been two games where he hasn't caught one, against Western Michigan and Ohio State. Consider this record broken.
Single Season Receiving Yards: 1,245, D'Wayne Bates (1998)
Carr is sitting on 1,102 receiving yards this season and would need 143 more yards in three games to hold this record. Considering he's averaging 110.2 receiving yards per game this season, it's extremely likely that Carr will break this record, as well. Not much to say here other than, yes, Austin Carr is the man and should break this record.
Single Season Receptions: 94, Richard Buchanan (1989)
Alright, just give Carr all the single season receiving records. The senior has 75 receptions this season, averaging 7.5 catches per game. This record will be the most difficult to break for Carr, as he needs 20 catches in three games – pretty close to his average. But Carr is such a consistent receiver, and there's only been two games this season where he's caught less than six passes.
Minnesota, Illinois and a potential mediocre bowl game opponent don't pose huge lockdown threats, and Carr should continue to haul in passes left and right. I think the senior will secure this record, giving him all three single season receiving records and solidifying Austin Carr's 2016 season as the most impressive year by a wide receiver in NU history.
Single Season Passing TDs: 21, Brett Basanez (2005)
Clayton Thorson has thrown for 19 TDs this year, absolutely obliterating last season's total of seven. He's averaging almost two passing touchdowns a game (he also has five games with three TDs), and will most likely tie or break NU's single season record next week at Minnesota. The redshirt sophomore should breeze by Basanez's previous record of 21 with three games left, and it actually wouldn't be surprising if Thorson ends his season with 25+ passing TDs – an absolutely ridiculous thought after last year's total.
Single Season Total TDs: 31, Zak Kustok (2001)
Oh yeah, Thorson can run, too. His five rushing touchdowns on the season, combined with 19 through the air, put him at 24 total TDs on the season. He will need eight more TD to break the record, and this is where the bowl game will be key. Thorson will need three games to break this record, but his season averages suggest that he is on pace for it. The opponents are also important, as Minnesota and Illinois won't exactly inspire fear in the heart of the Wildcats. Thorson has already put up numbers against tougher teams, and there's no reason to believe he won't continue his pace.
It's Pretty Likely
Career Rushing Yards: 4,485, Damien Anderson (1998-2001)
Justin Jackson isn't going to break any single season records this year, but it's very likely that he will hold a few rushing records by the time he graduates. Currently, Jackson has 3,642 career rushing yards, and is averaging 103.7 rushing yards per game this season. With three games left, that would put him at almost 4,000 rushing yards by the end of the season.
Now, nobody knows what will happen next season, and injuries (knock on wood) are always a possibility. But if Jackson stays relatively healthy (he's never missed a game in his career), he will only need about 500 rushing yards to break the record, or in other words, easy money for the ballcarrier. I don't want to say this is going to happen because a lot can occur in a year, but barring any injuries or unforeseen circumstances, this one's in the bank.
Career Passing TDs: 44, Len Williams (1990-1993) and Brett Basanez (2002-2005)
Currently, Clayton Thorson has 26 career passing TDs. Let's say he has just four more this season (a low estimate), putting him at 30 through two seasons. Thorson will be going into his junior year just 14 passing TDs away from the program record, and he'll be coming off a season where he just tossed 20+ TDs. This is a record that Thorson can and probably will break next year. Obviously, like we discussed with Jackson, nothing is certain – but Thorson is on pace to shatter this record, and if he stays on his 20+ TD pace, he could finish his career with over 60 passing TDs.
Total TDs: 64, Zak Kustok (1999-2001)
Thorson, not even done with his second season, already ranks eighth on NU's total TD list with 36. He has 26 passing TD and 10 rushing TD, and will surely finish this season with over 40 total TD. Does anybody appreciate how good Thorson is historically in the context of NU football? Again, no one knows what's going to happen in the next two years, but Thorson is on pace to destroy this record. The next time you complain about Thorson missing a receiver, remember that in two years, he's probably going to have scored the most total TD in NU history. Appreciate him while you can.
It's Within Range
Career Rushing TDs: 38, Damien Anderson (1998-2001)
Justin Jackson has 23 career rushing TDs with three games left to play. He has eight this season, a little less than one per game, but for arguments sake, let's say he gets three more in three games. That would put him at 11 on the season and 26 for his career. In Jackson's freshman year, he rushed for 10 TDs, but last year, he only rushed for five because of the TD vulture known as Warren Long (and sometimes Thorson). In his senior year, Jackson would need to rush for 13 TDs to break this record – which he hasn't done before, but could still be possible.
Jackson is going to break the yardage record and will be considered one of the best backs in NU history, but he's just not built like a goal-line back. It's more likely that Jackson will pass Darnell Autry's 35 career rushing TDs, putting him in second place all-time. The 38 TD clip will be difficult for Jackson to surpass, but in his senior season, I won't rule anything out – NU's workhorse back has garnered that much respect.
Single Season Passing Yards: 3,656, C.J. Bacher (2007)
Clayton Thorson has 2,571 passing yards this season, and with three games left, it's pretty ridiculous to think that Thorson could average 362 passing yards for the rest of the season and break this record. However, it's not impossible against weaker defenses, and the fact that this is even somewhat possible is remarkable, considering where Thorson was a year ago. Thorson will probably end up with around 3,200 passing yards this season, slotting him in at fourth on NU's single season list, behind Mike Kafka's 3,430 passing yards in 2009.
But could Thorson break this record next year, or maybe in his senior season? It's possible. The redshirt sophomore should only get better, and there's really no telling what he's going to do in his final two seasons – which leads us to our final potential broken record.
Career Passing Yards: 10,580, Brett Basanez (2002-2005)
Let's say Thorson ends this season with 3,200 passing yards, giving him a total of 4,722 career passing yards. Thorson would have almost doubled his passing yard total from last year. He would need about 6,000 passing yards in his final two seasons, which is very possible considering he will be coming off a 3,000+ yard season. Clayton Thorson has a legitimate to chance to break almost every QB record in NU history.
I'm going to repeat that sentence again.
Clayton Thorson has a legitimate to chance to break almost every QB record in NU history. Is this real life? Thorson was an awful QB last season, and even this season, he still misses throws often and makes tons of mistakes. He's improved exponentially from year one to year two – what is year three and year four going to look like? By the time he's done, will Thorson be considered the best QB in NU history?
Further, will Justin Jackson be considered the best running back in NU history? He's already up there, and still has his senior season to play. Is Austin Carr having the best season by a wide receiver in NU history? Yes, he is. So, to recap, NU has one of its best QBs and RBs ever, and the best season by a WR ever, and the Wildcats are 5-5. Somewhere, in a parallel dimension where Western Michigan wins the playoff and Illinois State is in the Rose Bowl, this makes sense. But it doesn't in this universe. I give up, Northwestern.