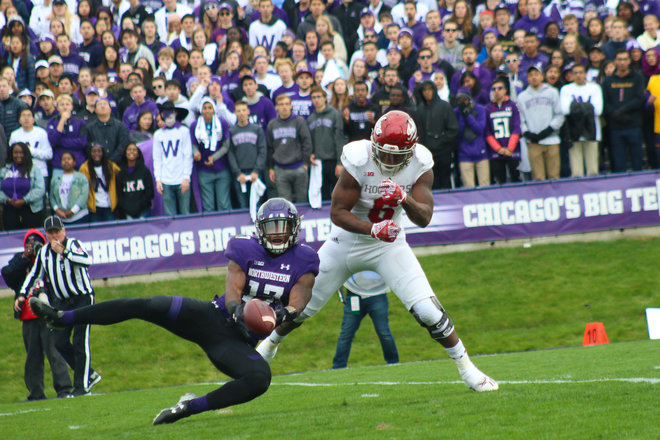 If you haven't heard by now, Northwestern football is turning its season around. Regardless of the Ohio State outcome this week (I'm not very optimistic about it), the Wildcats have impressively rattled off three straight Big Ten wins in October, completely reversing their sluggish 1-3 start. With an easy back-end to their schedule, the 'Cats are now likely to make a bowl game - something that was very much in question three weeks ago.
NU has transformed its season by fixing the little things. Sure, they've had starpower from guys like Austin Carr, but improvements from the offensive line, defensive line and a lot of players lower on the depth chart have really boosted the 'Cats.
On Saturday, defensive back Marcus McShepard was a prime example. The redshirt junior made seven tackles, had two key pass breakups and made sure his impact was felt, even batting away a potential touchdown in the 24-14 win over Indiana.
But it's been quite the couple of months for McShepard. In the offseason, it was announced that he would be moved to wide receiver, and he trained with the receivers all summer, even garnering some hype as a speedy deep threat. But then the regular season started and it turned out that Austin Carr was actually the best receiver in the country (this is barely hyperbole) and Flynn Nagel, Solomon Vault and the rest of wide receiver corps were performing much better than expected.
So McShepard got lost in the shuffle on offense, and at the same time, NU was hit by the defensive back plague. Keith Watkins II was out for the season before it even started. Alonzo Mayo and Trae Williams had been banged up. Matthew Harris got another concussion, and just announced he was retiring from football.
All-Big Ten & Academic All-Big Ten CB Matthew Harris to retire from football.https://t.co/y7DOQsr4cJ#B1GCatspic.twitter.com/TD0NcKMLVz

— #B1GCats Football (@NUFBFamily) October 24, 2016
Soon enough, McShepard found himself back on the defensive side of the ball.
"He was incredibly unselfish to do that, a great teammate," head coach Pat Fitzgerald said. "... I brought him in and said, 'Listen, I gotta move you back, and I feel terrible about it because this wasn't the desired position we were going to be in. You haven't done anything wrong, but the team needs you to move back.' And he just looked at me and said, 'Coach, whatever you need me to do for the team I'll do.'"
McShepard's selflessness paid off - Montre Hartage, Trae Williams, Alonzo Mayo and Roderick Campbell were all listed ahead of him at corner on the depth chart leading up to the Indiana game. But McShepard got his chance on Saturday, and he made the most of it.
"I can't describe in words how proud I am of him," Fitzgerald said. "I think that as a coach you feel terrible when you do that, but you have to do what's right for the team first. It's about the team. And when you've got unselfish guys there, to see what he's done and the way he's stepped up, I think that's indicative of our team right now, guys like Marcus."
McShepard has played his way into the depth chart of a secondary group that has been in shambles for much of the season, but with his spark and a certain spiritual social media movement, NU's sky team looks to have moved past its injuries and inexperience. The process has been the same for a lot of NU's position groups, most of which were heavily struggling just a few weeks ago. The offensive line has regrouped and clawed its way back. The defensive line has seen both the old, (Ifeadi Odenigbo), and the new, (Joe Gaziano), break out over the past few weeks.
Up until this point, NU's season has been about weathering the early storm, staying strong through the struggles and the Wildcats working their butts off to overcome their shortcomings. McShepard has gone through exactly that – not knowing where he was going to be early on, not seeing the field at all, doubting himself – but then staying patient, making the most of his opportunities and turning the season around. No matter what happens in Columbus on Saturday, the 'Cats will feel good about their bowl game chances, and they have the mindset of players like Marcus McShepard to thank for that.
"In all honesty I just wanted to get on the field as much as possible," McShepard said. "There was no anger - a little frustration I suppose, just because I didn't really know what was going on but overall, I was just willing to help the team."