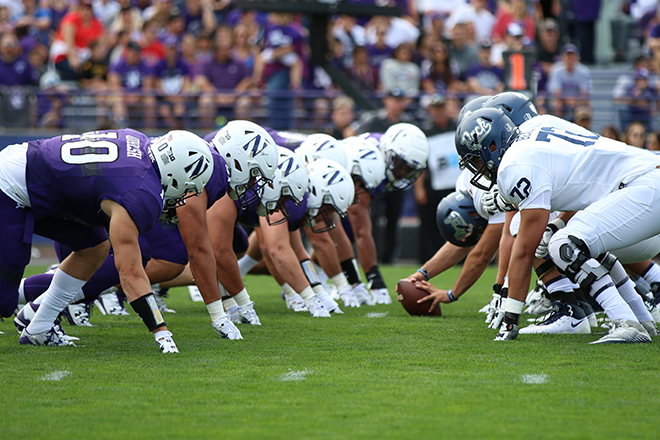 Last year, then-NBN sports editor and now NBN-legend Will Fischer created a weekly column, "Halfway to Saturday" about the 'Cats football team. I'm going to be taking that over this year, bringing you insight and hot takes each week. Our first topic: the trenches.
Start with the good news: unlike last year, NU is 1-0 and avoided another week one surprise despite being favored (Western Michigan says hello). Clayton Thorson looked sharp, a few receivers stepped up to fill Austin Carr's massive shoes and new kicker Charlie Kuhbander missed only one easy field goal.
Despite that, Northwestern's win over Nevada leaves us with cause for concern. The play in the trenches, on both the offensive and defensive side, left much to be desired.
At first glance, the team's rushing stats look pretty good – 156 yards (including 109 by Justin Jackson) and two touchdowns. However, the truth isn't so bright: both of those touchdowns were sneaks by Thorson, and the team only managed to average 3.1 yards per carry on a massive 50 carries. Jackson regularly struggled to break free (his longest carry was only 13 yards), and it seemed like a defender or two was on him immediately after the handoff most plays.
The 'Cats will face some fearsome Big Ten pass defenses, so Jackson getting going is a must if they want a shot at the B1G West title.
The line did a better job protecting Thorson, giving up just one sack, but it's going to have to be more balanced if the 'Cats want to compete against higher-level opponents. The protection of Thorson was a notable improvement, however, given that they finished a brutal 93rd in sack rate last season, according to Football Outsiders. All of that said, the line definitely has the capacity to improve in the coming weeks, especially as true freshman right tackle Rashawn Slater settles into his starting role.
Thanks to problems on the other side of the ball for NU, Nevada's running game struggled substantially less, averaging well over five yards a carry (though on substantially fewer carries). The 'Cats front seven – which is dealing with big losses including Anthony Walker, Jr. and Ifeadi Odenigbo – struggled to get pressure for much of the game, especially in the first half. Wolfpack QB Ty Gangi had 142 of his 199 yards and both of his touchdowns in the first half.
The pressure improved in the second half – they recorded seven QB hurries plus a few tackles for losses, but it still wasn't what the coach Pat Fitzgerald was probably hoping for. They didn't record a single sack, and the linebacker corps failed to pressure the quarterback or make many big tackles against the run.
Big Ten football is known for being tough, physical – and big. It's certainly a good sign that some of the 'Cats key skill position players looked good, but their ability to battle in the trenches needs to pick up soon if they want to contend.