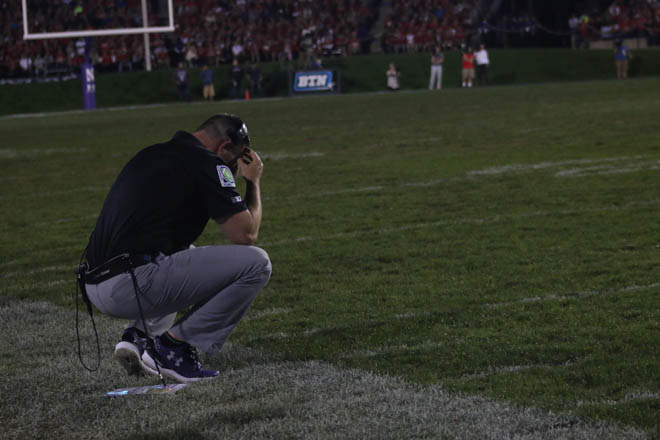 After a 1-3 start to the season, Northwestern shocked everyone on Saturday, lighting up Iowa 38-31. Yes, we're talking about the same NU team that mustered just seven points in an embarrassing home loss to Illinois State three weeks ago.
So what changed over those three weeks? Not much. The 'Cats just finally played to their potential. We know this NU team has its fair share of playmakers, but a lot of them hadn't shown up until this week.
NU's offense had showcased some of its talent, but didn't put it all together until Saturday. The offensive line did its job, Justin Jackson ran wild, Austin Carr hauled in three touchdowns and quarterback Clayton Thorson "had the best game of his career," according to head coach Pat Fitzgerald.
On defense, there were still issues with an inexperienced secondary, but Trae Williams stepped up when it mattered most, sealing the victory with a late interception. Anthony Walker looked dominant again, racking up 10 tackles and causing havoc in the backfield. Ifeadi Odenigbo, who had been benched earlier in the season, had four sacks and earned Big Ten co-defensive player of the week honors. Even Jack Mitchell made all five of his extra points and a 25-yard field goal.
In short, almost every NU player did his job and played well on Saturday. That's the first time we've been able to say that this season, and Fitzgerald made a similar point after the game.
"What we do works, when we do it the way we're capable of doing it," Fitzgerald said. "It works. It works. We've won a lot of football games, a lot of games by doing it the right way. When we do it the wrong way, we've lost our fair share, too."
That's easy to say after a victory, but Fitzgerald has been echoing this sentiment all year, even through the early struggles. In fact, this quote largely represents the identity of NU football - an identity that is responsible for NU's hot-and-cold performances, and one that isn't going to change any time soon.
In his 11th season, Fitzgerald is already the second-longest tenured coach in the Big Ten, and his staff rarely changes. NU is a private school with high academic standards, and will never reel in the same blue-chip recruits as Ohio State or Michigan. If your goal is to become a first round NFL draft pick, you're probably not going to NU.
Fitzgerald has to work with that talent pool, and he has built the Wildcats' identity around it. Over the last four years, he's proven that his system can work with two 10-3 seasons, but it has also stalled, with two 5-7 seasons nestled in between.
Northwestern has been playing with a very low margin of error, and that's just the reality of who Fitzgerald can recruit. His success is impressive, considering NU's talent depth, but it's unrealistic to expect that level of success consistently.
Early in the season, Fitzgerald repeatedly said the 'Cats were struggling because some guys were trying to do too much and straying from their roles. He stressed the importance of everyone executing the "little things" – if all the working parts don't mesh, or if the players don't play well and succeed in their individual roles, the 'Cats will drop games to teams like Western Michigan and Illinois State because they don't have the talent to overcome not playing their best.
A lot of that starts in the trenches. As we've seen this season, NU doesn't have the offensive weapons to overcome poor offensive line play, and their defensive line needs to be active for the defense to be successful. The Wildcats need to put both together, and then they need their playmakers to make big plays.
If NU isn't able to execute in the trenches, Clayton Thorson isn't going to be successful – as opposed to a team like Ohio State, where an elite playmaker like J.T. Barrett can improvise when others fail to execute. Everything needs to be working in sync for NU to succeed, and that low margin of error leads to inconsistency.
Sometimes, the Wildcats have a dominant unit that can win them games even when everything isn't in sync – the 2015 defense, for example. But even then, NU still got crushed by Iowa, Michigan and Tennessee. In those games, the 'Cats were simply overmatched in both talent and execution.
This year, NU doesn't have the luxury of relying on its defense – almost every player needs to execute for the Wildcats to succeed. When you add the injuries and inexperience, that's a high degree of difficulty, and it's why the 'Cats can lose to Illinois State and then beat Iowa.
As for the rest of the season, it's anyone's guess. If everyone on NU continues to execute to near perfection, the 'Cats have a legitimate shot at upsetting a few more teams. But they just as easily could slip up in a few key areas, and they might fall to a Purdue or Minnesota. Northwestern's talent pool and identity gives it a low margin of error, and unless either of those things change, the 'Cats will continue to be inconsistent and largely unpredictable.