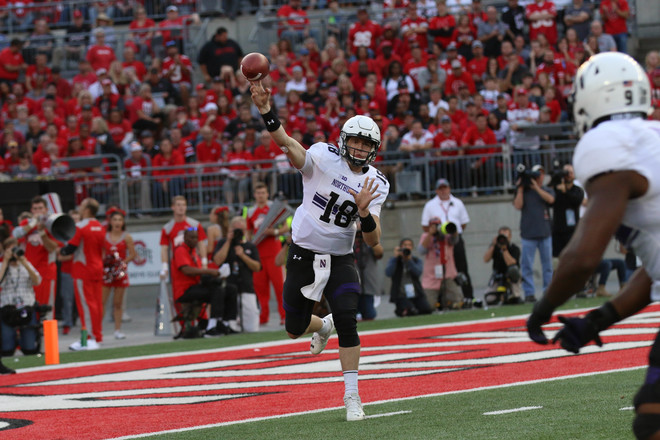 Listed below are game averages from two quarterbacks, the first from the 2015 season and the second from the 2016 season. Which quarterback would you rather have?
Quarterback A: 12-23 for 117 yards and 0.5 touchdowns
Quarterback B: 21-36 for 243 yards and 1.9 touchdowns
Well, both of these quarterbacks are Clayton Thorson. In 2015, Thorson threw the ball sparingly, handing the ball off more times than almost any other quarterback in the country. When he did throw the ball, it usually wasn't efficient or effective. But this season, Thorson is legitimately one of the best quarterbacks in the Big Ten - he ranks second in completions and attempts, third in passing yards and third in touchdowns. How has he been able to do it?
A year of experience makes all the difference, apparently. Thorson won the starting QB job as a redshirt freshman two summers ago, and there were definitely growing pains. The young QB's role was clear, more or less: hand the ball off on first and second down, and if there's a third and long, just don't turn it over. With a talented workhorse back and an absolutely dominant defense, Thorson was generally inferior at QB while the 'Cats still won games - except for Michigan, Iowa and Tennessee, when NU's QB issues were heavily exposed.
Not only has Thorson drastically improved this year, he's actually played better against those tougher teams in higher pressure situations. In October, most thought NU would be lucky to win more than one game against the gauntlet of Iowa, Michigan State, Indiana and Ohio State - three of which were road games. But instead, the 'Cats won the first three and almost upset Ohio State, led by Thorson's spectacular game average: 23-38 for 247 passing yards and 2.5 passing TDs (he also had three rushing TDs in the four games).
"I think it's night and day, honestly, last year compared to this year," senior receiver Andrew Scanlan said. "This year he just has so much more control of the game, personally, that it's starting to spread throughout the entire offense and everyone else is calming down."
Thorson possesses phenomenal tools: a durable and intimidating 6-foot-4, 220-pound frame, a strong arm (although he can be inaccurate at times) and a keen ability to escape the pocket and run for positive yardage when a play breaks down. While inexperienced last year, he still had all these basic skills - he just wasn't able to do much with them because the mental part of his game wasn't there.
In the Big Ten, NU goes up against some of the best defenses every week, and that's a tremendous task for a redshirt freshman QB. By being thrown in the fire, Thorson learned from his mistakes and has a better understanding of what he has to do to be successful. Redshirt sophomore offensive lineman Tommy Doles, Thorson's roommate for two years, called his QB "the most diligent student of the game I've ever seen."
"I think [last year] he was mostly figuring out what he had to get better on, his reads and getting stuff worked out with the offensive staff," Doles said. "Now, he gets that stuff done quicker and he can focus on leadership and his other responsibilities as a quarterback."
Doles said Thorson is "constantly watching film and taking notes" and that he even watches NFL quarterbacks and learns from them, too. Now, with almost two full years of starting QB experience under his belt, Thorson's diligence is starting to pay off.
"I don't think I watch film a lot more than I did last year, I think I just know more what I'm looking at and know more what we're gonna do to combat different defenses we see on film," Thorson said. "I think I have more of a purpose."
Head coach Pat Fitzgerald has taken notice of Thorson's studiousness, as well. After Thorson threw a pick-six at Michigan State to put the 'Cats down 14-0, Fitzgerald said his QB came right to the sideline, broke down what defense the Spartans were in, what the 'Cats thought they were going to do, what went wrong and what he could have done better.
"When you see that type of maturity from a younger player, understanding what they were in, understanding that he made a mistake and owning it, I think [it] shows you why he came back and played as well as he did," Fitzgerald said.
Thorson went on to sling three touchdowns and run for another after the pick, leading NU to an impressive 54-40 road victory. Last year, he wouldn't have been able to do that. But with a better understanding of the game, more experience and more knowledge, Thorson is confident, collected and able to respond to adversity.
It's a development that has helped NU turn around its season, and one that will continue to benefit the 'Cats. Of course, there is more than one reason for NU's offensive improvement - the offensive line is better and Austin Carr is actually superhuman - but a smarter, more experienced and more confident Thorson calling the shots is a big factor.