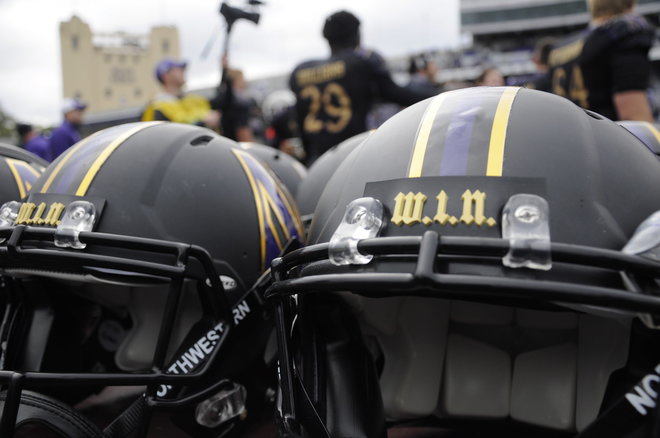 It's that time of year again – football is back! Last year, Northwestern enjoyed a better-than-expected 10-3 season, but an embarrassing 45-6 defeat to Tennessee in the Outback Bowl may leave a sour taste in the mouths of Wildcat fans. NU's offense was not always pretty to watch, but thanks to one of the best defenses in the country, it usually did enough to win. The Wildcats expect to have another strong defensive unit this year, so their overall performance will likely hinge on how much their offense improves.
Can Clayton Thorson take the next step at quarterback in his second year? How will the new-look wide receiver corps fare? Is running back Justin Jackson a man or a cyborg? There are tons of question marks, but with the increasing possibility that former NU QB Trevor Siemian will be the starting QB for the Super Bowl Champion Denver Broncos (yeah, we can't believe it either), anything seems possible for this emerging Wildcat offense.
The offensive outlook is the first installment of our football preview. On Monday, we will look at the defense/special teams, followed by season predictions from our staff on Wednesday and a Get Home Safe podcast episode later in the week.
Quarterback:
Redshirt sophomore Clayton Thorson won the QB job last year and was good enough to keep it, but it wasn't exactly smooth sailing. Thorson threw for seven touchdowns and nine interceptions while posting a 50.8 percent completion rate, but looked special on the ground at times, carrying the ball 100 times for 397 yards (both second-best on team) with five touchdowns (tied-first on the team).
It would be fair to say that Thorson did what was asked of him, as head coach Pat Fitzgerald was overjoyed to have a redshirt freshman lead his 10-win team. But it's also fair to say that QB was the weak spot of the Wildcats, and Thorson has lots of room for improvement. Overall, the passing game was extremely unreliable, and while Thorson improvised some big plays with his legs, he could never quite get a handle on the option. Thorson seems to be more confident than ever, and one would expect him to make strides from year one to year two, but just how much the Wildcats' QB improves will largely determine their fate.
And maybe, just maybe, NU students will start being able to recognize their starting QB when they see him.
Runningbacks:
You've all heard the name. Even NU students who have never been near Ryan Field lovingly call him "The Ballcarrier." That's because the Wildcats' workhorse, junior Justin Jackson, racked up 1,418 yards with five touchdowns on an almost alarming 312 carries. It was the third-highest amount of carries in the nation and the only reason the number is almost alarming is because, well, the guy can handle it. Seriously, Jackson has even claimed he gets stronger with more carries – he's indestructible. That's what the Wildcats will hope at least, as they will surely ride one of the most reliable backs in the country for another year.
Watch list or not, Northwestern's Justin Jackson can't be ignored, by @TeddyGreensteinhttps://t.co/Xd2BwEbLsbpic.twitter.com/V8PFyBs7PQ

— ChicagoSports (@ChicagoSports) July 30, 2016
Jackson is as solid as they come, a do-it-all back with shifty speed and the ability to absorb hits, and with the expected improvement of the passing game, he has been working on his hands. Behind him, senior Warren Long is a more bruising, physical back, used primarily at the goal-line last year to notch five touchdowns. He offers a nice change of pace from Jackson, as well as giving him a breather every once in a while, and it wouldn't be a surprise to see an increase in Long's snaps this year. The running game is the Wildcats' bread-and-butter, and they will continue to depend on it.
Wide Receiver:
Ehhhh. Okay, it looks bad. The Wildcats had eight total receiving touchdowns last year, and Dan Vitale (four, bless his heart) and Christian Jones (two) have both graduated. That leaves senior Austin Carr, who had just 16 catches, 302 yards and two touchdowns last year - or what a lot of college receivers do in three games.
But there is reason for optimism. First off, an inconsistent offensive line and inexperienced QB often couldn't get the ball to these wide receivers, and both should improve. Also, junior running back Solomon Vault (who almost made this amazing catch last year) and junior defensive back Marcus McShepard have been moved to wide receiver. Both bring speed and raw talent, and when combined with Carr's trusty hands and rapport with Thorson, something resembling a wide receiver corps starts to take form.
Senior Andrew Scanlan has made his way up the depth chart and could emerge as a threat, and Fitzgerald has been excited about redshirt freshman Charlie Fessler and sophomore Flynn Nagel. Maybe superback Garrett Dickerson has learned from Vitale and can take the next step as a pass-catcher. This group is unproven, but with fresh faces and raw talent, could develop into a formidable corps by the end of the season – just don't bet on it.
Offensive Line:
Injuries plagued this unit last year, and that lack of continuity led to some trouble for NU's offense. In the ground-and-pound style that is so common in the Big Ten, the Wildcats need to win the battle in the trenches. If they don't, they simply don't have much of a chance (see Michigan, 38-0 and Iowa, 40-10). Luckily, despite their injuries, NU had enough depth and talent to win the push up front more often than not, and the success of Jackson largely relied on it.
Seniors Ian Park, Shane Mertz, Eric Olson, Connor Mahoney and junior Brad North will be relied on as the veterans of the bunch. Redshirt sophomore Blake Hance will be expected to make a leap this year, and redshirt sophomore Tommy Doles should get more playing time in the rotation. When the Wildcats offense is ticking, it's usually because of these guys. But also, when it sputters, an adjustment up front will have to be made.
Join us on Monday as we take a look at Northwestern's defense/special teams.