I should start this article off by saying that I was born and raised in the always sunny, always hot, always humid city of Rio de Janeiro, Brazil. Though this made me a frequent beach-goer, a lover of saltwater and connoisseur of swimsuits, it also made me clueless to anything cold-related as soon as I came to Northwestern.
I initially thought that I would only feel a change when winter came. In that mindset, I made my dad buy all the necessary winter gear before I even moved into my dorm. I bought fur boots from Timberland, a warm parka from The North Face, innerwear from Uniqlo and everything I deemed part of "winter prep."
Well this escalated quick. A few days ago it was 80 degrees 😯🤔🙃 #chicagoweatherpic.twitter.com/OHRDrG7JkT

— Sarahi Flores 🦉 (@readergal91) October 12, 2018
Unfortunately, though, as time went on and October came knocking, I began getting colder and colder not knowing if, under some imaginary rules, I could already use some of those clothes designated for winter. That was the moment I was reminded of the term "fall fashion." A term so common for Northern Hemisphere citizens became my biggest mystery. "What is fall fashion?" I asked myself. "Do I need to buy more clothes designated for the months before winter too?"
It's safe to say that dressing differently according to the season was strange to me. But, in the spirit of learning the culture of the country in which I am now living, I became a sponge for the current fashion. I took my daily strolls from north to south campus to observe everyone's fashion. Much like the National Geographic observes lions out in the wild, I was observing every trend or commonality in students' fashion out on Sheridan.
No gloves, beanies or hats are used, but scarves are okay.
No shorts, but cut-out jeans are very common.
Boots only with heels or plastic ones for the rain.
Not many Ugg boots around, but there are many Ugg slippers.
So-called "teddy bear" coats with fur on the outside are everywhere.
These are only a few of the numerous mental notes I collected in a couple of days. Needless to say that after this, I was close to calling myself an expert on everything fall fashion-related. I went to sleep one night already planning out my "outfit of the day" for the next day: black jeans, a dark blue turtleneck, some long necklaces to keep it stylish and my black low-heeled boots. I felt as if I'd finally solved some impossible math problem I had been working on, like I had finally found the answer I'd been seeking.
At 8 a.m. the next day I woke up, put some makeup on, brushed my hair and dressed the carefully calculated "OOTD." I looked at myself in the mirror and felt confident in what I was wearing. Research paid off, I thought.
But then I went downstairs. The sun was shining, the air was humid. A heat wave struck me as soon as I stepped out of my dorm. In the ten seconds I stood there in shock of the heat, every part of my body was already sweating. I then saw what time it was and calculated that there was still time to go back up and change. I took a 180 turn back into the dorm, ran upstairs and put on the most Brazilian-y summer dress I own. As I ran back down the stairs, I kept laughing at how ridiculous all of this was. I couldn't believe that I had planned out the whole outfit to just go back to my old ways two minutes later. How could I think of clothes so much and forget the simplest of things: to open an app to see the temperature.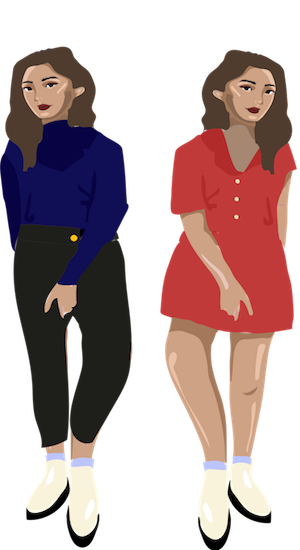 Hence, here are some other observations regarding fall fashion to keep in mind:
Look up the weather every single day and dress accordingly

–

the weather may change drastically each day so make sure you don't spend the day freezing or sweating.
Take advantage of the hot days

–

use the dresses, skirts and shorts that will be forever untouched throughout winter.
Don't be afraid to break in your winter gear before winter starts, freezing is not worth it.
So these are the rules that I will try to live by during the fall. While this seems to be working so far, I'll undoubtedly have to go back to observations and mental notes during winter and spring. I do, however, think I have summer fashion down.