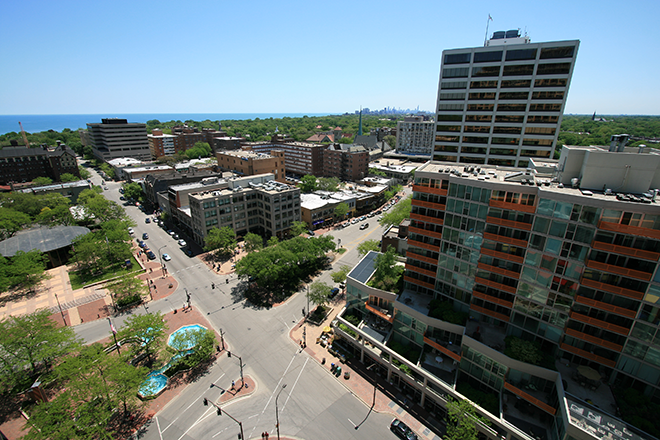 The stretch of Sherman Avenue just off campus looks like the same small-town Evanston as always: cozy shops and restaurants squat low on both sides, and dead leaves blowing in the wind, signaling the change of seasons.
But under the surface, tension is brewing. Evanston residents are torn over the future of this block after Farpoint Development submitted plans for a 37-story glass skyscraper to be situated in the 1700 block of Sherman Avenue.
The plans have inspired a multitude of debates regarding Evanston's future. First and foremost is the fact that the tower will be just that--a tower. At 395 feet tall, the tower would dwarf most of the surrounding buildings. With two other tower proposals in the works as well, it appears that Evanston is facing a decision between retaining its scaled-back charm, or plunging into the modern high-rise territory.
"I don't think that this street is the right street for a thirty-seven story tower and a huge glass block of a building on our downtown main street," said Kellie Poulous, owner of Coucou and Olive. Coucou and Olive is one of the businesses that would be forced to move should the plans go through.
Many Evanston community members have responded to the idea of the towers by signing this change.org petition, which currently has 1,634 signatures with a goal of 2,500.
The argument goes deeper than aesthetics, however. Northlight Theatre, a group originally from Evanston looking to return after renting a space in Skokie for the past 20 years, would anchor the development. It would include two stages totalling about 450 seats.
With Northlight's current annual budget at about $3.2 million, the company would have to fundraise to afford the space. But because the project is part of a tower, making it a mixed-use space, they won't have the entire cost burden.
The developers, Northlight and Evanston mayor Steve Hagerty have all expressed their excitement for and commitment to the project. They emphasized the theater's ability to stimulate the growth of a long sought-after downtown Evanston arts district, as well as bring in more business for pre-existing restaurants and shops by driving traffic.
Hagerty has supported a string of construction and development projects in his tenure as well, including the new Target set to to open in March 2018.
The problem is that that stretch of Sherman Avenue is currently home to a multitude of small businesses, including some Evanston originals. Community staples such as Bookends and Beginnings, the Alley Gallery and Saville Flowers would be forced out of their current spaces if the construction were to move forward.
"You can't simulate texture; you can't simulate charm. And that's what this [the art gallery] is oozing with," said Darren Oberto, co-owner of the Alley Gallery. "To replace it with a glass… uh, thing, would be a waste, especially if they could put it somewhere else better. We really want Northlight to come to downtown, but just not here."
The threatened Evanston businesses have taken the position that expansion should not come at the expense of the unique, local economic assets that have grown organically with the community over time.
"Europe is full of pedestrian alleys that have restaurants and businesses in them that are very vital," Nina Barett, co-owner of Bookends and Beginnings, said. "People think about Harry Potter… they feel like they just walked into Diagon Alley, and it's a little sort of magical little oasis in the middle of Evanston."
While there is a general consensus that the return of Northlight would be welcome, the idea of getting rid of Evanston's unique businesses and replacing them with an impersonal glass tower is going to be a tough pill for people to swallow. The size of the project will require a two-thirds vote by the City Council for approval, which will be a definite challenge for the project at this stage.
This article is the first in a series that will follow the progress of this project. At the time of publishing, reporters were still waiting for comment from the developers and Northlight Theatre. *Gabrielle Bienasz also contributed to reporting on this story.