Bake sale season is around the corner (when is it not?) and we're really getting sick of those 3-week old, crumbly brownies you happened to find conveniently shoved between your Skinny Pop supply and your stash of rotting dining hall bananas. But, let's face it: No one has the time to recreate his or her version of Sprinkles Cupcakes in a crammed residence-hall kitchen.
Don't fret: It indeed is possible to concoct simple creations and turn them into Food Network-worthy works of art. In 30 minutes or less, you'll be well on your way to a line of eager students fighting to get their hands on your next set of treats.
Cookie-Icing Pops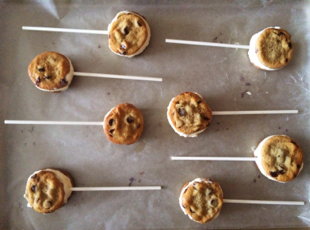 It's time to take those good old slice-n-bake Nestle Toll House cookies from drab to fab. These treats bring whole new meaning to the word "lollipop."
Here's what you'll need:
One package of Nestle Toll House chocolate chip slice-n-bake cookies
One can of Pillsbury Creamy Supreme Vanilla Frosting
Lollipop sticks (straws will suffice)
Steps:
1. Preheat the oven to 350 degrees F
2. Place pre-sliced cookie dough two inches apart on an ungreased cookie tray
3. Bake for eight to 12 minutes or until cookies are golden-brown
4. Allow cookies to cool for 15 minutes
5. Spread a spoonful of icing between pairs of cookies
6. Allow the icing to harden for five minutes
7. Wedge a straw or lollipop stick between the cookie sandwich before you pick up your creation!
Monkey-Bread Balls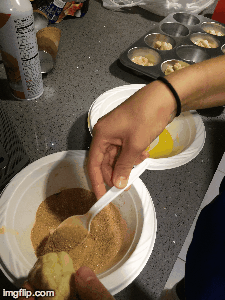 For those of us truly hoping to wow the bake-sale crowds, look no further than the Monkey Bread Ball. Seriously, though, when you open the oven and the doughy cinnamon-sugar aroma wafts through your residence hall, the masses will come running.
You will need the following:
1 cup of granulated sugar
1/2 cup of cinnamon
3/4 stick of butter
Can/package of Pillsbury dinner rolls (one package typically makes 10 monkey-bread balls)
Cupcake pan/cookie tray (either works)
Steps:
1. Preheat the oven to 375 degrees F
2. Separate dinner rolls
3. Combine the cinnamon and sugar into a bowl and mix thoroughly
4. Melt butter in the microwave for 45 seconds or until it is of liquid consistency
5. Use 1/2 of melted butter to grease the pan/tray (non-stick spray also does the job)
6. Cut each dinner roll into thumb-sized balls of dough
7. Combine eight mini-balls of dough into a larger clump of dough
8. Use a spoon to spread a thin layer of butter on each monkey-bread ball
9. Use a spoon to cover the monkey-bread ball in a thin layer of cinnamon-sugar
10. Bake for 15 minutes, or until dough is golden-brown. Allow creations to cool before tasting!
Microwave Caramel Corn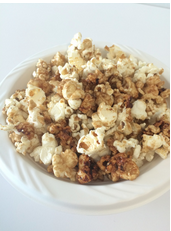 In search of a tasty, crunchy snack that can double as a bake-sale delight? Don't have the time to buy expensive cookware? Microwave Caramel Corn will fulfill your hopes, dreams, and aspirations.
Here is what you will need:
2 quarts (1/2 cup unpopped) of salted popcorn...don't get the buttered kind!
1/2 cup packed brown sugar
1/4 cup butter
2 tablespoons light corn syrup
1/4 teaspoon kosher salt
1/2 teaspoon vanilla extract
1/4 teaspoon baking soda
Steps:
1. Pop popcorn in the microwave and place in a brown paper bag
2. Put brown sugar, butter, corn syrup and kosher salt in a microwave-safe bowl. Cook in microwave on high for one minute. Remove and stir thoroughly
3. Microwave the same bowl for one more minute. Caramel should be boiling when done
4. Add baking soda and vanilla extract to bowl. Mix well
5. Pour bowl's contents over popcorn in paper bag. Stir caramel evenly
6. Roll down top of paper bag. Cook on high in microwave for one minute. (It is okay if bag may be too large to turn in microwave)
7. Remove bag. Keeping bag rolled down, shake in all directions thoroughly
8. Return bag to microwave. Cook on high for one minute
9. Shake bag thoroughly
10. Allow popcorn to cool for five minutes, serve in a large bowl and enjoy with friends!