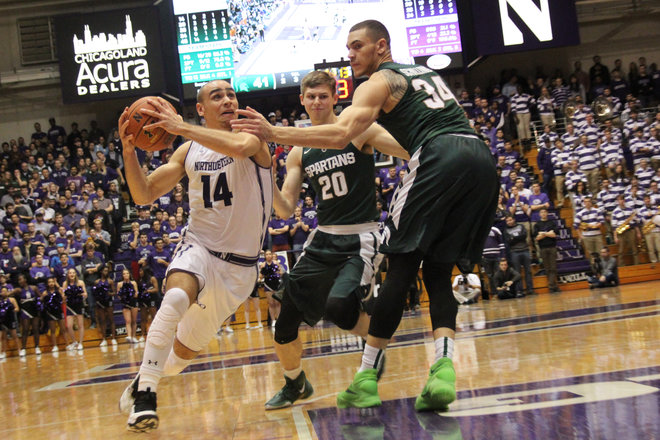 Time is running out on senior Tre Demps' Northwestern career, but he's making the most of his final few games. In his last six contests, Demps has averaged 19.2 points per game, playing some of his best basketball of the year.
The trend continued on Saturday, as Demps scored 24 points, including shooting 6-for-8 from three-point range, as he powered NU (18-11, 6-10 B1G) to a 98-59 win over lowly Rutgers (6-23, 0-16 B1G).
"You don't want to have any regrets," Demps said. "You try to leave it all out on the court - every day, every game, every practice."
Demps started the game a scorching 5-for-5 from deep as the Wildcats built a 48-18 halftime lead. NU was in control for virtually the whole contest, in large part because of the lights-out shooting from its senior guard. Demps even outscored all of Rutgers until late in the first half.
Tre Demps has 17 points. Rutgers has 15 points. NU leads 40-15 with 4:09 to play in the first half. This is nice.

— NBN Sports (@nbn_sports) February 27, 2016
Senior Alex Olah also enjoyed a fantastic game, scoring 14 points and pulling down 10 rebounds. The big man overwhelmed Rutgers inside, as there was just no one to match up with the 7-footer.
It was truly all NU, all day.
In what was easily its most dominant performance of the season, the 'Cats exposed Rutgers' flaws in every aspect of the game. The Wildcats outrebounded the Scarlet Knights 45-25, had more points in the paint, had more second chance points and more points off turnovers. NU even set a program record with 33 total assists in the game.
"Certainly, it was a feel good day for us," head coach Chris Collins said. "It was something we needed and I was really pleased with how our guys approached the start of the game. We came off a couple losses - [this was a] game at home, game you have to win and I thought our energy on defense was great."
The 'Cats also made a season-high 17 three-pointers, lighting it up all game. Freshman Aaron Falzon regained his shooting stroke after a few rough games, scoring 12 points on 4-for-7 shooting from deep. Junior Nate Taphorn also added 13 points on 3-for-5 shooting from three-point range.
Junior Bryant McIntosh had only six points, but notched a career-high 13 assists.
With just two games left in the regular season, NU will head to Penn State Thursday before playing its final home game against Nebraska on Saturday. If the Wildcats can finish the season strong, they would be able to jump up to the ninth in the Big Ten.
"This sets up a big last week of the season for us," Collins said. "We control our own destiny on where we finish now and we are going to find out this week if we want to make a push."