Twenty minutes before class starts, I roll out of bed, throw on leggings and a sweater, and scramble out of the door. Too often, this is my morning routine. On the days that I can actually manage to get out of bed at a reasonable time, I add makeup to brighten up my tired face and help me feel ready to face the day. But I'm constantly wondering: how am I supposed to still look hot even in a hurry? Here are some ideas.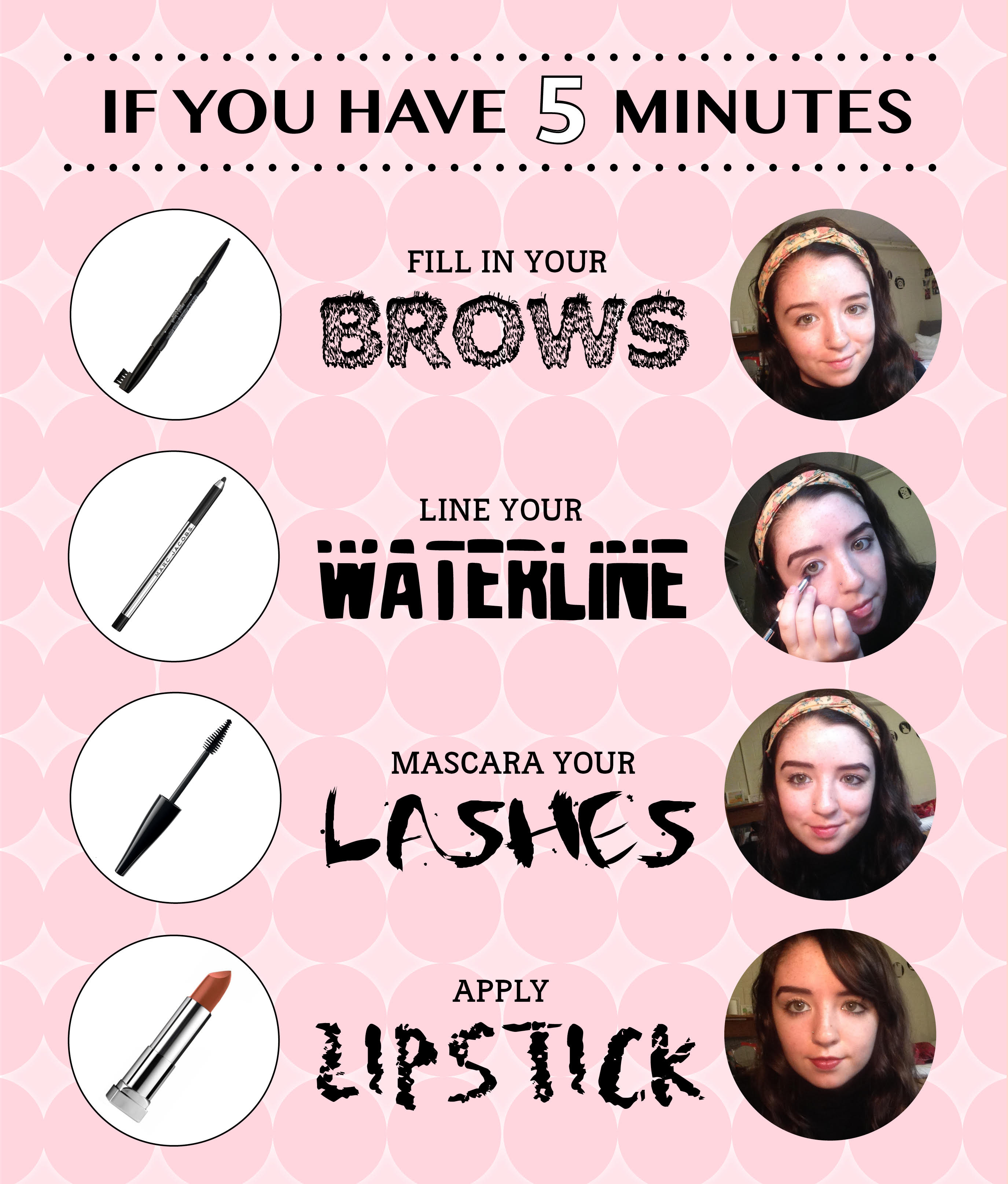 When talking with someone, where do you look? Most people will probably make eye contact, but if you're slightly scared of eye contact like I am, your eyes will likely wander to their lips, so eyes and lips are the areas you want to highlight. I started out with a fresh face, cleansed and moisturized with my hair pulled back. One battle I often face at Northwestern is the bad dorm lighting that hinders my makeup routine. To combat this, I bought a lamp for my desk, specifically for the purpose of makeup. Who uses their desk for homework anyway?
My eyebrows are already dark and pretty thick, so it's unnecessary to fill them in. But recent beauty trends dictate that thick dark brows are no longer enough; they need a shape: an arch. So my first step is to fill in my eyebrows, using the NYX Auto Eyebrow Pencil in black.
Then, I line my lower waterline with a Marc Jacobs gel eyeliner, also in black.
In case you have no idea where the waterline is, it lies just above your lower lashes. Dark colors work for me because they compliment my naturally dark hair and eyebrows, but other colors can work better depending on the look you want to achieve. Nude and white eyeliners on the waterline open the eyes up and make them look bigger.
Next, I apply mascara, using a mascara from Make Up For Ever.
Finally, I add lipstick to emphasize my lips. I always have a couple go-to colors; in this picture, I'm wearing Rum Riche by Maybelline.
The result was a quick, five-minute look that brightened up my face.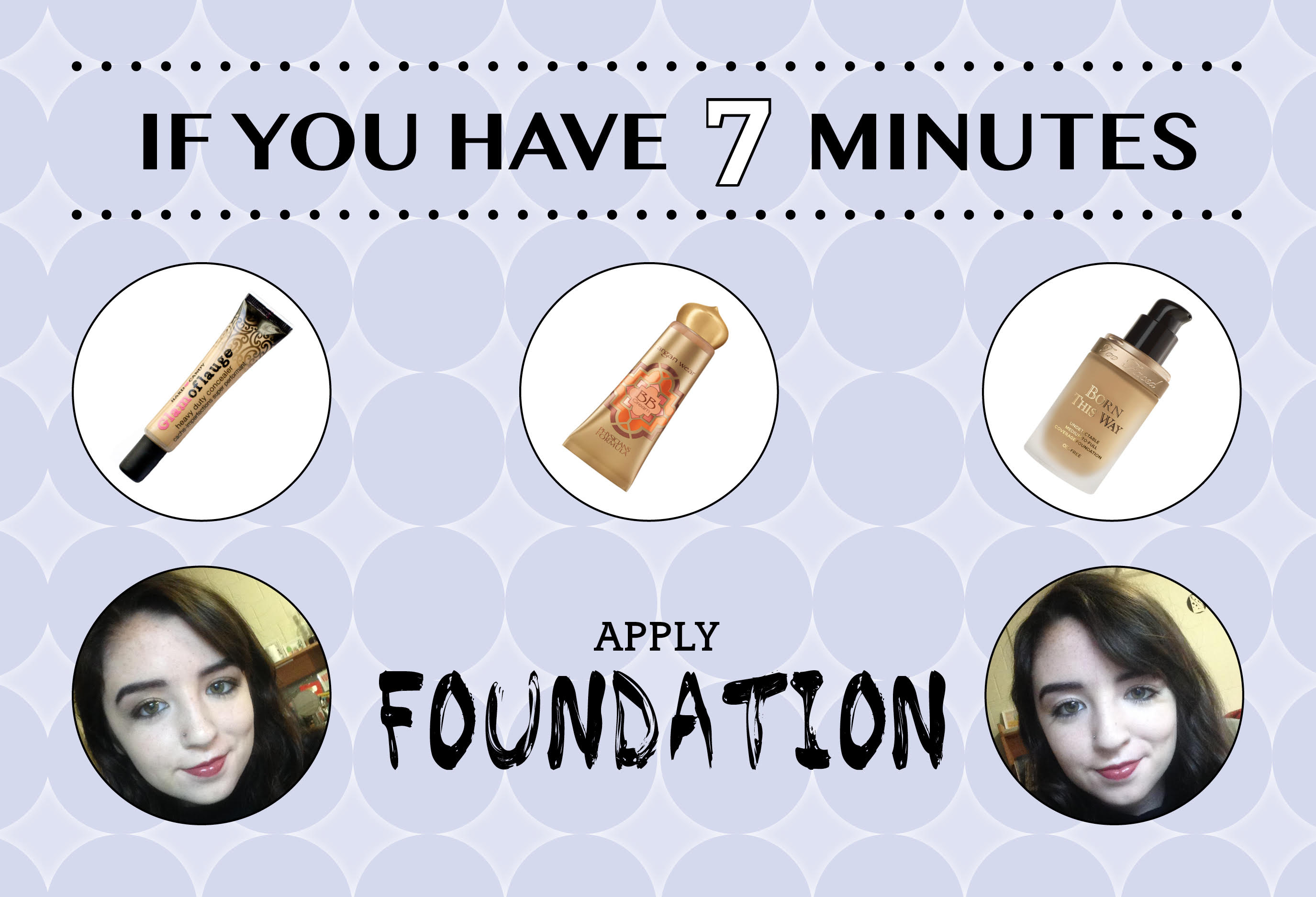 My skin has a mind of its own: some days, I see a beautiful glow, and others, it's an acne-infested mess. So when I have a couple of extra minutes, I try to make up for what's lacking and create that beautiful glow.
If I have a zit I need to cover up, I use a Hard Candy heavy duty concealer, and for days that I want light coverage and extra protection from UV light, I use a Physician's Formula BB Cream. Today, I used Too Faced Born This Way, a full coverage foundation infused with coconut water that's perfect for dry skin in the Windy City.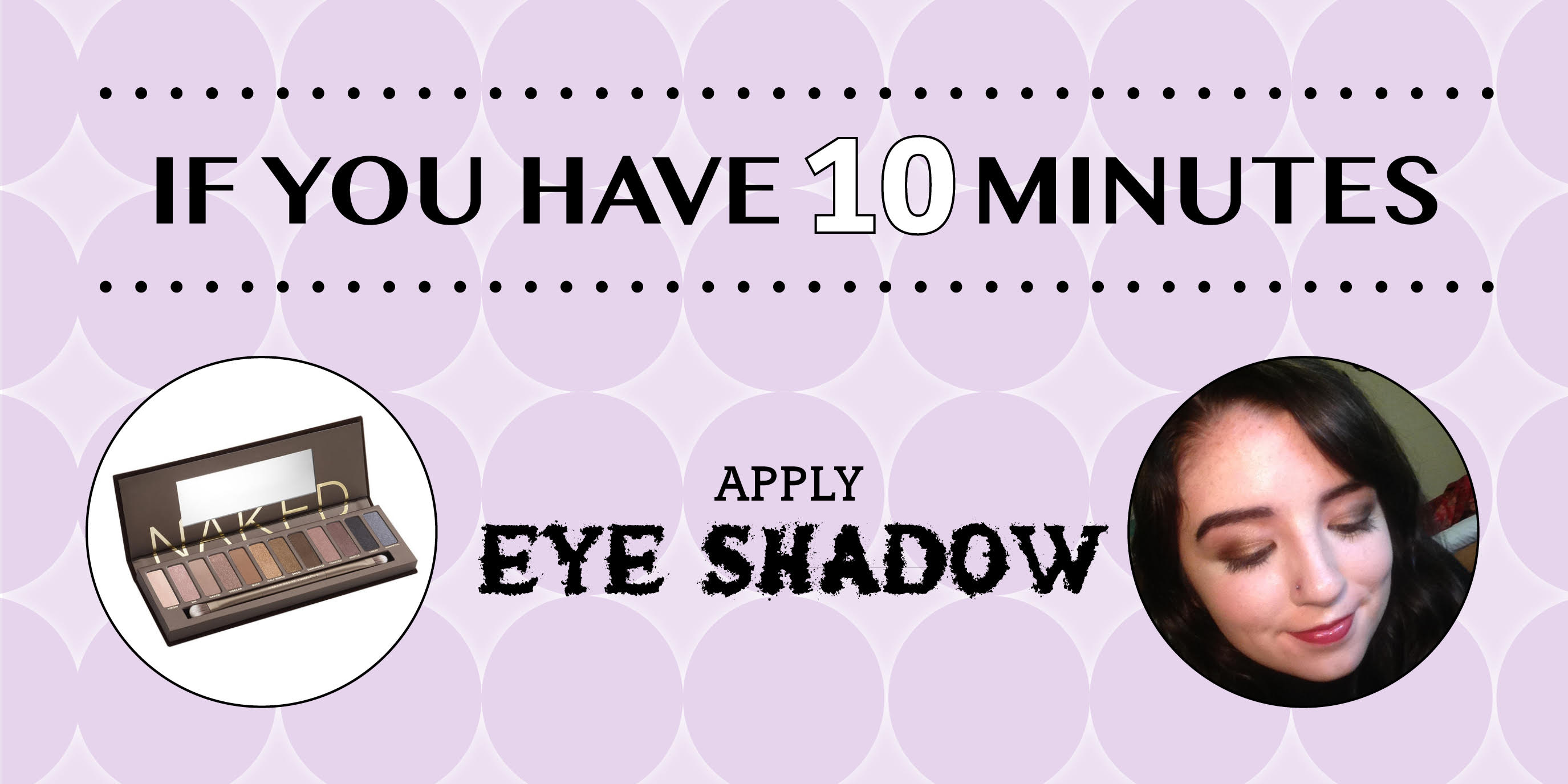 Yay, I have a few more minutes! I choose to use the time well by enhancing my eyes with eyeshadow. I have a go-to look using my Urban Decay Naked Eyeshadow Palette that takes less than three minutes (because I already have the hang of it and can probably do it even in my sleep). You can achieve a quick eyeshadow look in just three steps, using almost any eyeshadow palette, as long as it has different tones to choose from. Pinks, earth tones and neutrals are always safe bets.
First, choose a base color. I used Sidecar, a light brown. Brush this color all over your lid. Then, choose another color, darker than the first. I used Smog, a darker, golden-brown. Brush this color along your crease. Finally, choose one more color, darker than the last one. I used Darkhorse, a dark brown. Brush this color on the outer corner of your eye and smudge it inward.
Ta-da, you have an easy look! If it seems too dark, add a brighter color to the inner corners of your eyes. I used Half Baked, a shimmery gold. The trick to mastering a look quickly is having the right brushes. I use a six-piece set from EcoTools.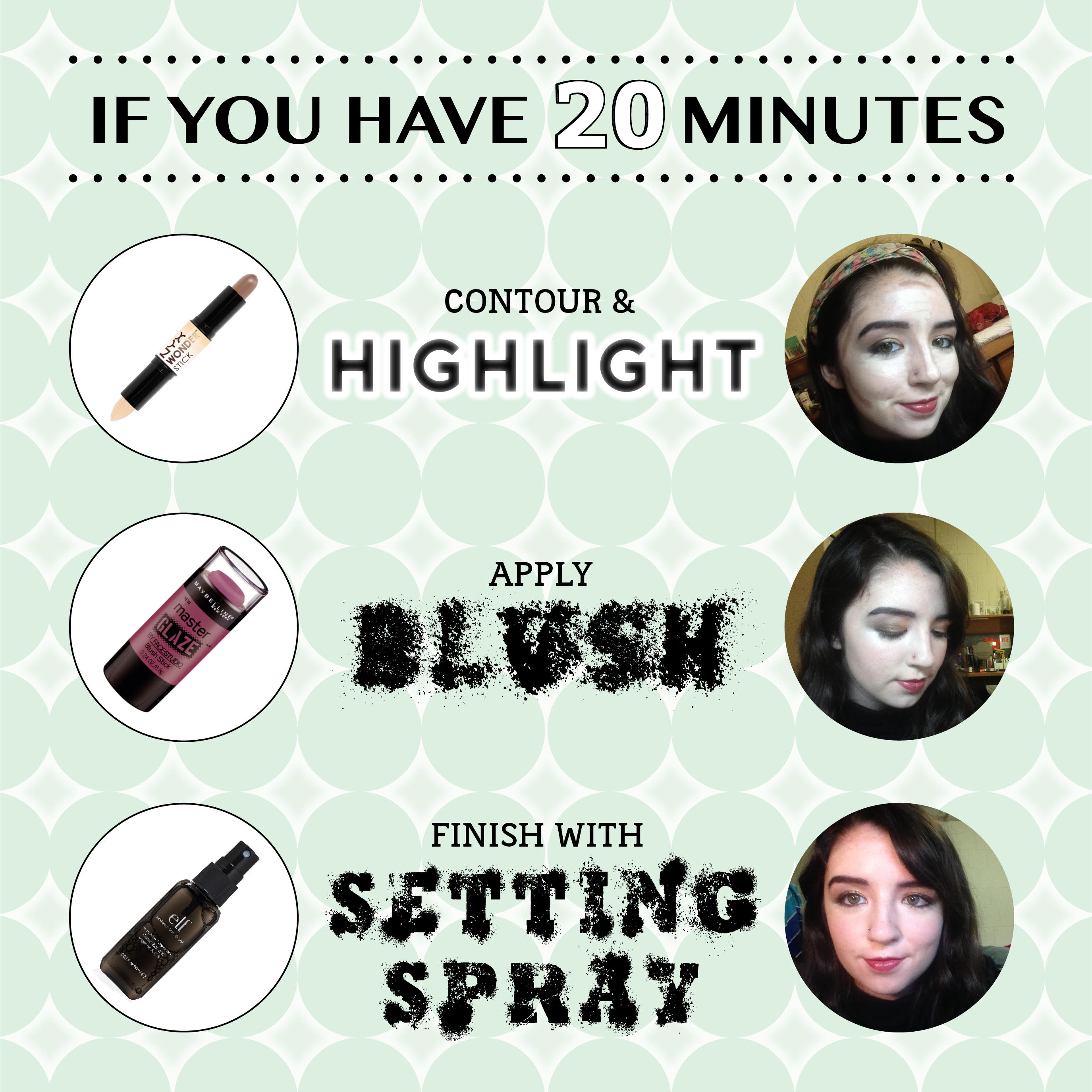 Who actually has this kind of time before class? Not me. But if you do, bring out the contour. And the highlight. And the blush. It'll make your face look more sculpted, bright, and peachy.
First, I cover my face with contour and highlight using the NYX Wonder Stick.
Yes, at this step, I know I look like a clown, but just wait. Next, I blend. And blend. And then I blend some more. I use my e.l.f. Flawless Concealer Brush for this extensive blending process. Then I add on some blush, using the Maybelline Master Glaze Blush Stick in mauve.
Now I don't look like a ghost! Or at least a ghost with some color.
Fnally, I spray some e.l.f. setting spray to keep it all in place as I hurry to class. It only took 20 extra minutes to my morning routine, and now, I feel fierce and ready to take on another day. Although my morning rush down Sheridan Road to Tech is never fun, at least I'll look hot as I hurry.