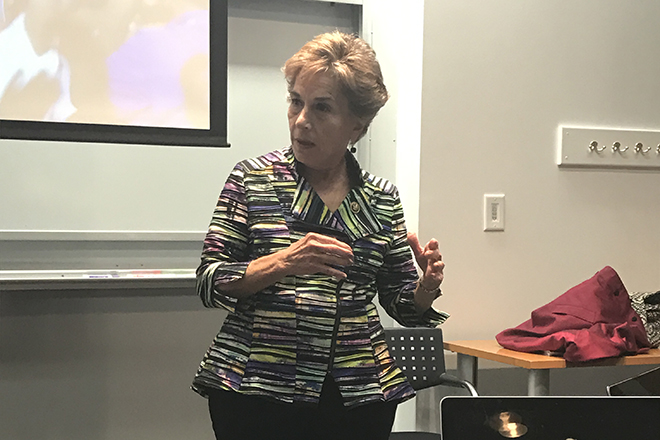 On Wednesday evening, a few seasoned members of the College Democrats gathered around the window in a third-floor McCormick Foundation Center classroom. One of them worked on finding the perfect picture of a smiling Hillary Clinton to project as backdrop, and the others excitedly talked about how they would be able to see Democratic representative Jan Schakowsky walk up from their vantage point at the window.
Representative Schakowsky came to campus to speak to the College Democrats and a few other students about her experience campaigning for Clinton, and the importance of getting involved to prevent a Donald Trump presidency. She also discussed the importance of grassroots campaigning, which College Democrats co-president Sydney Selix, a SESP senior, said is the type of campaigning the group mainly focuses on, and part of what encouraged them to invite Schakowsky to campus.
"That's the third or fourth time I've heard her, and it's been different each time," Selix said. "She's funny; she's so endearing and genuine. She's a retired CPS teacher, a grandmother, a public servant and I love listening to her. [Other politicians] all have these formulas, but somehow she doesn't seem that rehearsed. She just spoke to us like college students."
Schakowsky spent most of her speech examining what effect Trump could have on the United States as president. When discussing his recent comments about women, she recalled an incident early on in her political career when a man she was trying to work with made unwanted sexual advances toward her and the importance of trying to make sure a similar man didn't become president.
"That incident was humiliating," she said during her speech. "And the worst part about the humiliation was that I didn't do anything about it. I was sick for days after, and there isn't a woman out there who hasn't had some type of experience like that."
Selix said the group has been making an effort to bring as many Democratic candidates to campus as possible before the election. After finding out Schakowsky would be in the area this week, they contacted her to see if she would have time to speak, and then began promoting the event on Facebook and around campus.
"I thought [Schakowsky's speech] was awesome," Weinberg freshman Jenny Slota said. "It really hit home the idea of what kind of America Trump would make our country become, and how important we are as the people who will live in the world that he might create."
Schakowsky also discussed what she called the "voter suppression effect," which is when people choose not to vote because they feel like their vote doesn't matter or they're not satisfied with either candidate. However, that and the fact that many millennials are considering voting for a third party were why she encouraged students to keep campaigning – she warned that a third-party vote is essentially a vote for Trump. Selix agreed, saying that she sees a large gap between the amount of people that come to these events and the amount of students that are anti-Trump.
"How many people a day do you see a day saying 'I can't believe Trump said this, Trump is not fit to be president?'" Selix said. "My whole newsfeed is like that, and I'm lucky enough [that] most of my newsfeed is anti-Trump, but where are all those people? When we're sitting here night after night trying to make calls, trying to go to Iowa [to canvas], I think that's the most frustrating thing."
Schakowsky encouraged all in attendance to get out and vote, and to encourage their fellow students to do the same. She also spoke about former governor Pat Quinn coming on November 3 to give some final encouragement and updates on the campaign, which is another event hosted by College Democrats.