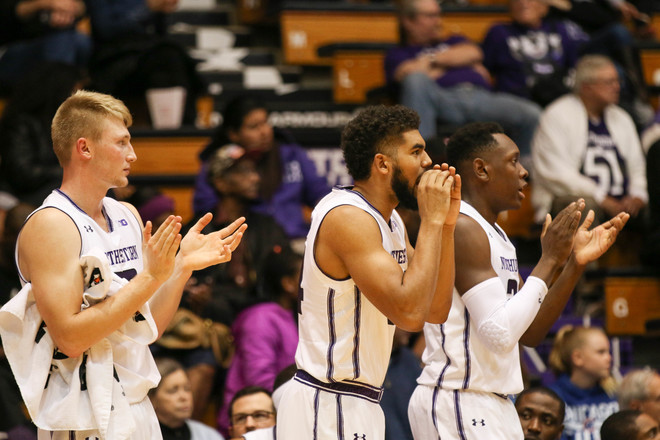 If you've heard of basketball before, you probably know that each team needs five players on the court at one time. Well, the million dollar question for Northwestern men's basketball this year is: who will those players be? With two of NU's premier players lost to graduation, Tre Demps and Alex Olah, the Wildcats are looking for others to step up.
Head coach Chris Collins has already said that junior point guard Bryant McIntosh and sophomore center Dererk Pardon will anchor the lineup. After that, he's pointed to five players to surround them – junior Scottie Lindsey, redshirt sophomore Vic Law, redshirt senior Sanjay Lumpkin, sophomore Aaron Falzon and junior Gavin Skelly.
All five of those players can play multiple positions, and for Collins, it represents endless lineup possibilities.
"I think we can throw guys out there that if you said are they a two, three or four – they're just basketball players," Collins said. "It allows you to put guys in different spots, you can maybe switch some things defensively, invert your offense if you see matchups you can exploit. That was a goal of ours in recruiting, if we could get the guys with size that have skill and athleticism, can handle and shoot, I think it helps you become more dangerous and better."
Law is the best example of the versatility Collins made a point of recruiting. At 6-foot-7, 205 pounds, Law is long enough to guard bigger forwards, quick enough to play defense on guards and athletic enough to run and jump with a swingman. At 6-foot-5, 210 pounds, Lindsey can also play guard or forward. Lumpkin, an undersized 6-foot-6, 220 pound forward, grabbed the most total rebounds for NU last year, and can also step out and shoot threes.
At 6-foot-8, Falzon and Skelly, both forwards, have very different playing styles. Falzon is a deadly shooter, able to stretch the floor by attracting taller opponents out of the paint. Skelly, on the other hand, bangs in the paint despite his size, grabbing rebounds and defending guys much bigger than he.
With these multi-dimensional players, Collins has options. Want a shooting lineup? Slot McIntosh and freshman Isiah Brown at the guard positions, play Lindsey and Falzon (or even senior Nate Taphorn) at forward, and throw Pardon down low. How about a long, defensive-oriented team? Go with McIntosh, Lindsey, Law, Lumpkin and Pardon - a quick, athletic and disruptive unit.
The 'Cats could even play an up-tempo, small-ball lineup, similar to the Golden State Warriors' lineup of death. At times, Collins will play Skelly at big, and he could surround him with a team that likes to push the ball, adding McIntosh, Brown, Lindsey and Law.
NU might not have the perfect personnel to fit all these different lineup styles, and while they have versatility, they also lack a strong go-to lineup to turn to in pressure situations. Another issue is the inexperience at big man – with Pardon, freshman Barret Benson and the undersized Skelly, foul trouble or injuries are both likely and could prove disastrous.
But with a bevy of long, athletic guards and forwards, Collins has the versatility to mix and match his lineups, getting creative and making the 'Cats a difficult team to prepare for. If Collins plays his cards right, NU will be able to matchup against teams better, ride hot hands at different positions and keep switching up its looks.
The versatility will be a strength that NU hasn't necessarily had before, and to be successful, the 'Cats will have to use it to their advantage.
"We've been a good team the last couple years but we were a little bit predictable," Collins said. "You had McIntosh, Demps, Olah and then you had a bunch of guys trying to find their way. On different nights we had different contributors, but it was really those three guys. But now, I really we think we have five-six guys, that on a given night, could score 18-20 points in a game. That makes it hard for teams to really lock in and prepare for different guys."