While you were in Cancun or Cabo (or at home in bed) during spring break, Northwestern's sports teams were hard at work. The spring sports teams are now well into their seasons, and we are here to get you caught up on all the action you've missed.
Men's Tennis (17-2, 3-0 B1G)
No. 13 Northwestern is breaking program records left and right in 2016, enjoying one of its best seasons ever. When the Wildcats took down No. 8 Illinois on March 12, they broke a 27-match losing streak against their in-state rivals, NU's first win over the Illini since 1997. With the victory, the Wildcats moved to 13-1, their best start since 1988-89.
In addition, it was the first time NU beat a top-10 team since the ITA began its rankings in 1981. The 'Cats have been so dominant this season that they have only lost once since Jan. 23, a bitter 4-3 defeat at the hands of No. 3 TCU.
No.13 Konrad Zieba has enjoyed a spectacular junior season, going 17-6, while No. 42 Sam Shropshire is 13-7. The doubles pair of Zieba/Shropshire is 10-2. No. 97 Strong Kirchheimer, the reigning Big Ten men's tennis Athlete of the Week, is 21-3 and has paired with Fedor Baev to go 15-6 in doubles play.
Northwestern will look to continue its fantastic play in the Big Ten, where it has already started 3-0. Beyond that, the 'Cats should be able to make some noise in the Big Ten Tournament, the NCAA Regional Championships and hopefully, the NCAA Championships.
Women's Lacrosse (4-4, 0-0 B1G)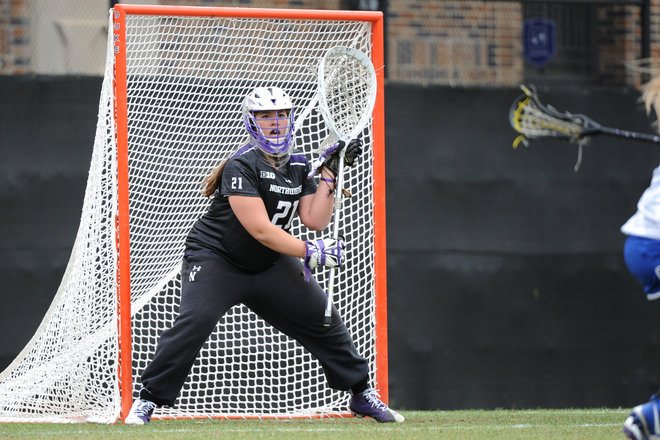 The surprisingly mortal women's lacrosse team is off to its worst start since 2002, which was head coach Kelly Amonte Hiller's first season with the team. Since then, Hiller has won seven national championships, pushing Northwestern to become one of the best women's lacrosse programs in the sport.
There is little reason to believe that the Wildcats are falling too far, as their four losses have all come against teams ranked No. 12 or better. In a simply brutal schedule, NU has managed to pull off strong wins over No. 4 Duke and No. 10 Stony Brook. The Wildcats still own the No. 14 ranking in the country, and it is not time to worry just yet - despite NU's mediocre record.
What is concerning is the play of star goalscorer Selena Lasota. After scoring seven goals in her first two games, the reigning Big Ten Freshman of the Year has notched just eight goals in her last six contests. Defenses have figured out how to stymie the talented sophomore, forcing her teammates to pick up the slack. Fortunately, senior Kaleigh Craig has enjoyed a fantastic season, leading the team with 17 goals. Freshman Mallory Weisse has also proved to be more than formidable in goal, looking increasingly comfortable as NU's starting goalkeeper in each game.
The Wildcats' schedule won't let up just yet, as they take on No. 1 Maryland and No. 16 Penn in their next two games. But if NU can survive, it will be rewarded with a slightly more manageable finish, facing off against conference foes before looking to run the table in the Big Ten Tournament.
Baseball (6-18, 1-2 B1G)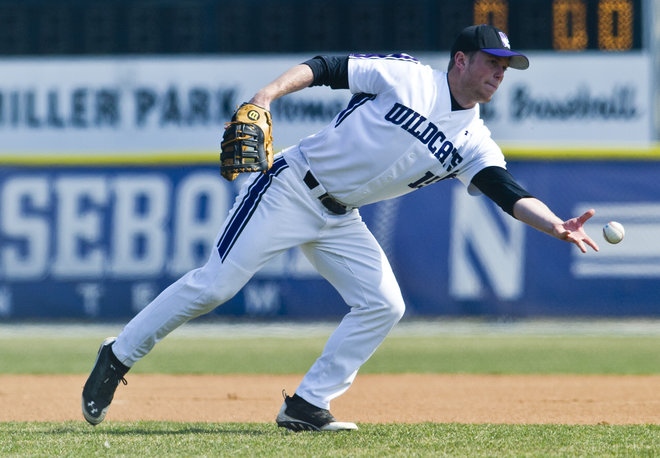 New head coach Spencer Allen's first season is off to a rocky start, which isn't all that surprising. Northwestern baseball does not have a history of success and after an encouraging 4-4 start, the Wildcats came back to earth, proceeding to lose 14 of their next 16 games. Junior pitcher Joe Schindler, NU's opening day starter, was also suspended indefinitely for a violation of team rules, a huge blow to the Wildcats pitching staff.
There are some bright spots for Allen to build on, however, as NU took its Big Ten opener 6-5 over Ohio State in a gritty, inspired performance. The Wildcats nearly took two out of three in the series against the Buckeyes, and were up 4-3 with two outs and no one on base in the bottom of the ninth. That is, until they surrendered a walk and the next Ohio State batter hit a two-run walk-off homer to win 5-4. It's been that kind of season for the 'Cats.
Not Jose Bautista-esque, but a nice bat flip from Jacob Bosiokovic on this @OhioState_BASE walk-off blast. https://t.co/rRDCIiXCBF

— Brent Yarina (@BTNBrentYarina) March 27, 2016
Junior outfielder/pitcher Matt Hopfner leads the team with a .404 batting average, 36 hits, 16 runs and 11 RBIs. Senior pitcher Reed Mason is 2-1 with a 3.23 ERA and 21 strikeouts through 30.2 innings. The Wildcats must be sharper in the field, as they have an alarming 37 errors through 24 games. Allen will hope to see all-around improvement as NU continues Big Ten play, but the grind of a tough conference slate will not lend the 'Cats any favors.
Softball (10-18, 1-2 B1G)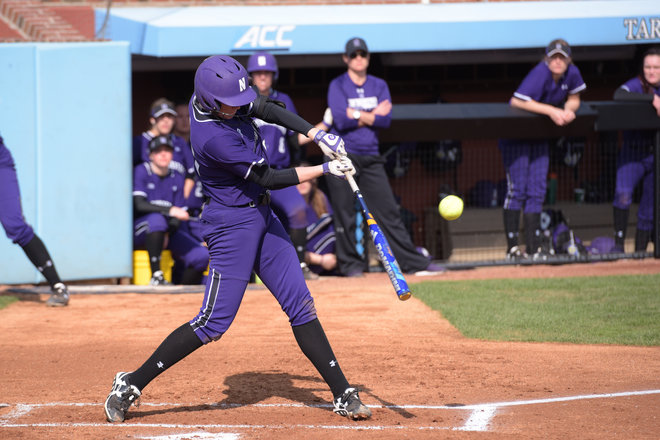 After a 7-7 start, Northwestern softball has slipped in March, going just 3-11. The good news is that the Wildcats do not play again until April 1, when they will look to reverse their fortunes, playing their first home game of the season.
NU will have strong performances to build on, after knocking off No. 2 Michigan 13-12 on March 25. Michigan jumped out to a 6-0 lead in the Big Ten opener, but NU responded with 13 runs of their own, capped off by a seven-run fifth inning, going up 13-7. The Wildcats withstood a late rally to grab a wild victory, upsetting the mighty Wolverines. However, Michigan got revenge over the next two days, crushing NU 11-3 in back-to-back games to win the series.
The Wildcats have not exactly been a model of consistency this season, and often have trouble scoring runs. In fact, NU is 8-0 when scoring five or more runs, but is 2-18 when scoring four or less.
Senior shortstop Andrea Filler is batting .375, racking up 30 hits, 30 RBIs, 10 doubles and seven home runs. Sophomore outfielder Sabrina Rabin, the reigning Big Ten Freshman of the Year, is batting .323 and leads the team in hits (31) and runs (28). Senior pitcher Amy Letourneau has already pitched 80.2 innings with five complete games for the Wildcats and has a 4-7 record, 48 strikeouts and a 3.56 ERA.